Miriam Ragen is a busy part-time working mum to sixteen-month-old Oliver, a happy and healthy little boy who loves to play with his digger. Miriam's love and close bond with her beautiful son is clear to see, and while she is his mama, they are not biologically related.
"I refer to myself as Oliver's mum and people understandably make assumptions about our relationship. It can cause confusion when I explain that yes, I am his mum, but no, we are not related. I have had to field some fairly strange and hurtful comments that can make me feel like I don't belong in my own family."
Oliver's other mum and Miriam's partner of more than 10 years, Kristy Williams, conceived and gave birth to Oliver from her egg and donor sperm by intrauterine insemination.
For colour consultant Miriam, it has been a long road to finding peace with her role as the non-biological parent since they first discussed trying for a family in 2013.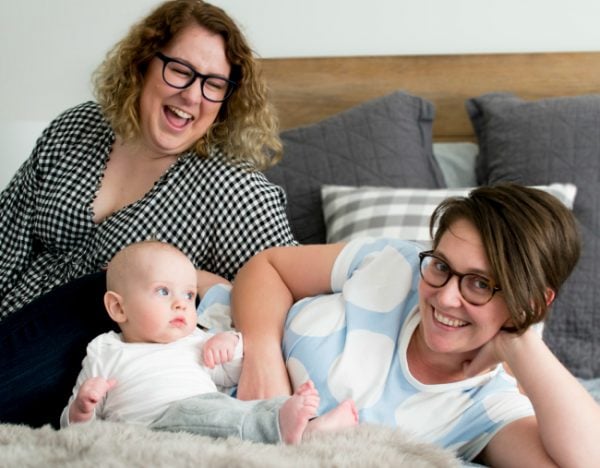 "I wanted to conceive first for a few reasons, namely that I was older than Kristy and also because I have some auto-immune conditions and polycystic ovaries. We registered with a local clinic in Newcastle and chose a male donor based on his good health record and cute baby picture.
"Because of my polycystic ovaries and a predisposition to blood clotting, I needed to take blood thinning medication and undergo IVF, which I found awful and really invasive. We went through two failed attempts to implant fertilised eggs and then decided we needed a to take a break from the stress and heartache."
At the start of 2016, Kristy and Miriam felt ready to try again but this time Kristy offered to take a turn at conception.
"We chose to use the same male donor as I had two fertilised frozen embryos already in storage using the same donor. I was with Kristy at the clinic when she was inseminated via Intrauterine Insemination (IUI), which is thankfully a much simpler process than IVF. Unfortunately, it failed on the first attempt but we were lucky second time around."