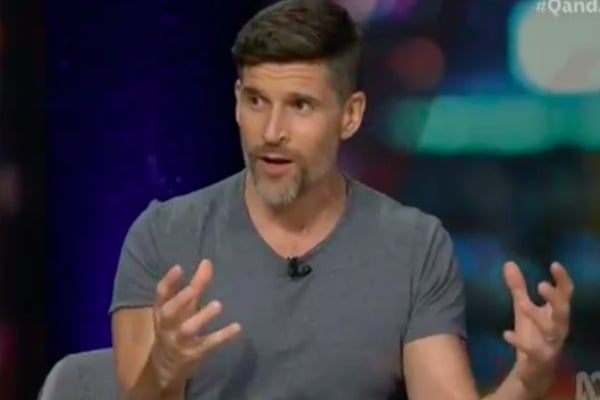 As experts in business, farming and sustainability came together last night for an ABC Q&A chat dedicated to climate solutions, it was a TV host who had the audience captivated with his relatable analogies and anxiety honesty.
The Bachelor's Osher Günsberg compared new coal-fired power stations to using a Nokia instead of an iPhone and explained that his 16-year-old daughter is of a generation that will talk about dam levels one minute, and Snapchat the next. Reiterating that they are the ones that will be voting on our future soon.
In fact, it's this very mindset that helped ease his anxiety about bringing another child into the world with his wife Audrey.
WATCH: Osher on Q&A. Post continues after video.
"We've just had a baby, he's five months old now," he told the audience.
"Right before he showed up my wife could see me losing it again. She goes, 'I'm going to need you to get back on meds.' I had to get back on meds. Having Wolf in my life, with a baby in your life, that is hope. That is absolute hope. What can we build for this child?"
He said the world needed parents – who thought about climate action – bringing kids into this world. He urged a young audience member who was "too scared" to become a mother to "please reconsider'.
 

View this post on Instagram