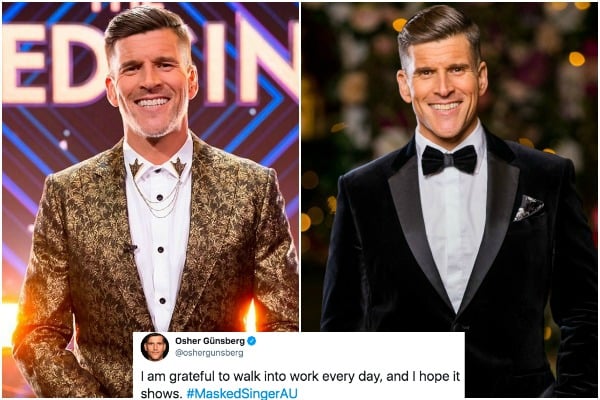 When ads started dropping for The Masked Singer, Australian audiences collectively cocked our heads, squinted our eyes and wondered why on earth anyone would think such a concept would work on free-to-air television.
Then, on the night it premiered, over 1.5 million of us tuned in.
The show is Network 10's highest rating program of the year – and it's no coincidence at all that its host is Osher Günsberg.
For almost 20 years, the 45-year-old, who started his career in broadcasting, has had impeccable instincts for what will work on Australian television. It's a skill that has rewarded him with a unique strand of longevity in the entertainment industry, and opportunities which will see him appear on Network 10 four out of seven nights this week.
Of course, those appearances aren't including his bi-weekly podcast, or his role as the voiceover for Bondi Rescue.
Here's Osher's latest TV conquest, The Masked Singer. Post continues after video.
So how is he so good, you might ask?
In an interview with Tanya Hennessy on his podcast Better Than Yesterday, he admitted that he does certain things or says certain things while hosting purely for the edit room or the capacity for meme-age.
Because he knows that's how shows gain traction in 2019. 
Whether it's intentional or not, Günsberg's commentary of his own shows has become iconic on social media, leading to a cult following.
Just casually walking into work… #maskedsingerau pic.twitter.com/Egdmnr6mes

— Osher Günsberg (@oshergunsberg) September 30, 2019