When we slot women into roles created for men, we place a near impossible task into their hands, wrapped in a pretty pink bow.
Make this movie enjoyable for women, we say, when it was always written with a male audience in mind.
That's the parcel movie executives handed the Ocean's 8 cast when they signed up for a spin-off of Steven Soderbergh's beloved Ocean's trilogy, the male-led heist series that collectively pickpocketed over one billion dollars from fans between 2001 and 2007.
Only this time, 11 years on from Ocean's 13, a freshly out of prison Debbie Ocean (played by Sandra Bullock) and her former accomplice Lou (Cate Blanchett) assemble a team of thieves to sink their teeth into something more sugary and glittery than the men's greasy casinos; New York City's MET Gala.
Their mission sees the likes of disgraced designer Rose Weil (Helena Bonham Carter), jewellery maker Amita (Mindy Kaling), suburban mum Tammy (Sarah Paulson), pickpocket Constance (Nora Lum Ying), technical genius Nine Ball (Rihanna), and malleable actress and Met Gala co-host Daphne Kluger (Anne Hathaway) collude to steal a $150 million Cartier necklace.
To exact revenge on Ocean's ex-boyfriend in the process is something of a vindictive side hustle to the main heist.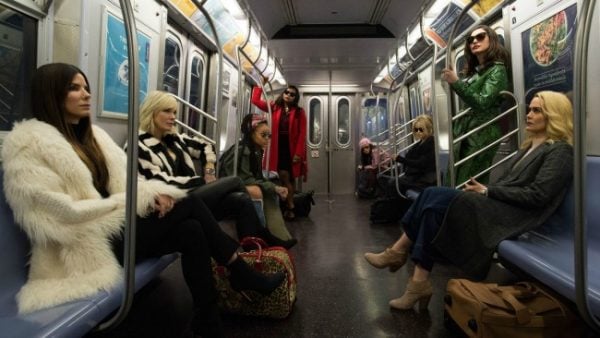 While critical responses to the spin-off have been tepid - a number of male reviewers have expressed their dismay at this "middling" revival - Ocean's 8 delivers on what its audience wants it to be upon walking into the cinema armed with popcorn and choc-tops; a delicious, slick take on something utterly ridiculous.
Is the plot a little cookie-cutter? Perhaps.
Its twists and turns were largely predictable, thus rendering Ocean's 8 a movie that will not rack up awards and accolades. But was it thoroughly, endearingly entertaining for the masses, as you would expect from a heist movie?
God, yes.
As others will tell you, Bullock's performance was particularly noteworthy. The actress was powerful and enigmatic as the movie's protagonist, and her performance over the 110 minutes will make you hop into your Holden Barina and almost convince yourself it's a G-wagon (sorry, it's still a Barina). The actress' ability to command a room with her steely stare alone is something to behold.
Bullock's presence aside, if you're looking for a piece of timeless art I suggest you take another scan at the local theatre's sessions list. If you're looking for an excuse to catch up with girlfriends and drink your body's weight in soft drink, this is it.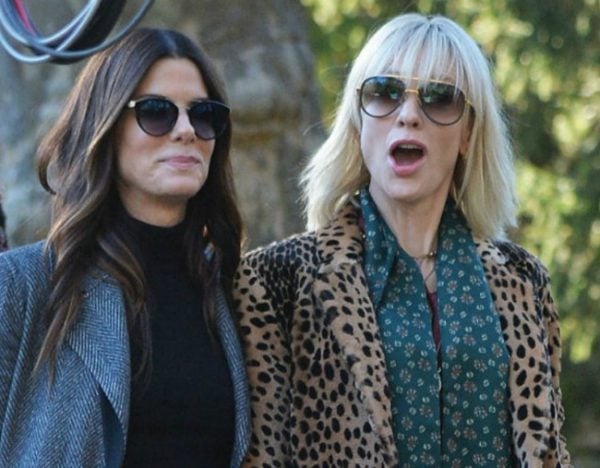 While critiques of the cast's not-quite-there cohesiveness are valid, perhaps what some professional reviewers forget is that the average person doesn't always want complicated, award-worthy plot development. That stuff is lovely, if not a little draining.
Sometimes, life is mundane and we want to sit in a cinema and let the leather biker jackets, sassy one-liners and surprise celebrity cameos wash over us. This is a movie about stealing a bunch of diamonds out from underneath Anna Wintour's nose, after all. Multiple Kardashian-Jenners saunter through it. A very tanned Katie Holmes is there. James Corden is an insurance detective. I swear I saw Heidi Klum at one point.
I'll just say it: As an average person who desperately wants a break from the minutiae of being ordinary, the producers' priorities were clearly (absolutely) in the right place.
Yes, you will see a rather cliched scene where a woman cries into a tub of Nutella. Yes, this should have been chopped like Blanchett's delightful new blunt bob. But I'd argue most knowingly bought their $22 tickets looking for the glamour and giggles, not cinematic perfection.
Considering the female-led remake toppled every male-led Ocean's film at the box office in its first week, it's pretty clear: this movie is a success, even if the 'experts' don't see it that way.
For more from Michelle Andrews, follow her on Instagram.