It's hard to believe, but it's been 18 years since the year 2000 – where has the time gone…
And with the threat of Y2K no longer looming over our heads, we figured now is as good a time as ever to look back on the noughties.
It was an interesting decade, filled with questionable hairstyles, and even more questionable fashion.
It was the decade that gave us Paris Hilton, cropped tops, sparkles and the colour pink – so much pink.
And even thought it may feel like just yesterday, we can honestly say no one misses the tiger streaks that dominated everyone's hair. Some things are better left in the past.
It wasn't all bad though – the noughties also gave us iconic couples like Brad Pitt and Jennifer Aniston, Jennifer Lopez and Ben Affleck, and Ryan Gosling and Rachel McAdams.
Here are 30 photos that are so noughties, you'll be tempted to go out and frost your tips. But please don't.
What a time to be alive.
1. Ashley Tisdale & Zac Efron
Just in case you'd forgotten, Zac Efron first rose to fame in a little Disney movie called High School Musical.
The film also starred Ashley Tisdale and Vanessa Hudgens, and was released in 2006.
Yep, it's hard to believe, but Zac has only been on our radar for 12 years…
Also, he wore Justin Bieber's haircut better than Justin Bieber. Just sayin'.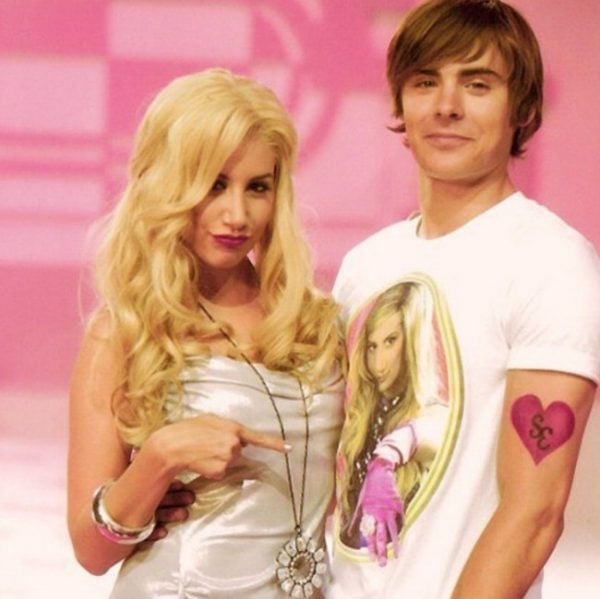 2. Britney Spears & Justin Timberlake
If the noughties were a teen movie, Justin Timberlake and Britney Spears would have been prom king and queen.
Their relationship was the stuff of teen dreams... right up until they split in 2002.
Their break up hit us all hard, with Justin even reportedly writing his hit single, "Cry Me A River", about the split.
Still, at least we'll always have their matching denim ensembles to look back on.
3. Cameron Diaz & Drew Barrymore
Cameron Diaz and Drew Barrymore were the BFFs we all wanted.
They were fun, cool, and they always seemed to have each other's backs.
After meeting on the set of Charlie's Angels in 2000, these two pretty much became inseparable from day one (sorry, Lucy Liu).
Also, we'd be lying if we said we didn't miss seeing them out together - #originalfriendshipgoals.
4. Gwen Stefani
We don't know what fountain of youth Gwen Stefani has been drinking from, but that girl hasn't aged a day.
After first rising to fame in the '90s with her band, No Doubt, Gwen went out on her own in 2004 and released her debut solo album, Love. Angel. Music. Baby.
And if you haven't gotten down to "Hollaback Girl" at least once in your life, you're just lying.
While she's kept her trademark bleached blonde hair and red lipstick, we're not sorry to say goodbye to the mesh cropped tops.
5. Hilary Duff & Amanda Bynes
Hilary Duff and Amanda Bynes were both ruling teen queens in the noughties.
Hilary was famous for her starring role in Lizzie McGuire, which ran from 2001 until 2004, while Amanda had her own comedy skit show, The Amanda Show, which ran from 1999 until 2002.
In fact, they were so popular, you would have been hard-pressed to find a teen magazine cover that didn't feature their beaming faces looking out at you.
Since then, Hilary has gone on to find success with a new TV series, Younger, while Amanda... has had a bit of a rough time in recent years, but seems to finally getting her life back on track.
6. Destiny's Child
Even in the noughties, it was evident Beyonce was the real star of Destiny's Child, but we'll always have a soft spot for this all-girl group.
After finally calling it a day in 2006, the girls - Beyonce, Kelly Rowland and Michelle Williams - all embarked on solo careers with varying levels of success.
Still, nobody wore matching over-the-top costumes quite like these three.
Apparently most of the group's early costumes were made by Tina Knowles, and if that doesn't scream "dance mum", we don't know what does.
7. Jennifer Aniston & Brad Pitt
Ahhh, Jennifer Aniston and Brad Pitt - the love story that just won't quit.
People couldn't get enough of this noughties romance, and in 2018, there's still a whole legion of fans who are silently willing them to get back together.
After apparently meeting through their publicists, the pair were married for five glorious years from 2000 until 2005... when Brad dramatically dumped Jen for Angelina Jolie.
And we all saw how that worked out.
8. Britney Spears & Madonna
It might seem like no big deal now, but in 2003, Britney Spears making out onstage with Madonna at the MTV Video Music Awards was huge news.
After performing a medley alongside Brit and Christina Aguilera, Madonna finished up her song, "Hollywood", by planting kisses on both girls - but it was her kiss with Britney that really raised eyebrows.
Maybe it was because Justin Timberlake - who had only recently split from Britney - was sitting in the audience looking seriously p*ssed off.
But it probably had more to do with the fact that up until that moment, Britney had been America's Sweetheart with a squeaky clean reputation.
9. Charlie's Angels
Based on the '70s TV show of the same name, Charlie's Angels was the movie franchise of the noughties.
Yep, before superheroes were a thing, we were all watching Cameron Diaz, Drew Barrymore and Lucy Liu kick butt onscreen as undercover private investigators working for the elusive "Charlie" - no special powers necessary.
The first film came out in 2000, and spawned a sequel, Charlie's Angels: Full Throttle, in 2003.
These films are jam-packed with cameos, but keep your eyes out for an extremely buff Justin Theroux playing a bad guy in the sequel.
10. Christina Aguilera
Clearly Christina Aguilera was a fan of the 'more is more' look in the noughties.
Everything about this look screams noughties - we actually don't think she could have squeezed any more noughties trends into one photo if she tried.
From the heavy-handed self-tan, tiger streaks in her hair, shimmery eyeshadow, corduroy newsboy cap, low-slung baggy jeans - it's all here.
She's even wearing a scarf as a top.
11. Paris Hilton & Kim Kardashian
In the noughties, Kim Kardashian was most famous for being Paris Hilton's friend.
How times have changed...
It seems like Kim learnt from the best though, because she's since eclipsed Paris' fame and then some.
They also used to carry matching metallic Louis Vuitton handbags, because nothing says 'friends forever' like matching designer accessories... Never mind.
12. Jennifer Lopez & Ben Affleck
Easily one of the most iconic pairings of the noughties, we thought Ben Affleck and Jennifer Lopez were going to be together forever.
They even gave birth to the original couple's nickname - "Bennifer" - so how could it not last?
Sadly, these two called off their engagement in 2004, after two years together.
We were surprised, because Ben looked super into it...
13. Kanye West & Alicia Keys
Before he married into the Kardashians and discovered Twitter, Kanye West was just a famous rapper, who used to hang out with the likes of Alicia Keys.
He also knew how to smile, which may be the most shocking part of this whole photo.
Meanwhile, Alicia embraced the noughties trends whole-heartedly, with her scarf tied around her head, hoop earrings, lacy black camisole peeking through under her button-up shirt and big floppy hat.
Fashion was so confused.
14. Laguna Beach
Laguna Beach really kicked off an era of MTV reality shows in the 2000's.
Its official name was Laguna Beach: The Real Orange County, and the hugely popular show ran from 2004 until 2006.
Basically, it followed a bunch of rich kids growing up in California.
It also introduced us to reality stars like Lauren Conrad and Kristin Cavallari, and was later followed up by The Hills and The City.
15. Kelly Osbourne & Avril Lavigne
Nothing says noughties like this photo of Kelly Osbourne and Avril Lavigne dancing together in a club.
Their somewhat surprising friendship actually makes a lot of sense if you really think about it...
Both of them were renowned for being anti-cool girls (which, to be fair, only made them that much cooler).
And they both did a damn good job of trying to revive punk.
16. Lindsay Lohan
Back before it all went horribly wrong for Lindsay Lohan, she was actually a promising young actress with a very noughties wardrobe.
After rising to fame in a string of Disney films, Lindsay peaked with 2004's Mean Girls.
Everyone was expecting big things from the young actress, and then it all just fell apart, after several run-ins with the law, not to mention her reputation as a Hollywood party girl who just won't quit.
And she looked so innocent in her trucker hat...
17. Jessica Simpson & Nick Lachey
The break up of Nick Lachey and Jessica Simpson was easily one of the most devastating events in celebrity culture in the noughties.
After welcoming us into their married life together via their reality show, Newlyweds: Nick and Jessica, it felt strangely personal when they announced they were divorcing in 2006.
They've since moved onto other partners, and to prove just how much time has passed, Nick now has three kids, while Jessica has two of her own.
Feel old yet?
18. Legally Blonde
Seventeen years later, and we're still quoting this movie...
What, like it's hard... to believe Legally Blonde first came out in 2001 (see what we did there?).
Reese Witherspoon was already a star when this film came out, after appearing in a string of hits in the '90s, but this is the role that cemented her position as a Hollywood leading lady.
Also, her wardrobe in this movie was the stuff dreams are made of. At the time, anyway.
19. Mandy Moore
Pink... So. Much. Pink.
Clearly pink was a popular colour in the noughties.
Before she was Rebecca on the tear-jerker series, This Is Us, Mandy was another bubblegum pop princess - with blonde hair.
She also really liked the colour pink. A lot.
20. Nicole Richie & Paris Hilton
Who can forget the noughties friendship that was Nicole Richie and Paris Hilton?
These two infiltrated our TV screens with their hit reality series, The Simple Life, which ran from 2003 until 2007, and saw them mixing it up with us common folk.
Although they were seemingly inseparable during the early noughties, they had a massive bust up and haven't really spoken since.
We're still coming to terms with it, too.
21. Mary-Kate & Ashley Olsen
Speaking of iconic noughties duos, Mary-Kate and Ashley Olsen were definitely one of them.
Before they discovered black, these twins dressed like every other teenage girl during that decade, with their long, loose layers...
So, pretty much nothing's changed then.
But they used to smile back then and everything.
22. NSYNC
They recently got back together to unveil their star on Hollywood's Walk of Fame in April.
But after teasing us all with the idea of a musical reunion, they once again ripped it away from us.
These guys broke up in 2002, after dominating the late '90s/early noughties music scene.
And while we can't be certain, we think the final straw may have come after they were asked to wear these outfits...
23. Rihanna
Rihanna was so sweet and innocent when her first single "Pon de Replay" came out in 2005.
Fast forward a couple of years, and she took the title of her 2007 album, Good Girl Gone Bad, literally.
She hasn't really looked back since then, becoming one of the biggest stars on the planet.
Still, it's fun to reminisce about the good old days...
24. Ryan Gosling & Rachel McAdams
This celebrity couple was the stuff dreams are made of.
After meeting on the 2004 set of The Notebook - quite possibly the most romantic movie ever made - it wasn't long before Ryan Gosling and Rachel McAdams' onscreen romance spilled into real-life.
When they broke up in 2007, it was a nail in the coffin for true love.
It didn't help when Ryan told GQ magazine (after they'd broken up, by the way), as reported by Pop Sugar: "Rachel and my love story is a hell of a lot more romantic than [The Notebook]."
25. Sex and the City
Sex and the City was the quintessential noughties show for anyone over the age of 15.
The fact that it's been able to withstand the test of time speaks volumes about its quality.
Everyone has debated whether they were a Carrie, Samantha, Miranda or Charlotte at one point in their life.
The jury's still out on Team Big or Team Aidan though.
26. The Smiths
If you're still not feeling old after scrolling through these photos, may we suggest taking a good look at this one?
Yes, that's Will and Jada Smith in the early noughties.
But, wait - who's that in Will's arms?
It's their son, Jaden Smith... who is now 19.
27. Taylor Swift, Katy Perry & Miley Cyrus
It's not just the appearances of Taylor Swift, Katy Perry and Miley Cyrus that have changed dramatically.
In 2018, we can't really think of any scenario in which these three would be hanging out together.
For one, Taylor and Katy kind of hate each other now.
I mean, your friendship doesn't just bounce back from a song like "Bad Blood".
28. Mila Kunis & Ashton Kutcher
Little did we know when we were watching That '70s Show for the first time that Mila Kunis and Ashton Kutcher would one day get married and have babies together.
The show ran from 1998 until 2006, and Mila and Ashton ironically played a couple in the series.
Still, they didn't actually hook up until 2012, after Ashton divorced Demi Moore.
In a 2012 interview with People, Mila admitted Ashton was also her first kiss. Aww.
29. David & Victoria Beckham
David and Victoria Beckham - or as they were affectionately nicknamed in the noughties, 'Posh and Becks' - are quite possibly one of the only couples to have emerged out of the decade relatively unscathed.
We think it might have something to do with their matching black turtleneck jumpers.
The couple that dresses together stays together.
30. Paris Hilton & the Kardashians
Finally, here's a picture of Paris Hilton hanging out with Kim Kardashian, Khloe Kardashian and Kris Jenner from before they were famous.
Enjoy.