1. This morning's Studio 10 segment nearly ended in Natarsha Belling sustaining a serious head injury.
Being a news reporter is a tough job, and don't let anybody tell you otherwise.
Nobody knows this more than Studio 10 journalist Natarsha Belling who was in a near, possibly fatal accident involving liquid nitrogen and a bottle of coke.
Luckily nobody was hurt, co-host Roxy Jacenko, and scientist Jacob Strickling, and instead we can all look back and laugh.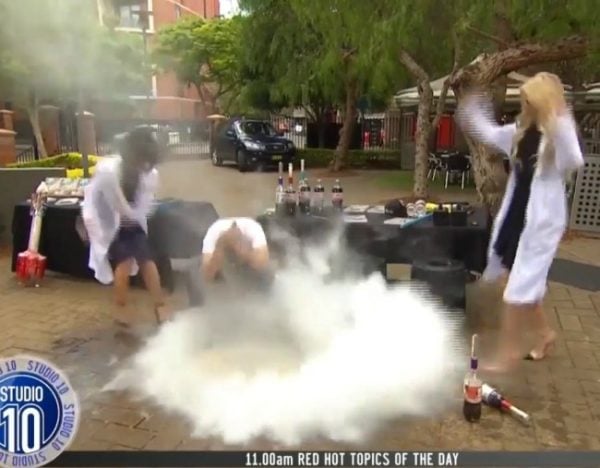 While the scientific premise behind the experiment was that the nitrogen would cause the coke to shoot upwards, but Natarsha accidentally dropped the coke sending the bottle flying in the wrong direction, nearly missing her head, and into a nearby tree.
Obviously, do not try this at home.
2. Russell Crowe and Delta Goodrem are madly, deeply in love. Can someone let them know?
There's nothing more beautiful then two talented Aussies getting together, and if you haven't heard the news that homegrown legends Russel Crowe and Delta Goodrem are truly, madly, deeply in love, then that's ok, because they haven't either.
A certain, Aussie rumour mag, posted on their front page a picture of the happy couple with the caption, "together at last." Russel was the first to notice this... shall we say in-discrepancy, and kindly updated his other media wives, including Terri Irwin, and Sophia Forrest amongst others.
Hey @DeltaGoodrem , anything we should talk about ? Want apologise to @TerriIrwin, Sophia Forrest, the unnamed Mexican companion and all my other Aust Magazine lovers. Seems I've moved on pic.twitter.com/M4tQP1ja85

— Russell Crowe (@russellcrowe) November 30, 2017