1. This morning's Studio 10 segment nearly ended in Natarsha Belling sustaining a serious head injury.
Being a news reporter is a tough job, and don't let anybody tell you otherwise.
Nobody knows this more than Studio 10 journalist Natarsha Belling who was in a near, possibly fatal accident involving liquid nitrogen and a bottle of coke.
Luckily nobody was hurt, co-host Roxy Jacenko, and scientist Jacob Strickling, and instead we can all look back and laugh.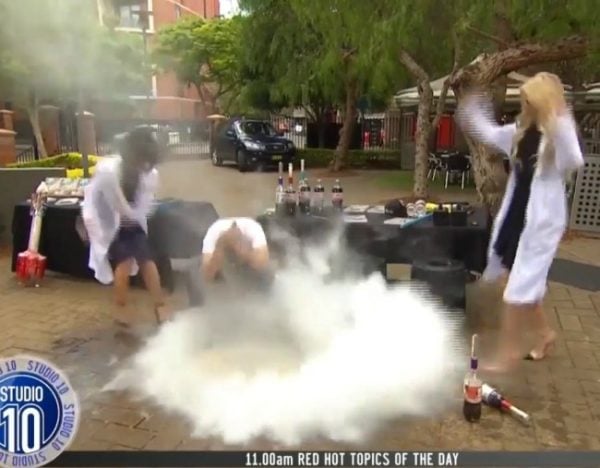 While the scientific premise behind the experiment was that the nitrogen would cause the coke to shoot upwards, but Natarsha accidentally dropped the coke sending the bottle flying in the wrong direction, nearly missing her head, and into a nearby tree.
Obviously, do not try this at home.
2. Russell Crowe and Delta Goodrem are madly, deeply in love. Can someone let them know?
There's nothing more beautiful then two talented Aussies getting together, and if you haven't heard the news that homegrown legends Russel Crowe and Delta Goodrem are truly, madly, deeply in love, then that's ok, because they haven't either.
A certain, Aussie rumour mag, posted on their front page a picture of the happy couple with the caption, "together at last." Russel was the first to notice this... shall we say in-discrepancy, and kindly updated his other media wives, including Terri Irwin, and Sophia Forrest amongst others.
Hey @DeltaGoodrem , anything we should talk about ? Want apologise to @TerriIrwin, Sophia Forrest, the unnamed Mexican companion and all my other Aust Magazine lovers. Seems I've moved on pic.twitter.com/M4tQP1ja85

— Russell Crowe (@russellcrowe) November 30, 2017
Delta clapped back, apologising to Seal, and her imaginary, unnamed child - but really it's all a bit difficult to keep up with...
Oh you only just heard the news?! haha!! .. wait, wasn't i married to my friend @seal or has that ended?? No, wait I'm having a baby on my own! Gosh i can't keep up!!
Either way love you Rusty! @russellcrowe ! xx https://t.co/S0seAm5Ega

— Delta Goodrem (@DeltaGoodrem) November 30, 2017
Perhaps it's just all in a [slow news] day?
3. How three 'lookalike' celebs snuck into the ARIAs without anyone bloody noticing.
The ARIAs are Australia's night to celebrate our talented, well-known, local musicians... and apparently also people who look a lot like well-know, local musicians.
That's because three artist lookalikes managed to sneak onto the ARIAs red carpet and successfully fool entertainment reporters and media outlets covering the event.
The prank was orhestrated by Triple J breakfast show hosts Ben and Liam, who earlier put a call out the listeners who looked like music artists.
The found a doppelganger for Meg Mac, a man who looks a helluva lot like Kevin Parker from Tame Impala, and a guy who bears a strong resemblance to Adam Hyde from Peking Duk. See below:
All three arrived in limos, walked onto the carpet and were stopped for interviews.
We're guessing there's a lot of reporters with egg on their face copping it from their co-workers today.
4. Inside Jay-Z and Kanye West's "complicated" friendship.
Jay-Z, aka Shawn Carter, aka Beyonce's husband, wants us to know that despite tensions, he and Kayne West will always be "brothers".
To get you up to speed, the rappers have been super close for more than a decade, recording an album together in 2011 and co-headlining a large tour. But then around this time last year, West ranted about his friend (and others) during a performance in Sacramento and hidden tensions appeared to have surfaced.
However, in an interview with The New York Times's style magazine, Jay-Z has set the record straight about the pair's "complicated" relationship.
"Kanye came into this business on my label. So, I've always been like his big brother. And we're both entertainers," Jay-Z explained.
"It's always been like a little underlying competition with your big brother. And we both love and respect each other's art, too. So, it's like, we both—everyone wants to be the greatest in the world. You know what I'm saying?"
He reassured anyone who wished to speculate on a feud, not to bother because "we gonna always be good".
5. We now know who set up Meghan and Harry. We think.
It's all the world is talking about right now, and it's no secret that everyone (and by everyone I mean, we) is irrationally invested in the newest royal engagement between Prince Harry and ex-Suits actor Meghan Markle.
We pretty much know everything about the pair that are set to wed in May, but there's still one question haunting me looming.
Who on earth played cupid and introduced 33-year-old royal and 36-year-old TV star?
Cupid's identity may have been revealed after a thorough investigation - because we have literally NOTHING better to do with our lives - with all the signs indicting it could be Prince Harry's old pal Violet von Westenholz.
Von Westenholz, a 33-year-old PR director for Ralph Lauren, often dressed Markle, and not-so-coincidently happens to be a very old family friend of the Prince's.
If we look at the dates, Markle was spending time with Von Westenholz during Wimbledon in July, the same month as the critical first date last year between the newly engaged couple.
AND in their annoyingly cute televised appearance, they both admitted to being set up by a mutual friend on a blind date. *narrows eyes*
The culprit cupid in question however, did not deny that she was the elusive matchmaker.
"I might leave that for other people to say [who it is]," Von Westenholz told The Daily Telegraph.
"It's a great story and I am sure they are going to be very happy together. I am just happy they are really happy. They are great together."
*melts*