In case you've missed it, men – the predatory type – are in trouble.
The string of accusations against prominent men currently flooding our newsfeeds include: showing women their genitals without being asked; masturbating in front of women; groping women; pressuring women into sex; talking about sex in front of women; talking about f*cking that woman in particular; holding women down; raping women.
As victims continue to come forward – led by those who first spoke out against disgraced Hollywood filmmaker Harvey Weinstein – a history of silence in which powerful men have gotten away with sexually harassing women who are less powerful, and oftentimes in their employment, is slowly unravelling.
It's therefore astounding that Australian musician Kirin J. Callinan thought it might be acceptable to attend the ARIA Music Awards in Sydney last night and stare down reporters while lifting his kilt and exposing his genitals.
The action was purposeful and he did it without anyone's consent. Has he not seen the news?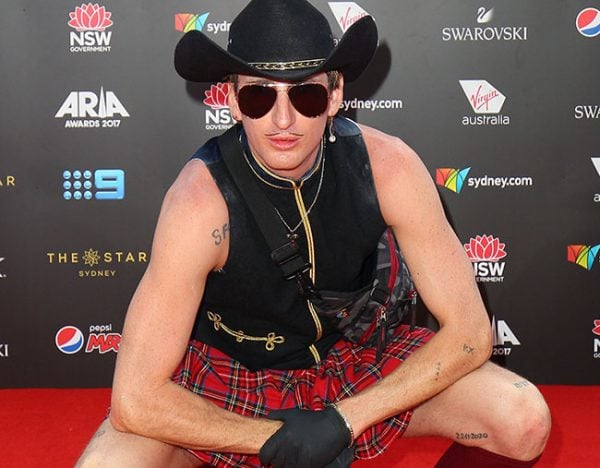 Probably, he thought it was hilarious. A prank that would make headlines and maybe even catapult him back into public relevance.
Instead, the act echoed that of too many powerful, successful men who've come before. It was the public equivalent of an unsolicited dick pick.
The thinking:  "I can get away with purposefully flashing a red carpet full of paparazzi my penis in the name of humour..."
Is a close cousin to: "I can get away with groping a woman or asking the size of her vagina because I think it's funny".