Firstly, we're sunburnt and we should have worn hats.
And secondly, we got precisely zero photos with celebrities that are even marginally Instagrammable because we look offensively bad.
It's disappointing.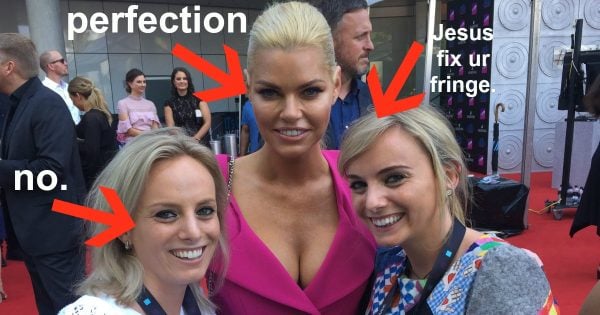 But tonight isn't about us or our faces. It's about Sophie and Stu's body language the Australian music industry.
There were people we most definitely should have recognised and more than once we wished celebrities would wear name tags that clearly outlined where we should know them from.
We said 'no' to interviewing a country artist we've never heard of and we still feel guilty about that because we have no doubt they would have been very nice and also talented. 
But like any good story, ours begins with Alfie Arcuri, the winner of the fifth season of The Voice. 
We discuss the fact it's hot, which feels like common ground. We then ask how long it took to get ready and he says under an hour, which is legit less time than it took us to get ready for work today and we still look... messy.
Cool.
But stop it did we just see Anthony Callea in a rhinestone leather jacket....
THIS IS URGENT PLS.