Let's keep this short.
NARS Velvet Matte Lip Pencils are some of the best matte lipsticks known to the beauty world, and they're currently on sale.
Add multiple to your trolley and keep one at your desk, makeup bag, handbag and car, because they're just that good.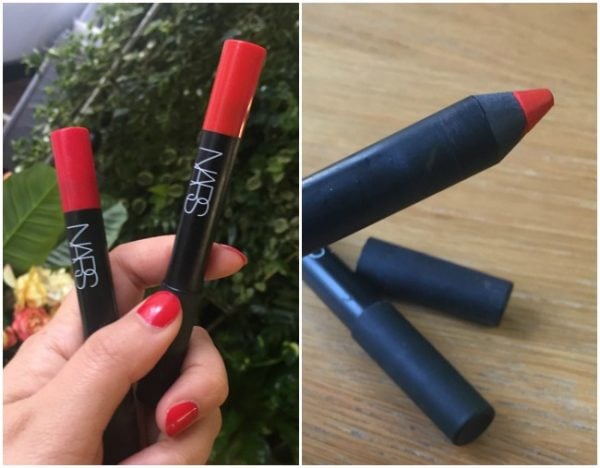 The formula is hydrating but the lasting-power is still lunch-proof, and you can apply it on a moving public transport with relative accuracy. Tried and tested.
Not convinced? Allow me to continue.
1. The application.
If lipstick bullets didn't look so damn fabulous an argument could be made that all lippies should come in jumbo pencil form.
They're the most space efficient - no bulky tubes please, and hands-down the easiest to apply, which is especially important when you're dealing with bright colours.
The pointed tip also takes out the guess work when you're drawing in your lip line, making sure this situation doesn't happen:
For a lived and learned in-transit hack, anchoring your pinky finger on your chin while applying your lipstick will give you a bit more stability. Observe...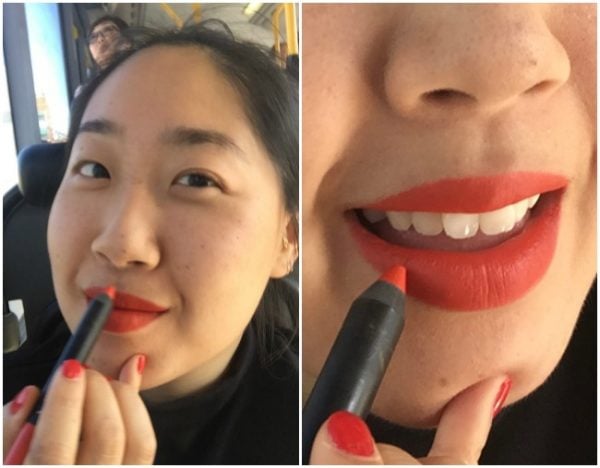 2. The formula.
The NARS Lip Pencils come in two formulas. The Satin finish is more nourishing and leaves a slightly glossier look, whereas lipsticks from the Velvet range are matte and more long-wearing. Despite this, they aren't drying at all and don't emphasise dry patches.
In terms of staying power - while you'll need to touch up after demolishing a burger, the colour still lasts throughout the day.
3. The winter-perfect shade range.
To borrow a line from Game of Thrones, winter is coming, so grab your faux fur coat and a moody statement lip.
For $12 you've got your dark lips covered with Damned ($12) which wears like a plummy-purple colour or for some more drama - Train Bleu ($12) is a statement-making rich, dark, aubergine shade.
If brighter colours are more your thing, Red Square ($26.99) is that evasive orange-toned red that seems to be universally flattering.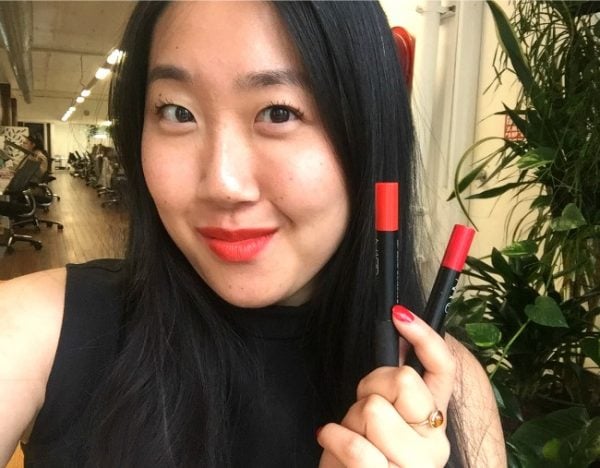 For those after a glossier look, the Satin formula also boasts some great colour options. Majella ($12) wears like a classic red, Bansur ($26.99)  is  a Kylie Jenner-esque, terracotta nude, and Palais Royal($12) ticks the box for a rich mulled-wine-esque burgundy.
Whats your favourite winter lip staple? Tell us in a comment.