For all your My Kitchen Rules Australia news in one convenient place, check out our My Kitchen Rules 2018 hub.
Warning: This article contains alarming comments and death threats.
After apologising on Thursday night for their on-screen comments, Sonya and Hadil have moved to "name and shame" those who have hurled vile abuse at them since leaving My Kitchen Rules for "bullying" another team.
LISTEN: There's one major difference between Masterchef and MKR. We discuss, on our pop culture podcast. Post continues.
The NSW friends shared that they have been receiving disgusting messages through Instagram , including death threats and racist slurs.
"Thank you to all of those who have sent us supportive messages," they wrote in an InstagramStories post. "As for the people attacking and criticising us, it's time to name and shame. Enough is enough."
Some of the worst messages they shared in their Stories told them to "go kill yourselves", while others included racist attacks aimed at their Jordanian heritage. Some were too horrible to repeat.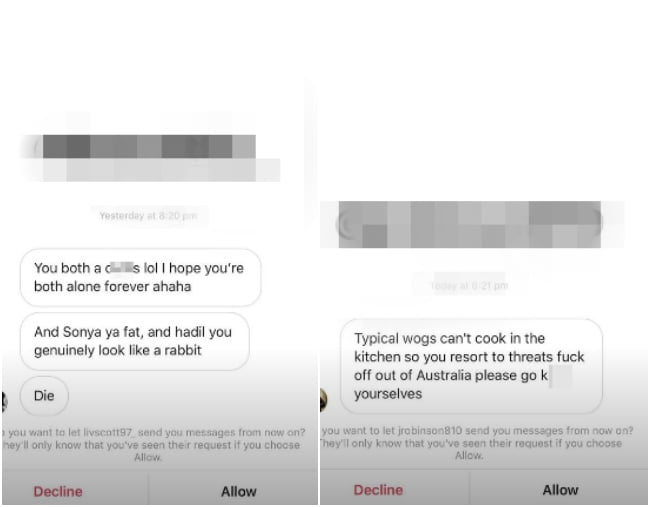 In one referring to them as "dirty scumbag Middle Eastern pigs" he also said they "deserve to be hung" before wishing a bus would hit them.