For all your My Kitchen Rules Australia news in one convenient place, check out our My Kitchen Rules 2018 hub.
Warning: This article contains alarming comments and death threats.
After apologising on Thursday night for their on-screen comments, Sonya and Hadil have moved to "name and shame" those who have hurled vile abuse at them since leaving My Kitchen Rules for "bullying" another team.
LISTEN: There's one major difference between Masterchef and MKR. We discuss, on our pop culture podcast. Post continues.
The NSW friends shared that they have been receiving disgusting messages through Instagram , including death threats and racist slurs.
"Thank you to all of those who have sent us supportive messages," they wrote in an InstagramStories post. "As for the people attacking and criticising us, it's time to name and shame. Enough is enough."
Some of the worst messages they shared in their Stories told them to "go kill yourselves", while others included racist attacks aimed at their Jordanian heritage. Some were too horrible to repeat.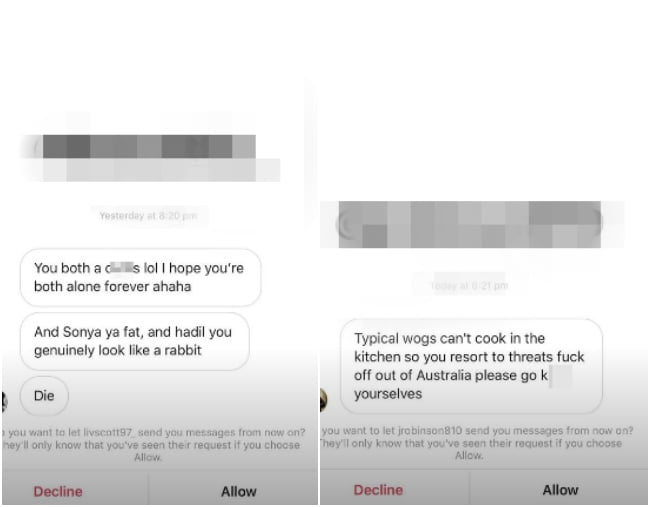 In one referring to them as "dirty scumbag Middle Eastern pigs" he also said they "deserve to be hung" before wishing a bus would hit them.
"Ew smelly Arab moles take your turbans and get back on the boat," wrote another, before continuing: "Your [sic] arabs you have no right to an opinion in this country."
It's a bizarre and sickening response from viewers, who don't seem to understand that the on-screen comments they are so outraged about are far less malicious and cruel than what they've just said themselves.
The insults Sonya and Hadil uttered on My Kitchen Rules deserve scrutiny, but nobody - nobody - deserves this level of harmful trolling. It's gone way too far.
Jess and Emma, who were the subject of the taunts that saw Sonya and Hadil asked to leave the Channel Seven cooking show, attempted to steer their own fans away from sending these kinds of messages.
In an apology for their "part in the drama" they shared on Instagram, the Sydney sisters wrote: "To our young followers this is not acceptable behaviour and there a better ways to resolve issues."
"Be kind and stop the hate, the horrible nasty comments towards the girls it's not needed.
Watch the moment that led to Sonya and Hadil being evicted. Post continues after video.
Sonya and Hadil also shared some kind words they received from fans, who perhaps knew they would need support at this time.
"It doesn't take a fool to know you are both amazing cooks and most likely would have won," one supporter wrote. "Continue to stand proud and slay at life beauties."
If you or anyone you know is experiencing crisis you can always call on Lifeline 13 11 14.