For all your My Kitchen Rules Australia gossip in one convenient place, check out our My Kitchen Rules 2018 hub.
With the finale just around the corner, tensions are flaring on My Kitchen Rules – and even the normally cool, calm and collected judges are at odds with each other.
Thursday night's episode saw Stella and Jazzey face off against Alex and Emily for a spot in the grand final.
It was kind of a big deal, so regular MKR judges Manu Feildel, 44, and Pete Evans, 45, called in some of their friends from the culinary world – Colin Fassnidge, Karen Martini, Guy Grossi and Liz Egan.
Unfortunately, it soon became evident that there were too many chefs sitting at the table, with them all unable to agree on whether or not they actually liked Alex and Emily's main of Mussels and Pippies with Nahm Prik Pao.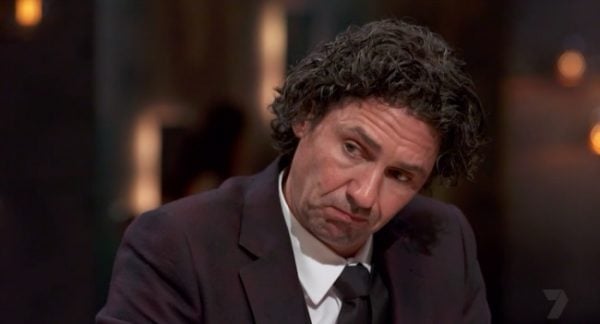 Guy, 52, was a fan, but Karen just sort of shrugged at his assessment.
"I think this is a really pungent, beautiful bowl of noodles with this perfectly cooked seafood in there. I'm really enjoying it. Beautiful dish," he said.
Liz was also onboard the Mussels and Pippies train, but she did have one criticism.
"There's so much to like about this dish. I really enjoy the broth. There's quite fatty flavours coming through there, which is really rich and lovely. I just think, it is maybe a little too sweet," she said.
That's when Karen, 46, said she was hoping for a "dirtier flavour".
"Maybe a little bit more fish sauce or saltiness in there to balance out the sweetness," she said.
Colin agreed with her, and it suddenly felt like the judges were having a face-off across the dining table.
"It is a little bit sweet. There's something that's toying with me though, is it enough for a semi-final? They made a broth and some shellfish," he added.
But Liz wasn't having any of it.
"I think there's a decent amount of work in the dish. And, it's delicious and I would eat it all," she said.
Meanwhile, Colin sat opposite her, shaking his head, prompting Guy to say he'd be happy to "eat a whole bowl of it".
"I know that, Guy. But I'm just saying, I like it, it's nice, but for the semi-final, it's not to the standard we got on the last one," Colin hit back.
The secret to the perfect roast chook. Post continues below.
And that's when Pete, 45, stepped in with his own opinions.
"Well, I think you're all being very, very harsh," he said.
"I disagree. I actually think this is a perfect dish. I think the sweetness is actually the star of this dish."
Still, it was clear Karen and Colin had their own opinions about the food in front of them.
"Well, we don't all agree," said Karen.
Yeah, we just come here for the fights.