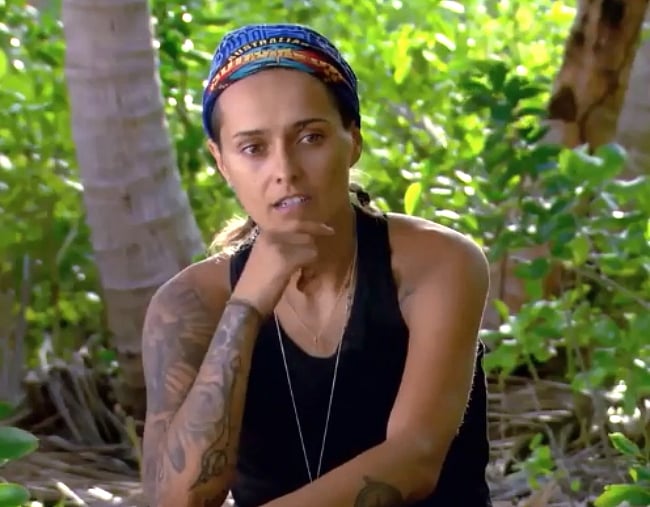 Last night, I almost cried when Moana Hope was eliminated from Australian Survivor Champions vs. Contenders.
There were no actual tears, but my eyes were definitely misty.
The 30-year-old AFLW player quickly won over Aussie households (mine included) because of her honesty, humour and authenticity. Even though she played hard from day one, Moana somehow made lying and scheming endearing, probably because she's a team player above all else.
But after finding out just how sick Moana actually was while filming Australian Survivor, I can now understand why she had to leave the game.
"I was sick for eight days, which you didn't really see on TV, the champions tribe had to see me sit there in torture. I lost seven kilos in five days and was fainting out on the island, I was quite literally deteriorating," she told Mamamia.
"The rules of Survivor are, what you see [on TV] is all we get. I probably would've given my left toe for medical attention or something that would make it better. My heart didn't want to leave, I was so in love and having the best time, it was the coolest thing I've ever done, but I couldn't eat or drink, and by the time you saw me at tribal council [last night], that was me after eight days, nine kilos lighter. I looked like it was day 45."
"Probably the best experience of my life."

Moana Hope talks about her incredible journey on #SurvivorAU ???? pic.twitter.com/BSsf9kea2q

— Australian Survivor (@Survivor_AU) August 9, 2018
Moana said her physical illness also had a massive impact on her mental health. Being a footballer, playing in and helping her team is her whole life. Not being able to do that in the game was devastating.
"For me, [being sick] started to make me pretty depressed because I was so unwell, and you can't just run down to the pharmacy and grab what you need to get stuff sorted, it was super hard," she said.
"The hardest bit was feeling helpless. I love being a part of a team and being able to contribute in challenges, but the worse I got, the more I couldn't do. I'm all about the team and the more it went on, the harder it got. And half a million dollars was on the line. That half a million could've got my mum out of housing commission so, you know, I wanted it more than anyone, arguably.
"At the same time, I was the only non-retired athlete there. I knew I had to come home to a business of 70 people, looking after my disabled sister Vinny and taking care of my entire family, it got to that point where I had to put [life on the outside] first."
Moana's health didn't just magically improve when she got back to the comforts of home in Australia. She said she was still just as sick, if not worse, for three and half weeks post-Survivor.
"When I got back, I was sick for another three and a half week. I went to the doctors and they couldn't even get blood from my veins for  a week because I was so sick, because my entire immune system had shut down," she said.
"They even sent me to an infectious disease clinic because they didn't know what it was, but I couldn't consume any food or water. I was passing out in bed or in the car when my partner Bel was driving me, it was an intense time and very worrying. After those weeks, I was happy to eat again."
Having access to medical attention was just one of the perks of returning home. For Moana, being reunited with her sister Vinny who is living with a disability, was such an incredible moment.
"It was so hard to prepare and say goodbye to Vinny because she didn't understand. The night before we were laying in bed watching TV and she started crying and gritting her teeth really hard – she doesn't deal with things the same way you and I deal with things, so to watch her quite literally in front of me, what I would call depressed, was hard," she said.
"But when I got home (it was a surprise), she couldn't believe it. She even swore a couple of times, she looked at me as if it was fake or somebody else dressed as me. I think it might've been the best day of her life… seeing her face, that was, I don't know how to explain it, it felt like a weight taken off my shoulders."
There were also so many moments that didn't get shown, but the funniest was when Moana got former AFL footballer Brian Lake back for flipping on her during the Russel Hantz vote.
"In week one, Brian was supposed to vote for Russel as a part of my alliance, but he flipped on me so I knew I wanted to get him back. So the day I was leaving, I pulled him aside and showed him my old idol clue [that helped Moana find a hidden immunity idol]. I told him there would be an idol at tribal council and that I wanted him to have it.
"He was so happy as if someone had just given him a billion dollars, but it was payback because he lied to me. So at tribal council, he went and looked under the lid of the urn [where Moana found the idol days before]. When he sat back down, he whispered to me 'it's not there, where is it?! someone else must've found it first'. It was absolute gold."
Well played, Moana. It was an absolute pleasure watching you, right until the end.
Are you watching Survivor? Who do you think will win now that Moana was eliminated?