Collingwood footy star Moana Hope is known for her goal kicking prowess, but this week it was her off-field actions that caught media attention.
Speaking on the Jo and Lehmo radio show on Gold 104.3, the 29-year-old marquee player explained her incredible act of generosity for her mother on the weekend.
"For a very long time I've been trying to save a lot of money for [Mum]," Hope told hosts Jo Stanley and Anthony "Lehmo" Lehmann.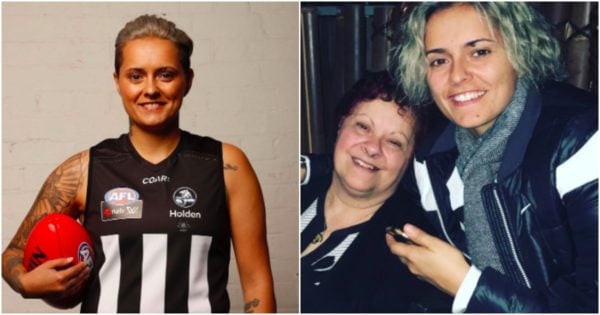 "She's done so much for us all growing up, and she's sacrificed everything, so I've done a lot to save $50,000 so she can put a deposit on a house.
"I watched her cry like a little girl... I don't think she's ever thought she could own a house, and now it's a reality, so she's been sending me photos of houses for the past few days."
The former state cricketer, who gave up the sport at 19 to pursue AFL, surprised her mother with the gesture at her brother's wedding on Saturday.
But the athlete's incredible kindness didn't stop there.
"I actually surprised my brother and his new wife with a cruise as well," the full forward admitted.
Hope was happy to celebrate Collingwood's first win last week, but also shared her sympathies for teammate Kate Sheahan, who ruptured her ACL in the first 10 minutes of the match.
"I feel for poor [Kate]," Hope said.
"She's such a character, and I watched her during the preseason, busting her chops to get to where she was. And that was her first game, so that was really a down point for me personally to see such a great person have to go off like that."
To catch Moana Hope in action this weekend, watch her go head to head with the Fremantle Dockers in Perth on Saturday at 1:35pm AEDT.