Earlier this week, we learned Meghan Markle's father, who lives as a recluse in Mexico, will indeed be braving the public spotlight to attend the wedding of his daughter to Prince Harry – the grandson of the Queen of England – and walk her down the aisle.
It's not only the cameras he has to look forward to, however, as royal tradition mandates the father of the bride will also receive a rather unusual gift in the lead up to the wedding.
Thomas Markle Sr. will likely be gifted a family Coat of Arms just ahead of the May 19 nuptials, People Magazine reports.
It's a traditional symbol, to be used forever, that incorporates specially chosen colours and symbols into a unique design. And, though Kensington Palace is yet to confirm the gift, history suggests it will be given.
Kate Middleton's father, Michael Middleton, received his personalised emblem ahead of the 2011 wedding between Kate and Prince William.
According to People, the Middleton family Coat of Arms includes three acorns to represent the family's three children, and a gold stripe in the name of Kate's mother, Carole, whose maiden name is 'Goldsmith'.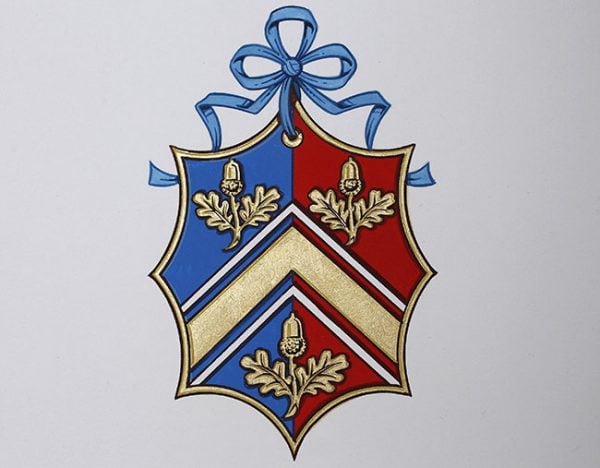 After Thomas is delivered his family's Coat of Arms, Meghan and Prince Harry will receive one of their own.
Called the "Conjugal Coat of Arms", it will likely follow the theme of the one below - Wills and Kate's Coat of Arms, which was unveiled in September 2013.
Meghan Markle had to go to 'kidnap training' last week and we need to talk about it. Post continues after.
In it, the separate shields of Prince William - which was gifted to him by Queen Elizabeth II on his 18th birthday - and the Duchess' family Coat of Arms are displayed together side-by-side.