Want more goss, analysis and insights from Meghan and Harry's big day? Visit out our Royal Wedding hub.
The newly dubbed Duchess of Sussex walked down the aisle in an elegant boat-necked, sleeved, Givenchy gown on Saturday and – as with all major pop culture moments – comparisons were quickly drawn.
The boat-neck cut is very Audrey Hepburn in Funny Face.
Oh, no it's more like something Grace Kelly circa 1950 would wear.
Actually, doesn't it look a lot like the dress Princess Mary wore when she married Prince Frederik of Denmark in 2004?
And then some people of our own heart, who must have watched and loved early 2000s romantic comedies as much as us, pointed out the unlikeliest of places where Meghan Markle may have drawn her inspiration from: Jennifer Lopez's wedding dress in The Wedding Planner.
If you haven't seen the 2001 rom-com where J-Lo stars as the titular wedding planner opposite Matthew McConaughey, then you are missing out. It's a heart-filled story of a woman who falls in love with the man she's planning a wedding for. And in one scene she's in a courthouse about to marry another man, wearing this: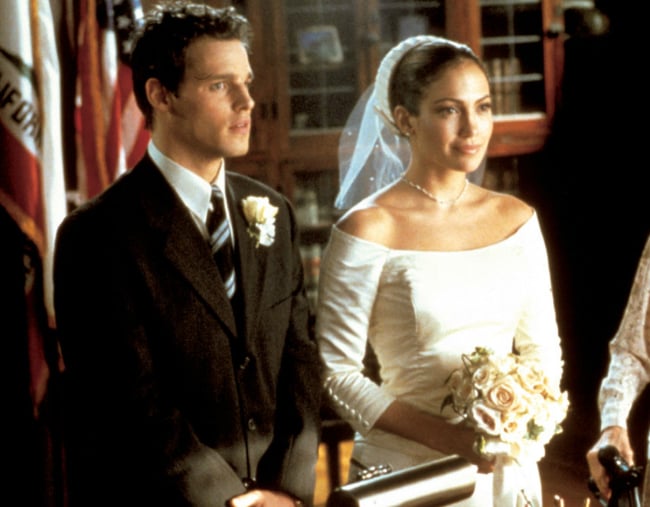 Look, we're not saying it isn't a long shot that Meghan wanted to channel Jennifer Lopez in her short-lived acting heyday (which lasted about until 2002). But it's hard to deny the similarities between the two wedding looks.
And people on Twitter think so, so it must be true.
Anyone else getting a very JLO "Wedding Planner" vibe from the new Duchess of Sussex's wedding dress? #Givenchy #RoyalWedding #RoyalWedding2018

— Mihad Ali (@MihadAli) May 19, 2018