For everything Prince Harry, Meghan Markle and the Royal Wedding in one convenient place, visit our Royal Wedding hub.
In the weeks leading up to the royal wedding, there was one question on everyone's mind: WHAT DRESS WILL MEGHAN MARKLE WEAR? Would she go conservative? Would she push the boundaries? Who would design it? 
Then on Saturday, as she stepped out with her pageboys, our expectations were exceeded.
She wore a simple but stunning boat neck, long sleeve gown deigned by British designer Clare Waight Keller, who became the first female Artistic Director at the historic French fashion house Givenchy. The veil offered the only lace in sight as a very delicate trim.
But for many Australians, the dress looked quite familiar.
Channel Nine presenter Allison Langdon, who was reporting live from the UK, was quick to make the parallel.
"It was Princess Mary. My first thought was that we had seen the dress before," Ms Langdon said.
"I think she did copy Princess Mary. It looked stunning on her but she went with pure white," she continued.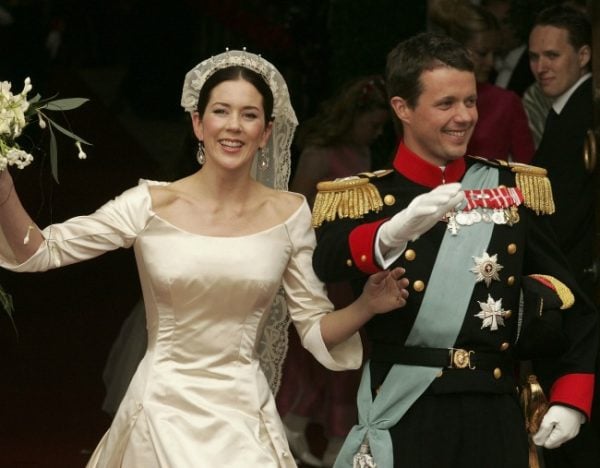 Australia's home-grown princess, Mary Donaldson, married Prince Frederik of Denmark in 2004. She wore a boat-neck style dress, a similar neckline to Markle's, but in an ivory colour. It had similar sleeves and a similar shape. 
While there are a few similarities between the two dresses, there are many distinct differences.
While Princess Mary wore a stunning patterned lace veil, Markle went with a simple, bright white veil. The very bottom of the dresses also fall in different ways.
Moral of the story? BOTH ROYALS LOOK AMAZING.
The boat-neck neckline is the peak of elegance, and clearly, it's rather timeless.