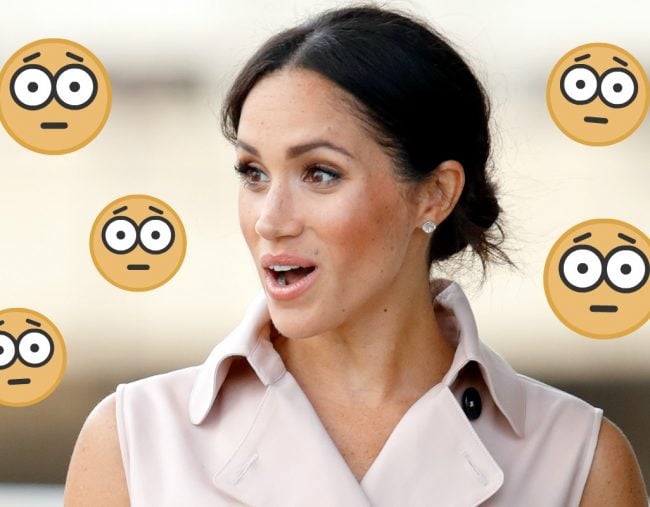 Before Meghan Markle became the Duchess of Sussex, she was just your average commoner.
Well, average besides the fact she was a famous actress with a role on Suits. But still. Just like you and I, Meghan enjoyed holidays.
Years before she had even met her now-husband Prince Harry, Meghan went on a two-week road trip around New Zealand – the same country she's now visiting on an official royal tour.
Speaking to radio hosts Fletch, Vaughan and Megan on ZM in 2015, Meghan said there was one person in Kiwiland who had inappropriately seen her nude during her trip.
At an Akaroa campground in the South Island, Meghan was showering when a 13-year-old boy tried to steal her underwear.
Yeah… what the hell.
"When we got into the campsite, they had nice areas to take a shower and I'm washing my hair and I hear something," she told the radio hosts.
"I open the shower curtain and there's this 13-year-old boy who had crawled under the stall and was trying to steal my underwear.
"I grabbed a towel and I'm like, 'Where is your mother?!' I found his parents, who were mortified."
It's a pretty gross invasion of privacy, but Meghan said the benefit of hindsight showed her the funny side.
"I can laugh about it now but at the time I was so shaken up," she said. "To this day, I go 'oh my god, that kid's sitting at home going 'oh my god, that's the girl from Suits, I saw her naked'.'
"He was just a little prankster, he was harmless – probably bored to tears with his family."
She said that if the kid – who was from Christchurch and would now be about 20 years old – was listening to the radio show, she would tell him "Hello my friend, I hope you're better behaved".
The Duke and Duchess of Sussex are currently touring New Zealand, so maybe they'll run into the kid and she'll be able to tell him that in person.