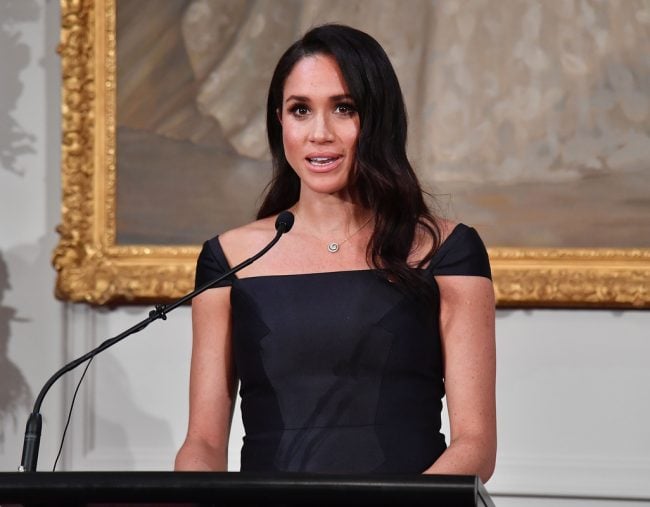 -With AAP
1. Meghan Markle's rousing speech broke one of the most well-known royal rules.
Meghan Markle gave an unusually political speech on feminism and women's suffrage in New Zealand.
New Zealand is celebrating its 125th anniversary of women's suffrage – it was the first country in the world to give women the right to vote.
Speaking at Government House, in front of a portrait of her grandmother-in-law the Queen and with Kiwi Prime Minister Jacinda Ardern in attendance, Meghan commended the country and talked about the importance of feminism.
The royal family is usually barred from speaking about politics – with this speech the Duchess has once again broken royal protocol.
"Bravo New Zealand for championing the right of women to vote 125 years ago." — The Duchess of Sussex, as she and The Duke joined PM @JacindaArdern and @GovGeneralNZ Dame Patsy Reddy to celebrate the 125th anniversary of women's suffrage in New Zealand. #RoyalVisitNZ pic.twitter.com/zpFhyPiE8r

— Kensington Palace (@KensingtonRoyal) October 28, 2018
"The achievements of the women in New Zealand who campaigned for their right to vote, and were the first in the world to achieve it, are universally admired," she told the crowd.
"Women's suffrage is about feminism, but feminism is about fairness. Suffrage is not simply about the right to vote, but also about what that represents: the basic and fundamental human right of being able to participate in the choices for your future and that of your community. The involvement and voice that allows you to be a part of the very world you are a part of."
She said that women's suffrage is about not just the right to vote for women, but also about what the represents: "The basic and fundamental human right of all people – including members of society who have been marginalised – whether for reasons of race, gender, ethnicity or orientation – to be able to participate in the choices for their future and their community."