As Meghan Markle and Prince Harry sort out all the final details for their big day next month, an upcoming biography has put the spotlight back on the actress's first marriage – and how it ended.
An extract from Meghan: A Hollywood Princess by Andrew Morton – famous for his biography on Princess Diana, details Meghan's childhood and how her career developed. But the one detail everyone seems most interested in is just what happened when the Suits actress ended her two-year marriage with film producer Trevor Engelson in 2013.
Allegedly, Meghan sent the wedding ring and engagement ring back to Trevor through the mail.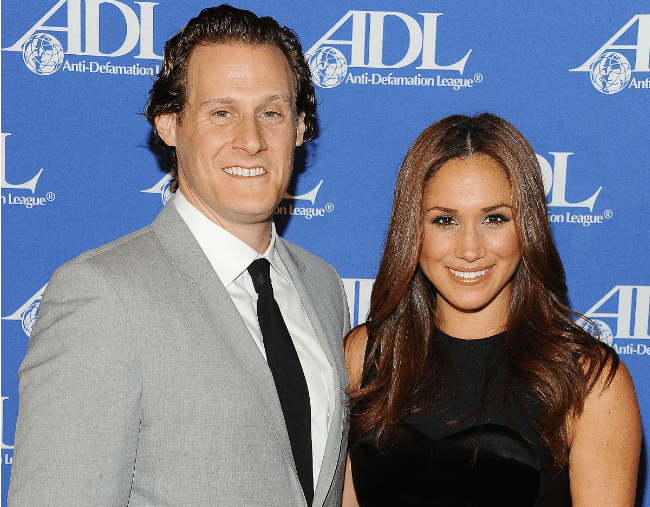 The couple's relationship had been straining thanks to its long-distance status, Morton writes in the extract published in The Sunday Times. (Meghan was filming Suits in Toronto, Canada, while Trevor worked on films in Los Angeles.)
Yet, according to friends of the couple Morton spoke to, the 36-year-old had ended the marriage "totally out of the blue".
"A wealthy entrepreneur friend claimed the marriage ended so abruptly that Meghan sent her wedding and engagement rings back to Trevor by registered post," the book reads.
That detail, which may not even be true, along with references to Meghan's "chill" and her skills as a "networker" seem a lot like an attempt to paint Meghan not as the lovely person she appears to us, but as a calculating social-climber. It's certainly with an air of judgement that the story has been covered by much of the media.
But, if it is true, does it really say so much about Meghan that she didn't give her rings back to her former husband in person?
Meghan Markle had to go to 'kidnapping training' and we need to talk about it. Post continues.

Anyone who has been through a breakup of a serious relationship, let alone a marriage, knows how hard, and often messy they can be.
If the marriage was over, if they'd both said all they needed to say, then wouldn't an eight-hour plane trip from Toronto to Los Angeles be not only pointless for Meghan, but an incredibly painful experience too? Eight hours of nothing but pure dread, to be followed by eight hours of isolation as she flew home? She's probably not alone in wanting to avoid that.
Meghan sending her rings back to her ex-husband doesn't say anything about her other than their marriage was over and she knew it.