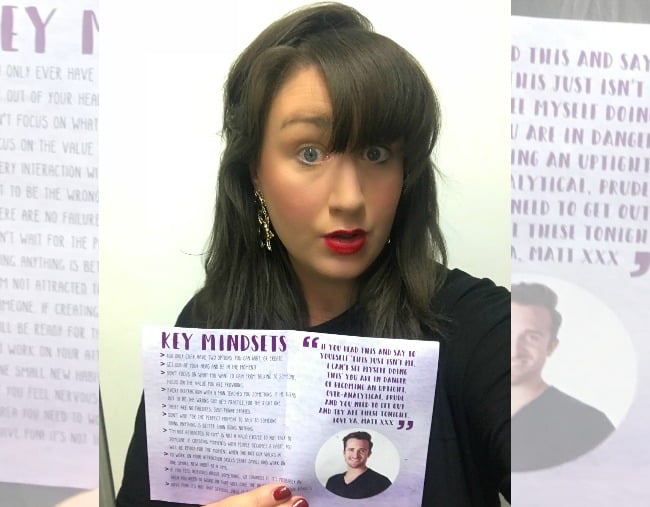 Not every great "joining a cult story" starts with a long wait in a slow-moving line, yet that is exactly how my indoctrination began.
In a line of women so long that it snaked around the neighboring buildings with a vice-like grip that the frustrated commuters just attempting to make their way home on a cold Thursday night could not penetrate.
The energy vibrating around this tangled line was pulsating with expectation, excitement and hope.
But instead of members dressed up in long white robes, happily willing to sacrifice defenseless chickens to some unseen God, these particular cult members were there to worship at the alter of Matthew Hussey.
If you're one of the few women in Australia who doesn't know his name (for context, his Australian live shows sold out faster than any of his recent gigs, according to the man himself) Matthew Hussey is the world's most popular dating coach and love guru.
The 31-year-old YouTube personality and best-selling author is also the star of Channel 7's new dating show The Single Wives and has a fan base consisting of millions of dedicated women who believe his advice is the key to finding true love.
Before last night, I knew his name from the Channel 7 promos but had never laid my eyes on one of his viral videos or read his advice.
But once I heard the reverent way in which the women clustered around me whispered his name to one another, it quickly became very clear to me as we filed into the show that I was the odd one in this particular congregation.
I never got the chance to experience "Beatlemania" firsthand, but as Matthew made his way up onto that stage I felt as if  I was transported back to a time when the world first experienced women fainting at the feet of their idols.
With the sound of thunderous applause pounding in my ears I slowly glanced around the room to check on my fellow worshipers.