1. Ah, so this isn't a false alarm. Stu Laundy and Married at First Sight's Ashley are totally dating.
Sorry to interrupt your Saturday evening but The Bachelorette's Stu Laundy and Ashley Irvin from Married At First Sight are dating.
At least, that's what it looks like.
After both failed to find lasting love on their respective TV shows (shocker), 45-year-old Stu and 29-year-old Ashley were seen in Sydney having a romantic dinner, over French champagne, no less.
Images published by the Daily Mail show the pair sitting across from each other, eating, smiling, walking… all the usual things. Onlookers also told New Idea they even shared a peck over the dinner table.
A source told the same publication that Ashley 'made the first move' on Stu through a mutual friend.
"Stu had never met Ashley before, but he saw her on MAFS and was very interested to see if there was a spark there. He was then approached by a mutual friend who told him Ashley was keen to meet," the insider said.
"He was a little taken aback with Ashley's bold approach as he is used to making the first move."
Well crap. It's getting really hard to keep up with all this interconnected reality dating TV show couple swapping, isn't it?
Speaking of love, catch up on the latest in reality dating TV show matchmaking efforts on Bach Chat. Post continues after audio.
2. "She just kind of breezed through": John Stamos says his wife's birth took about 20 minutes.

After welcoming his son, Billy, last week, John Stamos can't stop raving about his new family.
The 54-year-old Full House star says his wife, Caitlyn McHugh, handled childbirth like a champion.
"My wife was so beautiful and so graceful through it all, like she does life. I mean, she just kind of breezed through," he told Entertainment Tonight.
"I hate to tell women, but she did it in about 20 minutes. It happens so fast and then they were like, 'Take pictures! Grab her leg!' And then it was over, but it was just beautiful."
Billy is the first child for John and his 31-year-old wife.
He announced the birth through a touching post on Instagram last weekend.
3. The Australian television star who is now living in a $9 million Hollywood mansion.
Susan Hannaford is best known to Aussies as Kitty Sullivan on the series, The Sullivans.
Following her appearance on the series, Susan ran a dress shop, before going broke and moving to America.
Now, the former TV star is living a glitzy life over in Los Angeles.
She lives in a $9 million Beverly Hills mansion, which she has dubbed "the Palazzo Beverly Hills", and she rents it out on websites like Airbnb.
Susan claims her property business is worth "a quarter of a billion".
Appearing on Channel Seven's Sunday Night program, Susan is now practically unrecognisable.
And her lifestyle is extravagant to say the least.
According to reporter Matt Doran, Susan had "filled the house with celebrity chefs, and her Maltese Terrier was having its nails done and hair blow-dried".
OK then…
4. Sarah Roza has shared a ridiculously helpful make up tutorial.
We marvelled at her makeup (and her too good to be true relationship with Telv) on Married At First Sight.
Now, reality TV star Sarah Roza has done us a solid and given us a play-by-play of how to do our makeup like hers.
Sarah posted the video tutorial on Instagram on Thursday, showing fans exactly how she paints her face everyday.
We… we learnt so many things.
Like how to apply lip liner without effing up the cupid's bow bit. And how to contour without a thousand different tools. And how to make your eyes look bigger and brighter in 30 seconds.
Watch all of her videos to see the full look. Oh, did we mention she had her dog there with her too?
Love your work, Sarah.
5. The beautiful story behind Edwina Bartholomew's stunning wedding dress.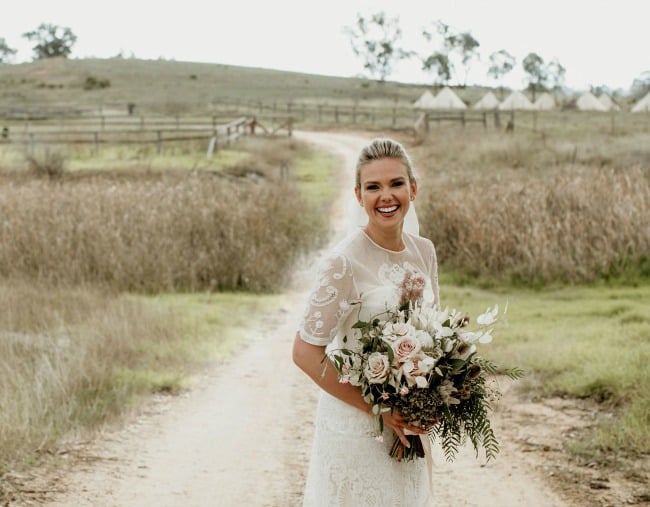 Sunrise presenter Edwina Bartholomew has married her longtime partner, Neil Varcoe.
On Saturday, the 34-year-old shared her first photo from the ceremony on Instagram, accompanied by the caption "The best day".
The ceremony took place at Warramba, in the Greater Blue Mountains, at the property the couple own. But possibly the most important detail is that of her sentimental wedding dress.
Edwina wore a fitted lace gown with mesh sleeve and high neck detailing - she was the third generation of women in her family to wear that exact wedding dress. For Edwina's day, it was lovingly restored by Melbourne designer, Sonia Cappellazzo.
For more photos and details, read our full story on Edwina Bartholomew and her longtime partner Neil Varcoe's wedding here.