On Saturday, Edwina Bartholomew and Neil Varcoe shared their first wedding photo, accompanied by the caption "The best day".
The couple, who have been together for eight years, were surrounded by a total of 160 guests, including family, old friends, and many of the Sunrise team. It was a lunchtime wedding, with dancing into the night, and with food and drinks sourced from Mudgee and the NSW Central Coast.
Bartholomew and Varcoe planned and organise the event entirely themselves. Bartholomew's sister was the Maid of Honour and she also had a group of school and University friends by her side.
Fellow TV reporter, Laura Tunstall also shared a picture from the wedding with Bartholomew.
The ceremony took place at Warramba, in the Greater Blue Mountains, at the property the couple own; a 1980s sandstone cottage on just over 100 acres.
Bartholomew was the third generation of women in her family to wear the wedding dress. It was lovingly restored by Melbourne designer, Sonia Cappellazzo.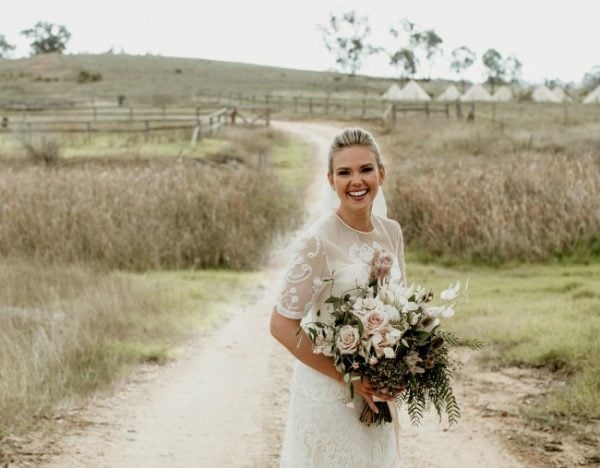 The couple announced their engagement in April last year, after seven years together.
They first met as colleagues at Sydney's 2GB radio station, and bonded over their mutual love of Better Homes and Gardens.
The pair started flirting on Facebook, but it apparently took Varcoe months to convince his new bride to go out with him.
Bartholomew went to a friend's house later that same night and said she'd met the man she was going to marry.
Varcoe eventually proposed on the couple's farm in Lithgow, New South Wales, after having his plans foiled twice before.
He said he was so nervous when it came time to ask the question, he ended up dropping the ring in the grass, landing them both on bended knees.
"I had trouble getting the words out. There was always a chance she would say no. I had been wanting to do it for so long, and I wanted to get it right," he told Stellar magazine in June last year.
Of course she did say "yes", and after accepting his proposal, the pair then sat in front of the fire and talked about growing old together.
"We knew it would be a crazy year before we get married, but we knew the focus was not on the next year, but on the next 70 years," added Bartholomew.
LISTEN: Edwina Bartholomew tells us about the time she was snubbed by Mel Gibson.
Bartholomew said in a press release: "It's so wonderful to be able to share our wedding photos with all of our wonderful Sunrise viewers. Everyone has been so kind since we announced our engagement last April. We have felt very loved."