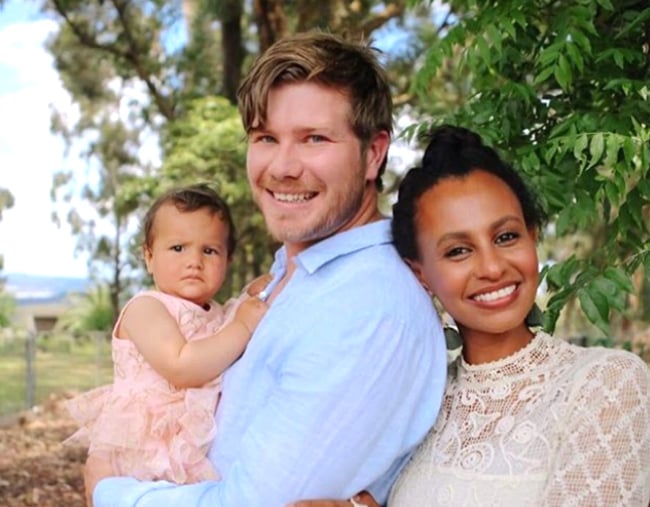 Married At First Sight's Alex Garner has spoken about his separation from Zoe Hendrix a day after she first announced their split on Instagram.
The former reality TV show star posted an image from their MAFS wedding in 2015 on his Instagram account on Wednesday saying their relationship is "civil".
"Zoe and I both went into this experiment with open minds and really hoping to find a partner to share our lives with," Alex captioned the image.
"We are so fortunate and thankful that we were matched together and have shared many great experiences over the last four years."
Alex also said both he and Zoe are committed to co-parenting their one-year-old daughter Harper Rose, born in November 2016.
"We share the most important thing in both of our lives Harper Rose and will continue to love her and be the best parents possible. Although Zoe and I have separated our relationship is Civil," he wrote.
"Thank you to our friends and followers for your continuing support."
Zoe initially shared the news of their split with an Instagram post on Tuesday.
"It is with sadness that Alex and I would like to state that we will be separating for now," she said.
"We are determined to ensure our beautiful daughter Harper Rose continues to receive the unconditional love and nurturing she deserves from the both of us.
"Thank you to all our followers and friends who have supported us through the highs and lows throughout the years."
Alex and Zoe first met when they were matched on Married At First Sight Australia's debut season in 2015.
The couple who initially didn't get along went on the become one of the franchise's only success stories. They were together for three years.
Considering Alex and Zoe were on our list of celebrity couples we'd be devastated over if they broke up, you can probably guess how we're feeling about this news.
P.S. After all the MAFS couple swapping this year, MMOL discussed The steps to know whether or not it is okay to date a friends ex below.