Just a warning, this article contains very mild spoilers for Mamma Mia! Here We Go Again. 
Mamma Mia! Here We Go Again is best described as piece of cake.
And not just any piece of cake, I'm talking a messy cream-filled concoction (your second of the night in fact) that you absolutely did not need to eat at all but you were still craving all the same.
It's unnecessary, yet still delicious, and once you devour it whole you will not be left with one ounce of regret.
Mamma Mia! Here We Go Again is the long-awaited sequel to the 2008 smash-hit movie musical Mamma Mia! and this time around there is a split timeline of events taking place to the tunes of ABBA's greatest hits.
In the present day, we are following a now 25-year-old Sophie (Amanda Seyfried) who is back on the Greek island from the first film and attempting to turn her mother's slightly crumbling hotel into a luxury resort.
As characters from the original begin to trickle into the story so that they can join the epic island celebrations (most notably, Christine Baranski as Tanya and Julie Walters as Rosie) Sophie starts to wonder what her mother's first days on that same island were like.
The flip-side of the film is a flashback series of young Donna (played by Meryl Streep in the original film and now played by Lily James) as she graduates from college and sets out on an epic round-the-world adventure that sees her travel to a beautiful Greek island and have a series of romantic trysts along the way.
Trysts with three young men who turn out to be Sophie's fathers Bill (Stellan Skarsgård), Harry (Colin Firth) and Sam (Pierce Brosnan) and each meet-cute between young Donna and her suitors plays out on-screen like its own bit-sized romantic comedy special.
However, with this particular sequel there's just not a whole lot of story left to tell and the fear that the filmmakers used up all the really good ABBA songs the first time around was a legitimate concern that actually came to fruition. This version is held up with a few tunes that only die-hard ABBA fans will recognise and the rest are recycled bangers from the first flick.
However, the immense heart and humour from the first film are still very much loud and proud here and really, isn't that what we all came back for in the first place?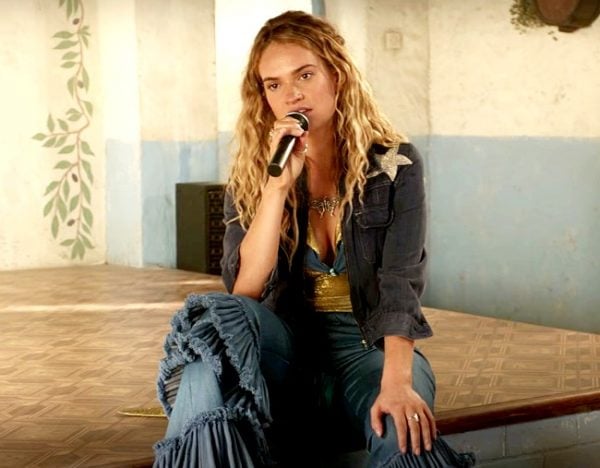 For true fans, seeing these characters back on screen together, a full decade after we first fell in love with them, feels a lot like coming home. We are in on their stories, we can share in their jokes and most of all we can still feel the familiar, excited ripple of expectation shoot through the audience every time we hear the familiar opening chords of the next ABBA hit about to thrill our ears.
And be frank, watching Colin Firth dance with wild abandon on a beach to the chords of Dancing Queen is worth the price of admission alone.
Lets also be very clear about who this movie was actually intended for.
It doesn't exist to appeal to a sea of moviegoers who are looking for plot-driven cinematic twists and turns, realistic in-depth character development or a movie format that breaks new ground.
It was intended for the die-hard fans of the first Mamma Mia! outing, for the lovers of movie-musicals and for those of us who feel that at a time when our TV screens are clogged with disturbing crime-based dramas, a sweet tale of love set against a beautiful back-drop is just what the doctored ordered.
However, there is one moment in the film that does stand out above all the rest and if you're a fan of the original it was probably the moment you were waiting for.
The fate of Meryl's Streep's beloved Donna.
As you have probably already guessed from the film's trailers, she is indeed very much dead in the sequel. And yet she still manages to be the most important part of the entire film.
Her cameo towards the end is so blink-and-you'll-miss-it that if you find yourself having to run out to the bathroom during the end portion of the film you will most definitely not see her on screen.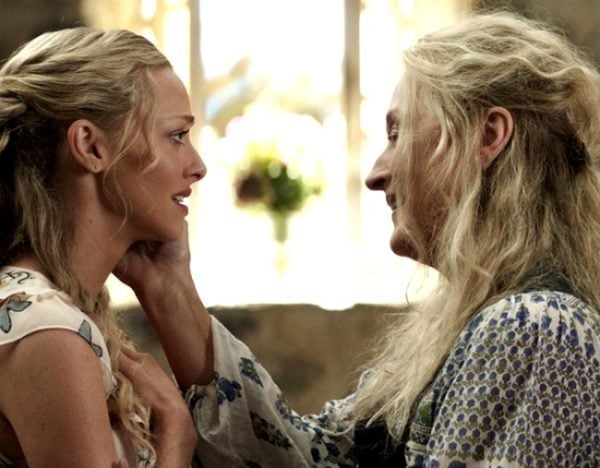 I won't say exactly how and when she appears in the flick, but I will state for the record that both she and Amanda Seyfried deserves Academy Awards for the acting they do just with their eyes during their brief on-screen interaction.
As Meryl's familiar face hovered on the screen before us, I immediately felt some tears begin to well up in my eyes, and not because Pierce Brosnan had decided to sing again.
It was because Meryl's presence in the story was completely justified, and served to remind us of the powerful bond shared between mothers and daughters and that if you live a good and adventurous life, your story will never really come to an end.
Look, I most definitely did not expect to have such an emotional and existential crisis while watching a Mamma Mia! movie, but that's exactly what happened.
Movie musicals run on the suspension of reality and ON A sea of heightened emotion, and that's why you will feel both the highs and lows so acutely in this movie.
It's just a little bit of ABBA-inspired magic, so leave your inner-movie critic at home, let out your inner Dancing Queen and enjoy the ride.
Nobody ever really regrets eating that second piece of cake, and if you're a true Mamma Mia! fan you won't regret seeing this movie,.
Mamma Mia! Here We Go Again is out in cinemas Australia-wide from Thursday, 19 July. It is rated PG. 
For more stories like this, you can follow writer and Mamamia Entertainment Editor Laura Brodnik on Facebook.