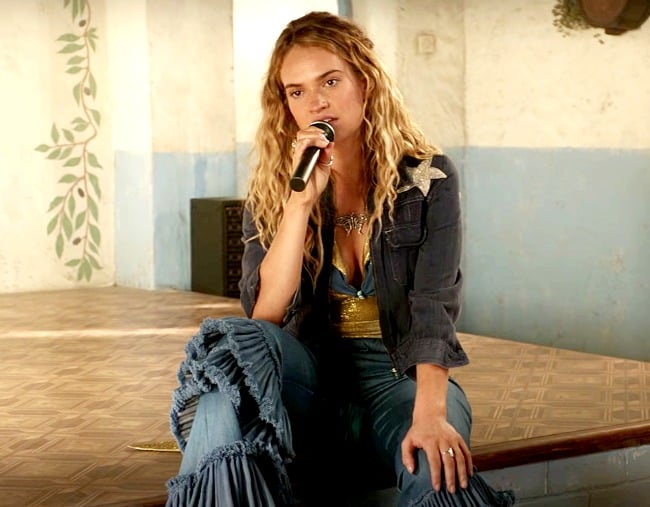 Ever since we learned that the unbelievable was happening, that the smash-hit musical movie Mama Mia! was getting a sequel, we have been waiting impatiently  to see how the new story-line would play out.
In the first flick, Donna (Meryl Streep), is frantically preparing for her daughter's wedding while bride-to-be Sophie (Amanda Seyfried) secretly invites three men from her mother's past to the event in the hope of meeting her real father and having him walk her down the aisle.
The film, which is based on the popular 1999 musical of the same name, and uses chart topping hits from the band ABBA to tell the story, seems to wrap the characters' lives up in a pretty neat bow the first time around.
So the sequel is actually diving back into Donna's past in the hope of explaining how that whole "real father" mystery came about in the first place.
This newly released clip gives us a moment we've been waiting for, an extra glimpse into Donna's past (now played by Lily James) and how she built her connection with her best friends Rosie (played in the sequel by Alexa Davies, originally played by Julie Walters) and Tanya (played in the sequel by Jessica Keenan Wynn, originally played by Christine Baranski).
It's the scene that takes us back to the moment it all began. Watch it below…
What we know so far about Mamma Mia! Here We Go Again is that it takes place 10 years after the events of the first film, on the Greek island of Kalokairi where the first film was also set.
Sophie is now pregnant with Sky's (Dominic Cooper) child while also running her mother's villa.
With her life in a bit of turmoil, she begins to look into her mother's past and discovers how she came to front The Dynamos and how she came to meet and begin a romance with each one of Sophie's dads (played in the original film by Pierce Brosnan, Stellan Skarsgård, and Colin Firth, who reprise their  roles in and the sequel).
As an added bonus, Mamma Mia! Here We Go Again contains an appearance by Sophie's grandmother, Ruby Sheridan (played by Cher).
Mamma Mia! Here We Go Again will release in cinemas Australia-wide on Thursday 19 July 2018.