The Mamma Mia! 2 trailer has dropped and already fans aren't happy.
You see, there's someone very important missing from the sneak peek of Here We Go Again.
Amanda Seyfried's there. Julie Walters is there, as is Pierce Brosnan and Colin Firth. Even Cher makes an appearance.
But where the hell is Meryl Streep?
While she appears in the trailer as matriach Donna, it's all scenes from the original film. She's also referred to in the past tense.
So y'all are gonna tell me that I have waited 10 years for Mamma Mia 2 and Donna fckin Sheridan is dead?

ffs 2018 you're already cancelled #MammaMia #MammaMia2 #MammaMiaHereWeGoAgain @mammamiamovie #MovieTrailers pic.twitter.com/plgXScKo9x

— Jeff Yantos (@Xoxoitsjeff) December 21, 2017
Ok, who do I speak to about cancelling 2018? Meryl Streep has died in Mamma Mia 2. Tell Kim Jong-un to press the button.

— Hayley Harrison (@HRHarrison) December 16, 2017
you're telling me; I've waited 10 years for mamma mia 2 and they killed off donna sheridan; keep ur goddamn movie I don't care how iconic #2 is gonna be; no meryl, no mamma.

— festive emily???????????? (@leighsearp) December 17, 2017
However there might be a good reason for it.
In the trailer, we see Donna's daughter Sophie (Seyfried) share the news she's pregnant but "doesn't know how to do it alone".
The film then flashes back to a young Donna (played by Lily James) and follows her summer of romance on the Greek island before she ends up pregnant with Sophie.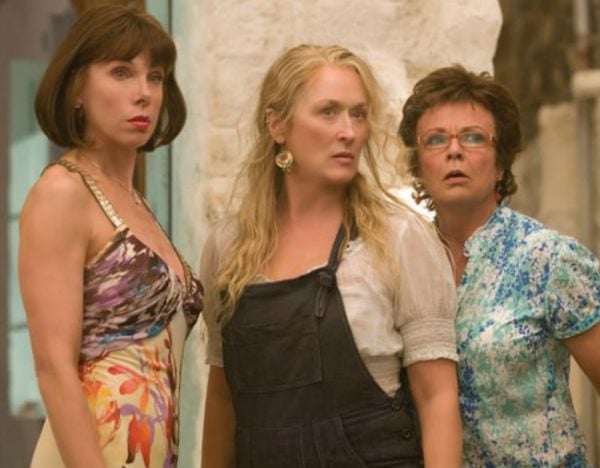 Yes, that also means seeing young versions of Bill (Stellan Skarsgaard), Harry (Colin Firth) and Sam (Pierce Brosnan).
BUT! Before you declare the year "over" as some fans did, Radio Times has done a deep dive and found some pretty convincing evidence that Streep will in fact be returning.
A producer shared this picture of the cast of the new film. Who's that there in the top left? Yep, Meryl Streep.
There's also this tweet from Cher.
Strange,4got I like Making films(except 4 the hrs????)It's like riding A bike????‼️ Ppl on set kind & talented. Hung with MS,She Shines????

— Cher (@cher) October 21, 2017
Translated: She likes making movies save for the hours and she hung out with MS. MERYL STREEP.
We'll have to wait until July 2018 to confirm, but we've got a good feeling about this.