One-half of Australia's favourite couple (Sorry, Troy and Carly) on this year's Married at First Sight, Sarah Roza, has spoken out against body shaming after receiving criticism in the comment section of an Instagram post.
The post – showing her and her 'husband' Telv in an emotional embrace; she wearing a wonderful sparkling number, he in a suit – had nothing to do with body image. It was a gratitude post for her newfound love and the season that was.
But this… this is why we can't have nice things.
The Twins recap Married at First Sight finale: Tracey is a very naughty gewl.
It didn't take long for the internet trolls to share their thoughts on her outfit, and indeed, her entire style.
But the 38-year-old beauty specialist from Melbourne hit back at haters like the utter queen she is.
First, she shamed those shaming her.
"Unfortunately, it's disempowering people like yourself who make it very difficult for ALL WOMEN to flourish," Sarah commented on her post.
"As women we must support each other, NOT try to tear each other down."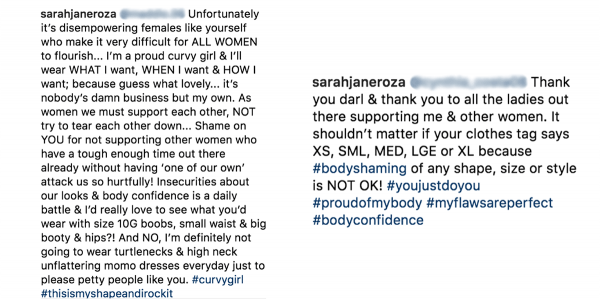 Following this, she shared a message of self-empowerment and love.
"I'm a proud, curvy girl and I'll wear WHAT I want, WHEN I want and HOW I want. It's nobody's damn business but my own," Sarah's comment reads.
She said people can find it terribly easy to judge when they don't live with "size 10G boobs, a small waist and a big booty and hips".
"Insecurities about our looks and body confidence is a daily battle," she added.
Tracey was playing Dean all along and we KNEW it. Clare and Jessie Stephens discuss. Post continues after audio. 
Finally, she thanked the other women who were defending her on the post. Those who were sending messages of support, not hate.
"Thank you to all the ladies out there supporting me and other women," Sarah commented.
"It shouldn't matter if your clothes tag says XS, SML, MED, LGE or XL because #bodyshaming of any shape, size or style is NOT OKAY!"
Oh, and one last thing?
Sarah's not going to start "wearing turtlenecks and high-neck, unflattering momo dresses everyday" just to please those who always, always have something negative to say.
The queen has spoken.
Want to win some skin care goodies? Like to have your opinion heard?
Take our short survey now for your chance to a win a skin care pack.