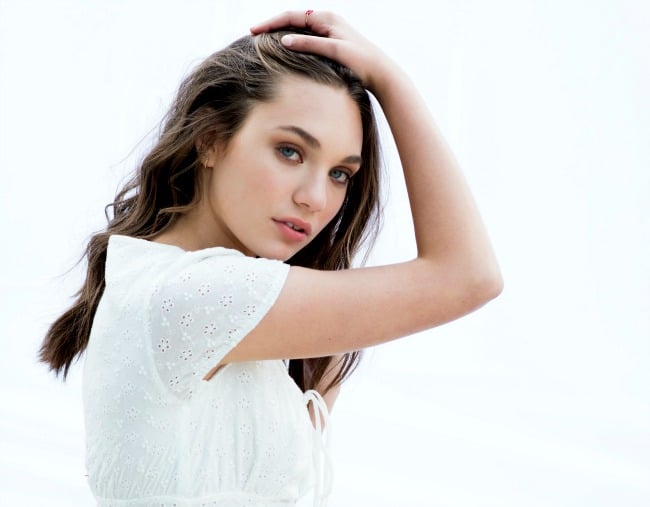 Maddie and Mackenzie Ziegler may be young in age, but they are already old-hands at the show-biz game and know what it's like to stand in front of crowd of thousands who are all just waiting to catch a glimpse of them.
The dancing sister duo first found fame on the reality TV show Dance Moms back in 2011 and since exiting the popular series in 2016 they have both gone on to star in movies, music videos and both write books.
The sisters are set to return to Australia next week to hold a series of events with fans across the country that include a dance masterclass, a Q&A, and a meet and greet.
But despite their professional experience, Maddie and Mackenzie say there's only one question that fans and media ask them over and over again when they are touring together.
"The one question we always get asked when we're together is 'do you fight?',  but we are actually best friends and we get along so well," 15 year old Maddie told Mamamia.
"And we still do get a little nervous before we go on stage.  We actually have a handshake that we do together before we perform and it is a little hard to explain exactly what it is, but we're sisters so we work really well together."
Along with her TV fame, Maddie has also starred in the film The Book of Henry while her 2017 memoir, The Maddie Diaries, was a New York Times Best Seller.
However, you're probably more likely to recognise her for her bold dance moves thanks to her starring roles in six of Sia's music videos including Chandelier and Elastic Heart.
In fact, it was her first musical collaboration with Sia that shot her to a level of fame she had never anticipated.
"Once I did Chandelier everything changed for me and everything just blew up so quickly," she told Mamamia.
"I had already done Dance Moms so obviously there were people who already recognised me and my life had already been changed a lot by doing that show. But after the Sia video came out things just became crazy. I mean, there were some big celebrities that all of a sudden knew my name.
"It was hard at such a young age because now I really understand everything that was going on then. Now that I'm older I understand what was happening. Back then it was a lot of pressure on me. I was eight when I did Dance Moms and being 11- ears old at the time that I did Chandelier it was a lot for me to take on at that age.
"I have now filmed a movie with Sia and it was such an amazing experience. I wish I could say more but honestly, Sia is such an amazing director and I can't wait for everyone to see how much work she put into this movie."