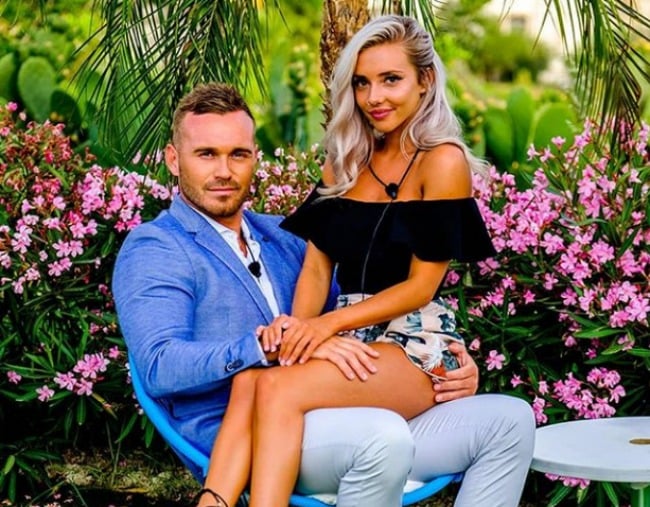 1. Oh, awkward. Does Love Island's Erin have a new boyfriend?

It was just last week that Australia watched Erin Barnett and Eden Dally show next level PDA on national television, as we sat down and watched the Love Island Australia finale.
Grant and Tayla finally won the show, with Tayla choosing love over money, but now that everybody has returned home there are rumours that Erin and Eden were not as in love as they may have appeared.
In an Instagram posted last night by Daniel Gualtieri, he shared a photo of himself with Erin, writing "Fukn love u". Erin regrammed the image earlier today and the commenters went… crazy.
"Are you and eden still together" wrote one user.
"Where's Eden" wrote another.
Earlier today, Daniel Gualtieri posted another video of Erin at a party last night. His Instagram bio also reads, 'Team Erin'.
Given that during her time in the villa Daniel posted photos of Erin and Eden, saying he was happy she had met the perfect match, it's probably unlikely he's her new boyfriend.
But the recent rumours about Eden having a "secret girlfriend", and Millie's comments that the couple knew each other before the show, have left us suspicious. Very suspicious.
2. The beautiful pregnancy advice Serena Williams gave Pippa Middleton.
Pippa Middleton has revealed that the best pregnancy advice she has been swearing by, since announcing her pregnancy shortly prior to the birth of Prince Louis, is actually from tennis champion Serena Williams.
"I've been a tennis fan since childhood, as a player and spectator, and have been keen to continue playing safely throughout my pregnancy," the sister of the Duchess of Cambridge wrote in her column for Waitrose Kitchen. 
"Take Serena Williams. She famously proved that women can play a high level of tennis from two months (when she won the 2017 Australian Open) up to eight months,"
"I've noticed my body change, but through exercise, I feel it's being strengthened," she wrote.
Pippa Middleton is due to give birth in October.
3. People are making fun of first lady Melania Trump's latest fashion choice.
Melania Trump's latest outfit looks a little familiar.
Attending a black-tie dinner hosted by British Prime Minister Theresa May on Thursday evening, the first lady donned a $9441 (AUD) pale yellow off-the-shoulder gown, which almost perfectly emulated Disney princess Belle's Beauty and the Beast dress.
Hm, that's fitting.
I'm waiting for Macron to turn up dressed as a candlestick. pic.twitter.com/LifBGZ72Te

— Mark Wallace (@wallaceme) July 12, 2018
Although some loved Melania's dress, others took to Twitter to mercilessly make fun of it.
Interesting dress choice by @FLOTUS

Turned on @SkyNews and for a second thought I was watching @Disney live action Beauty and the Beast@SkyNewsBreak #TrumpUKVisit @realDonaldTrump pic.twitter.com/coXMtE8nET

— Benjamin Gershuny (@Ben_Gersh) July 12, 2018
@FLOTUS who made that yellow dress? Curtain manufacturers? hahaha

— DEA (@IDEA2813) July 13, 2018
President Donald Trump and Melania are currently on a tour of Britain.
On the tour, Trump had an excruciatingly awkward encounter with the Queen, breaking not one but three royal rules during his royal meeting.
Ugh.
4. Cameron Diaz and Drew Barrymore are being praised for their no make-up selfie.
Here's one for the Charlie's Angels fans.
Self-proclaimed "old school sisters" Drew Barrymore and Cameron Diaz shared a make-up free selfie to Instagram today, as the pair met up on their day off.
"#nomakeup #nofilter #oldschoolsisters #playdate #dayoff #friday #SUNSCREENALWAYS," Barrymore captioned her post.
Fans of the pair praised the women for sharing the photo.
"Just adore you sweet girls! Thanks for showing what true beauty is!" one woman commented.
"Absolutely beautiful. So appreciate you both sharing this," another wrote.
The pair have been close friends since first starring in Charlie's Angels nearly two decades ago.
5. Why Scarlett Johansson has turned down her most controversial role yet.
Scarlett Johansson has dropped out of her upcoming film Rub and Tug.
The actress received tremendous backlash online after it was announced that she had been cast to play trans man Dante "Tex" Gill, who ran a massage parlour prostitution ring in the US in the 1970s.
Although initially Johansson's representatives released a dismissive statement, referring to actors like Jared Leto who have won awards for playing trans characters, Johansson has now released another statement, explaining why she has turned down the role.
"Our cultural understanding of transgender people continues to advance, and I've learned a lot from the community since making my first statement about my casting and realise it was insensitive," she said.
"While I would have loved the opportunity to bring Dante's story and transition to life, I understand why many feel he should be portrayed by a transgender person, and I am thankful that this casting debate, albeit controversial, has sparked a larger conversation about diversity and representation in film."
Johansson has previously faced controversy for her film roles, including he role in last year's Ghost in the Shell.