We have a villa-based scandal on our hands, people.
It turns out some of the boiz who went onto Love Island to find girlfriends might already have girlfriends.
Which seems like it would be against the international rules of sex villa reality TV dating shows or something ¯\_(ツ)_/¯.
Anywho, let me break this whole secret girlfriend scandal down for you.
Early last week we started to hear whispers that Eden Dally, who is "officially dating" Erin Barnett on the show, had a secret girlfriend in the outside world.
A few days later the woman Eden is allegedly dating was named. Her name is Stephanie Lea and she's a 24-year-old makeup artist.
On Thursday morning a woman named Alashana Stead called into the Kyle and Jackie O Show claiming to be Stephanie's best friend. She told the KIIS FM hosts, the pair had been dating right up until Eden packed up his bags and entered the Love Island villa.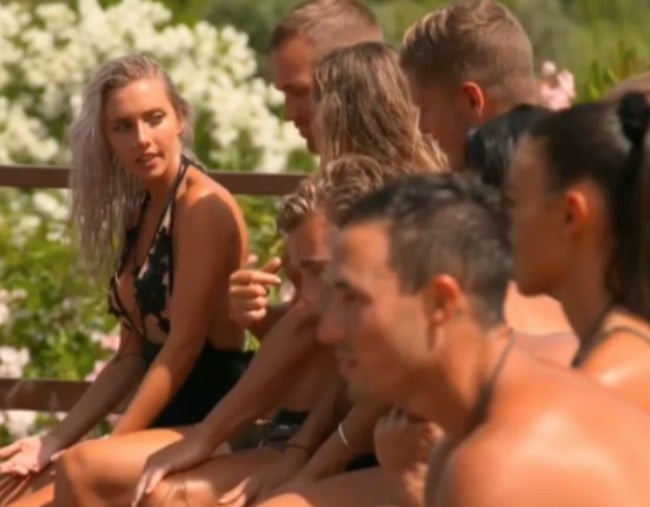 According to the Daily Mail, Stephanie shared a photo of herself and Eden, 25, and captioned it: "When you go on a dating show while you're dating someone else", on her Instagram before changing her profile to private.
Then on Sunday night's episode, Eden and Erin were confronted about the rumours.
During a challenge named "Fake News" it was revealed there had been several news stories about Eden's alleged girlfriend. Erin had to decide whether that was fake news or real news, and if what she chose was wrong, she would get dunked into the pool below her.
She opted for fake news and was immediately dunked in the pool.
When they returned back to their seats, with Erin soaking wet, Eden said that question had "made his day" and he "knew exactly which girl it was".
He... he didn't actually deny it though. And Eden and Erin didn't seem to discuss the matter... at all.
This is how Australia reacted:
Does anyone else think it's odd that Eden and Erin never actually talked about the rumoured girlfriend outside the villa #LoveIslandAU

— Sarah ♡ (@sarahlouise_073) July 1, 2018
umm... eden's whole girlfriend, suprise erin scheme was literally a re-enactment of what kem did on the uk version. i don't know about y'all but i'm not being fooled by these two in the slightest. currently seeming like they'll do anything to win ???????? #loveislandau

— via is proud of 5sos (@caluminspace) June 25, 2018
She bounced back from that very quickly.... she flipped out when Eden TOUCHED Millie. Little bit suss ???? #Fake #Fake #Fake #LoveIslandAU

— Jess Walter (@jesss_mary) July 1, 2018
In a similar manner, rumours began a-circulatin' last week that Grant Crapp, who is dating Tayla Damir on the show, had a live-in girlfriend back in Canberra.
NW reported the electrician was in a long-term relationship with a personal trainer named Lucy Cartwright.
The publication said the couple were living together before he left for the show and had worked together on his fitness fashion brand... which he has been wearing on the show a lot.
"No joke! His girlfriend is my cousin," a woman claiming to be Lucy's cousin wrote on Instagram.
"They live together and they were still 100 per cent together when he went on the show. He was just going there to promote himself and his fitness brand royal apparel."
Like Eden and Erin, Grant and Tayla were confronted with these rumours during the "Fake News" challenge.
It was also suggested that Grant has cheated on every single girl he has ever been with.
In response, Grant moped around the villa like a big sook and then blamed the girl in question.
"She's toxic that girl, that's why I left her. It's bullsh*t," he said.
He also blamed Cassidy  ¯\_(ツ)_/¯.
This is how Australia responded:
My twitter feed basically sums it up but Grant makes my eyes roll so far back in my head I could swallow them. ???????????????????? #LoveIslandAU

— Lauren Edwards (@laurenvedwards) July 2, 2018
When #LoveIslandAU started Grant said he had a wandering eye and then you find out he's cheated on all of his girlfriends after a certain point...it adds up lol

— joy (@sanjoybow) July 1, 2018
LOLLLL AT GRANT SAYING CASSIDY IS A GHOST THAT HAUNTS HIM LOLL #loveislandau

— Escape (@mrincon28) July 1, 2018
tayla deserves someone that's not grant, someone who will be HONEST because he's obviously not #loveislandau

— gabriela ღ (@StarFlowerz17) July 1, 2018
With Love Island wrapping up on Sunday night, it's only a matter of time until we find out - once and for all - whether these secret girlfriend rumours are true.
Fingers-crossed they turn up at the finale and throw some mango daiquiris in some faces.