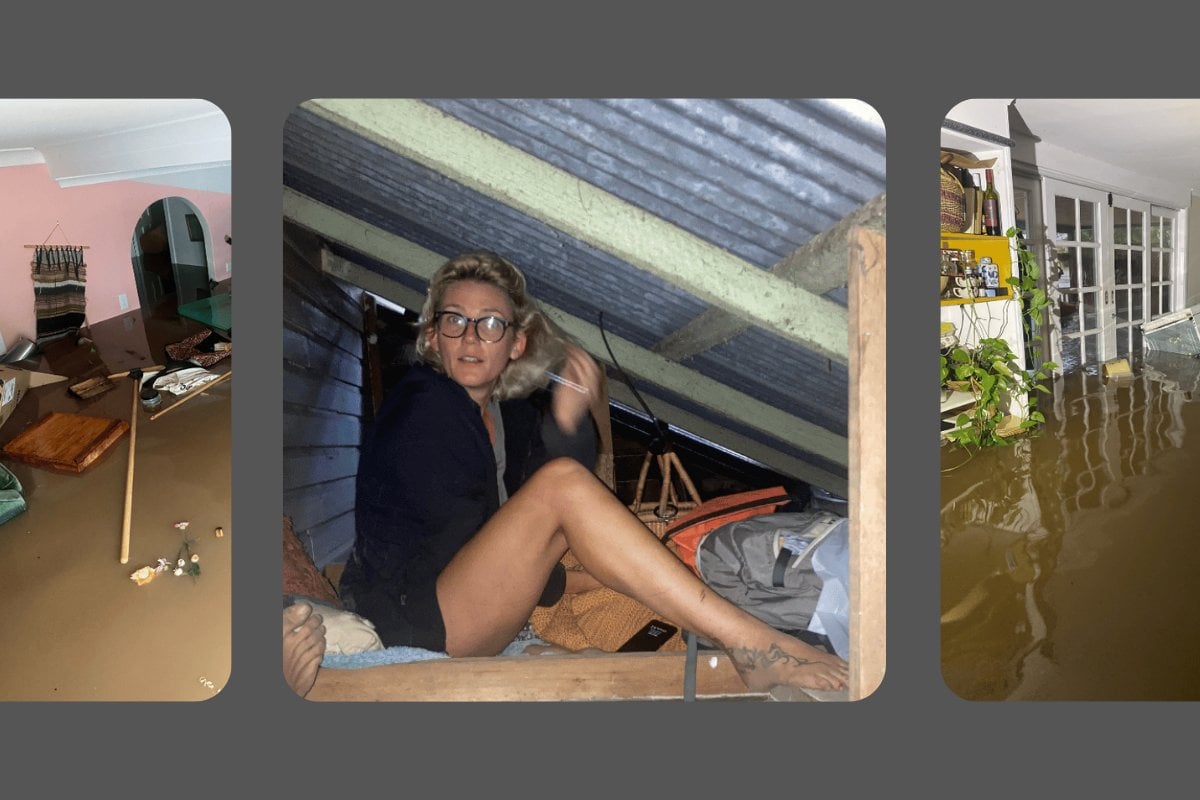 Kate Stroud, a visual artist from South Lismore, is one of thousands who have been directly affected by the floods that have ravaged Australia's east coast.
Last week, Kate and the rest of her town were prepared for flooding. They knew it was coming their way. But what they weren't prepared for was the sheer magnitude of water.
"My partner and I live in South Lismore, and our home's floor level is about 13 metres above the ground. And given the highest level recorded previously was 12 or so metres, [we weren't super worried]. Then the metre estimations starting rising quickly. At one point we were actually told that it could be close to 17 metres. By that time we had to start making some pretty quick decisions for our safety," Kate shared with Mamamia.
Kate and her partner soon realised that their roof cavity was the only safe space in their home.
Watch: Lismore locals rally to rebuild after floods. Post continues below.
Video via 10 News First.
"We put some food and water into the roof cavity via our manhole, as well as a chainsaw and other power tools in case we had to cut our way out through the roof."
In retrospect, Kate said it was hard to know what to pack.
"I grabbed some things that are quite hilarious in retrospect, like a box of incense. Part of me must have anticipated just how bad the flood smell would be," she said, a small glimpse of hilarity in an otherwise really traumatic experience. 
"There was actually one point where we looked out over our front verandah and sadly saw a cow, probably four times my size, wash up to our house and the terror in its eyes actually broke us both down. Given just how high the water was getting, all we could do was push it away. It was very full-on," she said. 
As the water began to rise to waist height, things were feeling very intense. These photos taken by Kate show the damage done - and from here, it only rose higher. 
Kate's veranda and home amid the floods. Image: Supplied.