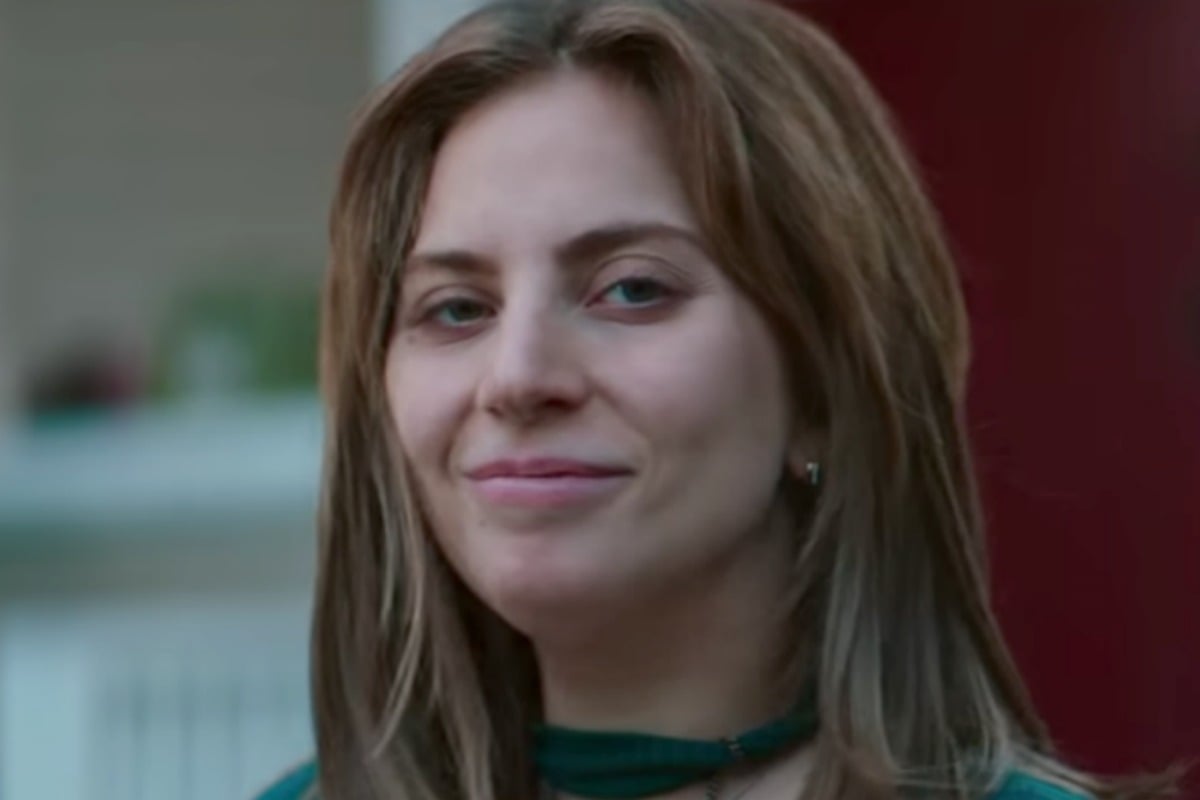 In a film where music says so much, one of the most powerful things about A Star is Born isn't anything that can be heard.
It's Lady Gaga's face.
In an early scene of the film, co-written and directed by Bradley Cooper, and starring him as famous musician Jackson Maine and Lady Gaga as struggling performer and waitress Ally, Jackson goes backstage to meet the young woman he's just seen sing. She's dressed in drag, and as they speak, he asks whether her eyebrows are real.
It's comical – because they're exaggerated, thin black lines, unmistakably part of a heavily made-up drag look. Jackson is fascinated as Ally removes them, wanting to see what her face actually looks like. When he asks about her passion for music, Ally explains that she's given up pursing a career in the industry because she's been told over and over again that her nose is "too big". Jackson's affection for Ally's nose is a running theme throughout the film, and when she eventually appears on an LA billboard, he comments that the whole image should just be her nose.
But it's not necessarily the physical composition of Lady Gaga's face that's so striking for audiences. Indeed, seeing a real-person nose and non-veneered teeth on screen is increasingly rare, as it's becoming less and less clear what human women actually look like without surgery and contouring and needles. For me, however, the power of Lady Gaga's face was bigger than that.
It was the messiness of her appearance that said the most.
It was the uninhibited expressions, the sweat, the smudged makeup and the awkward haircut. The way she wasn't worried about looking beautiful when she sang. And the way her entire physicality wasn't passive or docile or immaculate – but unapologetic and assured.
Lady Gaga's face was that of a different type of woman to what we're used to seeing in mainstream popular culture. And as a result, that face was able to tell a different type of story.
Every woman who has ever actually done anything, whether it be studying or exercising or singing or parenting, will know that it doesn't look beautiful. It definitely doesn't look the way it's portrayed in ads, on TV, on Instagram or on YouTube. Overwhelmingly, representations of women are primarily focused on our attractiveness, rather than the essence of what we're doing. When we exercise, we apparently don't sweat. When we study, our mug matches our t-shirt and our expression of concentration doesn't come with any angry-looking lines. When we parent, we're immaculately groomed and ostensibly calm.