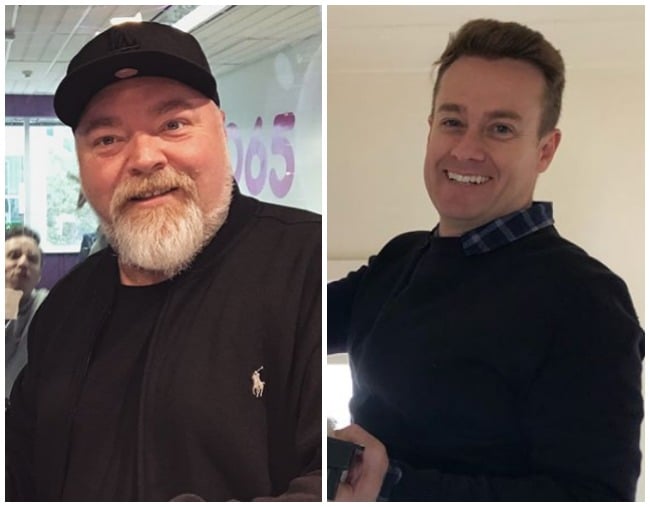 There's no love lost between Kyle Sandilands and Grant Denyer.
On his morning KIIS FM radio program, The Kyle and Jackie O Show, Kyle went on a nasty rant, criticising Grant's nomination for a Gold Logie.
The 47-year-old shock jock called up Grant's "illegitimate step half-brother", who goes by the name "Isis".
Awkwardly, Isis – whose real name is Dan – also happens to work for Kyle and his co-host, Jackie O, despite his 40-year-old brother having his own radio show on rival network 2Day FM.
After saying Grant's TV and radio shows were failing, Kyle went on to say he was "surprised" when he found out the Family Feud host had been nominated for the coveted Gold Logie.
Isis – who admitted he was not close to his brother – said he was also "gobsmacked" by Grant's nomination for the award.
Kyle then asked Isis if he was fed up with his brother getting "all the wins in life", but Isis unconvincingly said he was happy for him "in a way".
"He never returns any of my texts or my calls," Isis quickly added.
Kyle then took another swipe at Grant, and told Isis it was because his brother now considers himself to be "mega famous".
But the family rift appears to go deeper than just Grant and his brother.
Isis went on to say the star doesn't even return any of his stepdad's – presumably Grant's biological father's – calls either.
Jackie O, 43, then interrupted to tell Kyle he was "pretty similar" to Grant, because he doesn't make much of an effort with his family either, so he shouldn't really talk.
But Kyle was determined to turn the conversation back to Grant.
He then proceeded to ask Isis if he'd ever watched Family Feud, and Isis admitted he'd never actually sat through a whole episode.
"Who'd watch that rubbish?" Kyle asked him.
"It's obvious why it got cancelled, because it was tanking in the ratings."
Kyle then continued to slam his competitor, saying Grant's radio show wasn't faring much better.
He said he just couldn't wrap his head around the fact Grant was up for a Gold Logie, because it should be reserved for "the best person".
"Grant's gone on and voted for himself," he concluded.
Kyle then asked Isis if Grant had enlisted the family or, offensively, "a whole lot of Asians" to go online and vote for him.
After Isis said he hadn't, Kyle conceded that he probably wouldn't have, given that he doesn't even talk to his extended family.
"I'm sure he's working his magic online or something," said Isis.
"He's up to something, that little leprechaun," added Kyle.
Ouch. Tell us how you really feel, Kyle.