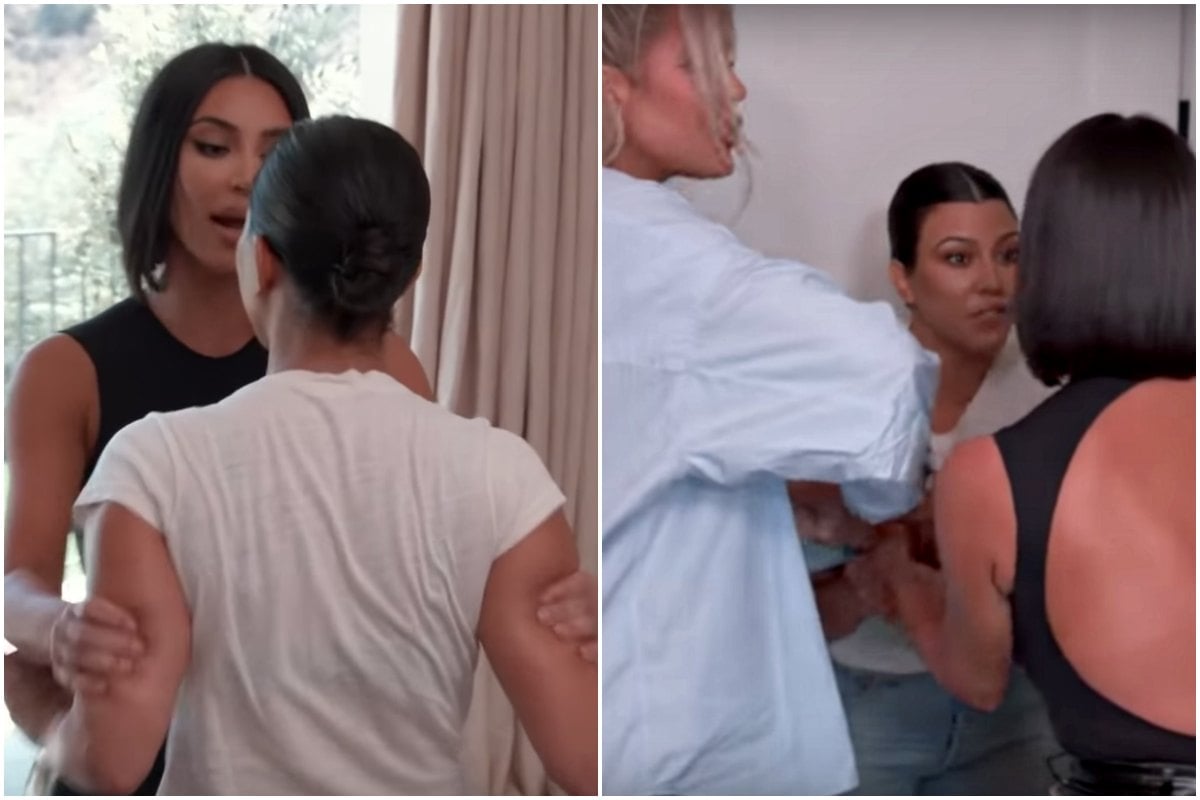 It's weirdly comforting to know that even during a global pandemic, the Kardashians are still nabbing headlines.
Season 18 of the long-running reality show Keeping Up With the Kardashians premiered with a bang this week, ending with Kim and Kourtney Kardashian in a physical altercation after an argument over Kourtney's contribution to the show.
But apparently there was more to the aftermath of this storyline which viewers weren't privy to.
You can watch the scene below. Post continues after.
Appearing on The Tonight Show Starring Jimmy Fallon, Kim said the fight led to a one-week production break.
"Kourtney and I are obviously fine right now but we shut down production for a week after that," said the 39-year-old.
"I think everyone was really shook for a minute and just was like, this isn't our type of show, we want everyone to be comfortable and safe but that happened."
The sudden shutdown of production means that the immediate aftermath of the physical altercation between Kim and Kourtney was not filmed and will not be aired as part of the series, which is a break from tradition for the family whose motto is 'cameras always rolling'.
For reference, the first time (and only other time) production has been halted on the series was in 2015 when Khloe Kardashian's ex-husband, Lamar Odom was hospitalised for a drug overdose.
On-screen text during one of the following episodes addressed Lamar's hospitalisation and stated that "out of love and respect for Lamar and the family, filming of Keeping Up With the Kardashians was stopped for a brief period".
"I don't really ever resort to violence like that but she scratched me so hard, which you guys didn't see," Kim continued. "I was bleeding and so you didn't really get to see that detail but when I looked down at my arm and saw that she had really scratched me and I felt it all on my back, I just went over and slapped her back."