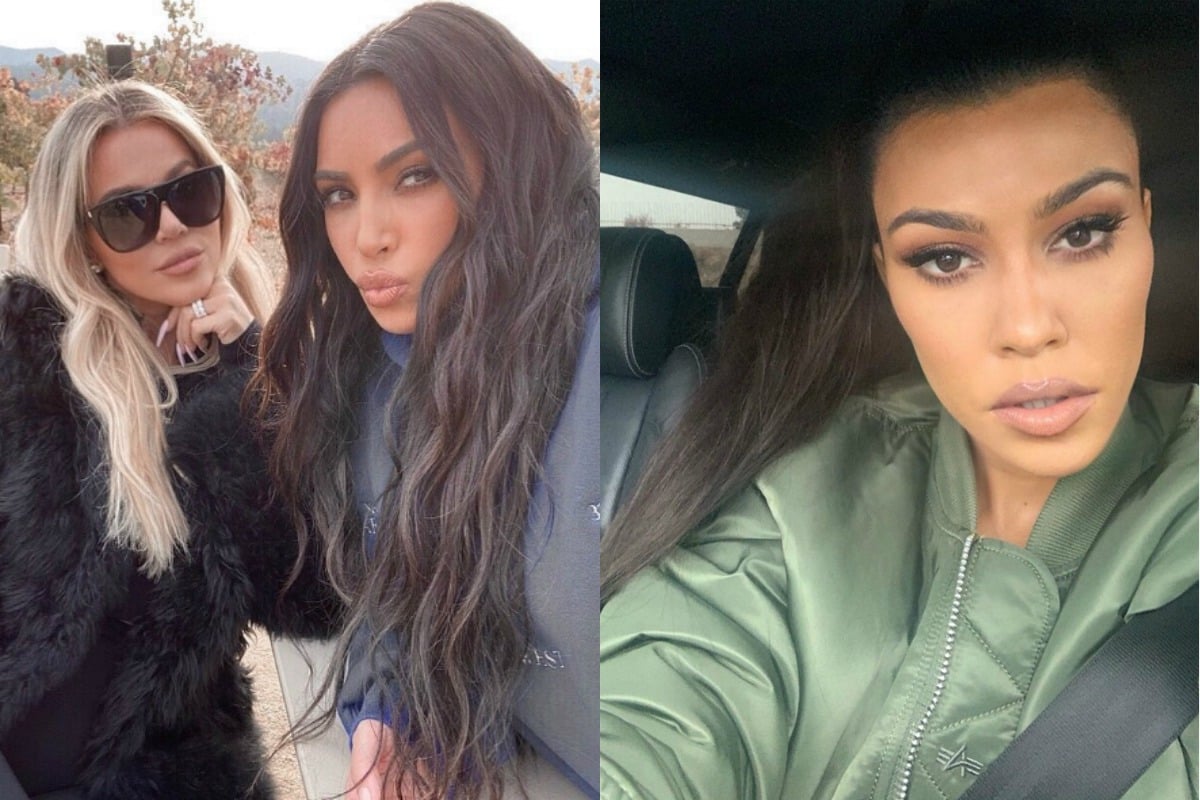 After more than a decade of much of the world literally 'keeping up with the Kardashians' on their reality television show of that name, it seems we now might be keeping up with less of them.
Last month, Kourtney Kardashian, 40, announced she was indefinitely leaving the show, which mainly focuses on the lives of her and her two sisters, Kim, 39, and Khloe, 35, and their mum, Kris Jenner.
The announcement came after an increasing tension between eldest sister Kourtney, and her two younger siblings, over the last year. Of course, 'increasing tension' in Kardashian-speak means drama, and not just their standard sibling bickering.
It's sad, it's uncomfortable to watch, and yes, it's got a lot to do with money. And also a love bite on Kourtney's neck which she tried to hide from her sisters.
Here's everything we know about what's gone down between the three sisters in the last year.
July 2018.
An episode of KUWTK had a scene where the sisters were especially snarky with Kourtney.
"I'm so afraid of her," both Kim and Khloe say, wondering why Kourtney appears to have an "attitude".
Kourtney walks in on the conversation, and refuses to look up from her phone, even when Kim begins discussing her upcoming baby shower – and asks for help with it.
A poker-faced Kourtney ignores the conversation, provoking Kim to tell Khloe sarcastically, "Thanks for being so present."
Suddenly, Kourtney criticises Khloe's choice in furniture in her home; which naturally disintegrates into a slanging match full of accusations about who is meaner to whom.
"What is up your ass?" Khloe finally asks. "Why are you so bitchy these days?"
"I'm a born bitch," Kourtney responds, with an unapologetic smile, and thus starts the beginning of the end.
August 1, 2018.
In one of the best/worst fights of the entire series, Kim tells Kris and Khloe that Kourtney's the "least interesting to look at", when Kourtney refuses to change her schedule to accommodate the photo shoot for the family Christmas card.
"We don't want you in the shoot!" Kim screeches repeatedly, as mum Kris implores her children (literally) to be nice to each other.
But they won't be. Sixty seconds of expletives being beeped later, Kourtney calmly leaves after Kim tells her to "Get the f*ck out", a number of times.
You can see why Kim was so upset; there's nothing more annoying when you're losing your sh*t than watching the other person be totally composed, and not give in to your bullying.