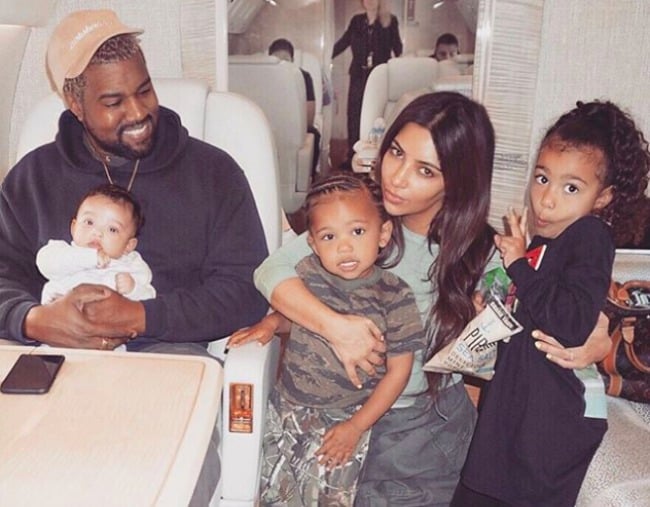 A recent comment from Kanye West has some fans convinced that Kim Kardashian and Kanye West are heading for divorce.
In an interview with the New York Times, Kanye revealed that there was a moment he truly believed Kim was going to leave him.
The interview has sent the tabloids into overdrive, with many claiming Kim is in talks with her lawyers already.
But is divorce actually on the table?
Let's look over the evidence, shall we?
1. The New York Times interview that suggested divorce was on the table.
In an interview with TMZ Live, back in May, West's wildly controversial claim that slavery was a "choice" for African-Americans received an onslaught of backlash.
"When you hear about slavery for 400 years … for 400 years? That sounds like a choice," West said in the interview.
According to In Touch, a fight broke out between the couple following the controversial comments, with Kim calling Kanye out for his selfishness.
"He doesn't ever think of the repercussions it could have for her brands," an insider reportedly said.
"It was one of their worst fights ever."

In a recent interview with the New York Times, Kanye revealed that there was a moment he believed Kim was going to leave him after the slavery controversy.
"There was a moment where I felt like after TMZ, maybe a week after that, I felt like the energy levels were low, and I called different family members and was asking, you know, 'Was Kim thinking about leaving me after TMZ?'" he said. "So that was a real conversation."
Ouch.
2. The 'scream therapy' intervention session.
Shortly after TMZ Live went down, Kim staged an intervention for her husband with American author and motivational speaker Tony Robbins.
The pair participated in a form of stress management, 'scream therapy', in an attempt to quell Kanye's anger and stress.

"I was so self-conscious about the nanny and the housekeeper that I didn't want them to hear me screaming in the living room," Kanye told The New York Times.
The words 'intervention' and 'screaming' don't exactly spell cheery news…
3. Kim's cheeky tweets.
When Kanye sent out a flurry of interesting tweets in April, Kim responded hilariously.
"Sometimes you have to get rid of everything," Kanye tweeted.
"Wait…EVERYTHING?!?!?!" Kim responded.
Wait…EVERYTHING?!?!?! ????????‍♀️ https://t.co/0wrL1c0shB

— Kim Kardashian West (@KimKardashian) April 18, 2018
Adding to the joke, model and friend of the couple Chrissy Teigen offered Kim an 'air mattress' to sleep on.
Might need some more for the kids? Just not clear on what everything really means. I need clarity. Thanks for being such a good friend. Maybe John can call and inquire? But maybe he means friends too? This is confusing. https://t.co/HLUkMiZCLU

— Kim Kardashian West (@KimKardashian) April 18, 2018
Although Kim's tweets were clearly tongue in cheek, she had to dispel rumours that she really had split from her husband.
"For anyone who has absolutely no humour in their soul please know my tweets are a joke and I will die laughing if I see blogs and media really think I am being serious. So don't even try it," she wrote.
Well, you've heard it from the woman herself.
4. The secret message in Kanye's new song.
In a song on his new album Ye, Kanye's lyrics suggest that his marriage was at risk.
Wouldn't Leave lifts the curtain on what really happened in the hours after Kanye's slavery comments, when he first heard from his wife.
'My wife callin', screamin', say we 'bout to lose it all. Had to calm her down 'cause she couldn't breathe. Told her she could leave me now, but she wouldn't leave,' Kanye sings.
5. Kim is Kanye's biggest supporter.
From his clothing label to his music, Kim is and always has been Kanye's biggest supporter – despite any of his shortcomings.
The couple's three children, North, Saint and Chicago are constantly seen wearing Yeezy's and Kanye's clothing, and Kim is no different.
Most recently, Kim attended Kanye's New York album launch, alongside guests including comedian Chris Rock.
6. The dozens of sketchy tabloid reports.
Week after week, there's a new report of Kim and Kanye splitting. The evidence? A mysterious ~insider~.
Just this week, US publication In Touch reported that an 'insider' claimed that "it's over" between the couple. 
"She's realised he's not the man she fell in love with," the 'source' said.
Back in May, 'insiders' also told Life and Style Magazine that Kim was in talks with her lawyers about getting a divorce.
"Kanye's acting more unpredictable than ever. Things have gotten so bad that Kim and Kanye sleep in separate rooms," the source said.
WHO ARE THESE SOURCES AND CAN WE EVEN TRUST THEM???
We think not.