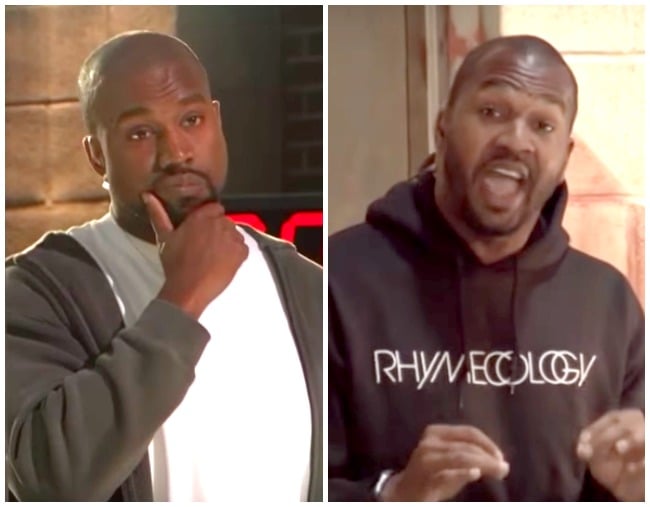 Like a modern-day turn around the sun, there are few things surer in this world than Kanye West's cleverly timed forays back onto our radar.
Perhaps there are albums to sell or stories to tell, but almost every time we find ourselves wondering, very quietly, if Kanye West is OK.
Incessant tweeting and declarations for Donald Trump aside, it would appear after more than a week saturating the news cycle with his rogue ramblings, 40-year-old Kanye West has made just about his most offensive claim yet.
Sitting down for TMZ Live with Harvey Levin and Candace Owens at the website's headquarters, West started talking about what he deems "free thinking", launching into a strange tirade about how he believes slavery was once… a "choice" for African-Americans.
"When you hear about slavery for 400 years … for 400 years? That sounds like a choice," West said.
"Like, you was there for 400 years and it's all of y'all? It's like we're mentally in prison. I like the word 'prison' because slavery goes too direct to the idea of blacks. It's like slavery, Holocaust. Holocaust, Jews. Slavery is blacks. So, prison is something that unites us as one race. Blacks and whites being one race. We're the human race," he said.
Watch the exchange here. Post continues after video:

Later, the video shows West standing from the desk in which is being interviewed on, only to turn to the TMZ newsroom and say: "Do you feel that I'm feeling … do you feel that I'm being free and I'm thinking free?"
TMZ reporter Van Lathan did not feel what West was feeling, delivering a spectacularly impassioned rebuttal:
"I think what you're doing right now is actually the absence of thought and the reason why I feel like that is because, Kanye, you're entitled to your opinion," he said.
"You're entitled to believe whatever you want, but there is fact and real world, real life consequence behind everything you just said. And while you are making music and being an artist and living the life that you've earned by being a genius, the rest of us in society have to deal with these threats to our lives. We have to deal with the marginalisation that has come from the 400 years of slavery that you said for our people was a choice. Frankly, I'm disappointed, I'm appalled and, brother, I am unbelievably hurt by the fact that you have morphed into something, to me, that's not real."
Or, in other words, "sssshhhhhhh".
I really haven't cared about this Kanye West stuff but to hear him say slavery was a "choice" he's lost his mind

— ❤CECE❤ (@BeautifulCeCe__) May 1, 2018