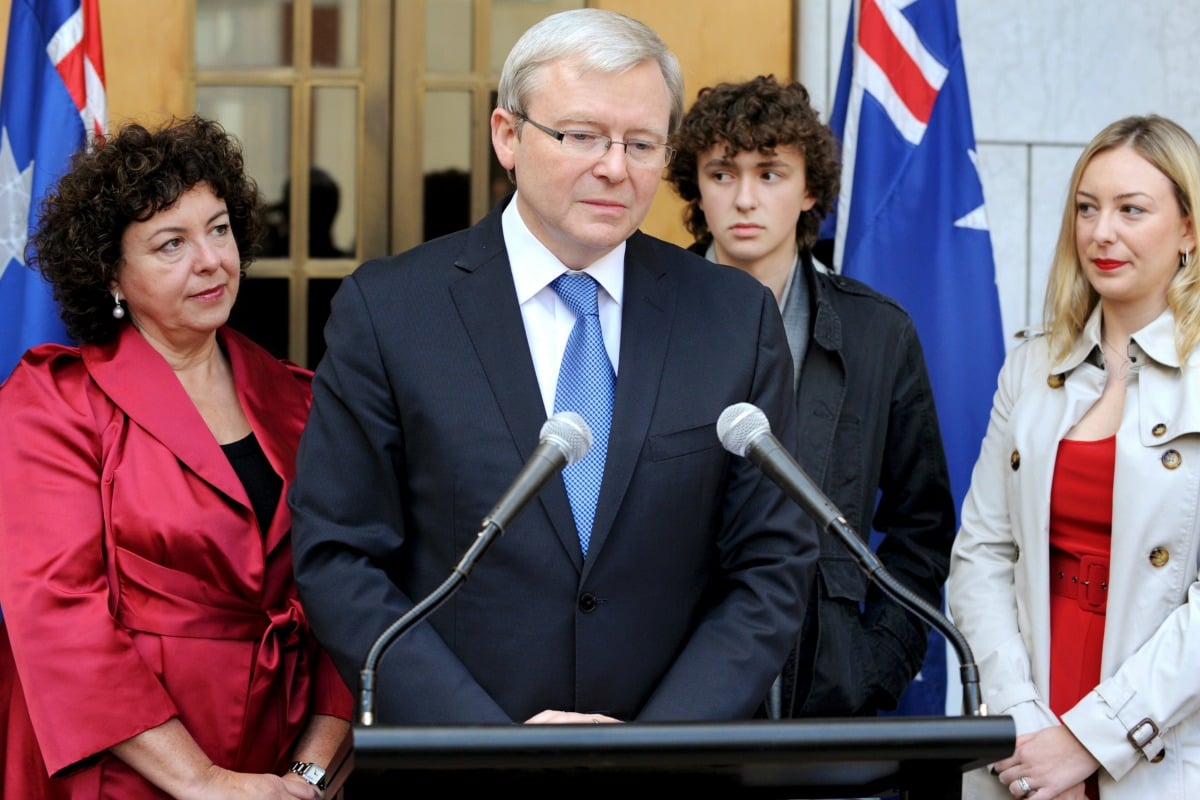 June 24, 2010. Most Australians would remember the scene that played out in the courtyard of Parliament House on that cold, Canberra day. Kevin Rudd, the first victim of what would become a cascade of back-door coups, fronted the media after being ousted from the country's top job.
Flanked by his wife, Thérèse Rein, and their three children, a formidable and, some have argued, temperamental man stood blinking back tears, fighting against the lump in his throat as he eulogised his own Prime Ministership.
It's a scene that's played out three times since. Gillard. Abbott. Turnbull.
But while the political fallout from these swift and savage spills has been dissected in great detail in newspapers and across dinner tables, there's another element to the fallout. The human element.
Speaking to Mia Freedman on Mamamia's No Filter podcast, Kevin Rudd shared what happened after he walked away from the harsh light of the cameras that winter afternoon.
"It's a very physical process," the 61-year-old said. "The great reminder of political mortality are the cleaners. You know you've left office when suddenly cleaners arrive at your office to clear you out.
"In my case, after Gillard's coup, she had her staff inspecting the office within an hour of the vote to work out who would go into which office – and this was before she was sworn in – and we were told we had to be out by the end of the day."
To hear Mia and Kevin's full chat, listen below…

His team.
By 'we', he means his own team. Forty three of them.
"All of these staff have lives. They have, in many cases, family, and they all lose their jobs. So Thérèse and myself then went into immediate counselling mode with 43 staff, many of whom don't have somewhere else to go, and [we were] trying to support them into new employment," he said.
"We tried to find positions for them with other ministers who remain friends of ours, or in the private sector or wherever. You have a pastoral responsibility."
His family.
Rudd describes his family as a "tight knit bunch", all open with other about how they are feeling. And there was no hiding that when they watched their husband, their father so publicly deposed.
Thérèse, Jessica, Nicholas and Marcus cried with him after the vote, they stood beside him at the press conference. What happened to him happened to them, too. They were all uprooted, wounded.
"These were really hard and difficult days. Look, I'm the son of a dairy farmer, and so it was not within my living experience to think that I was going to be personally exposed across the country as a result of my father's success or failure as a dairy farmer," Rudd said. "Being Prime Minister is absolutely different, so it's way outside of my kind of experience league to understand the vicarious pain which kids feel."