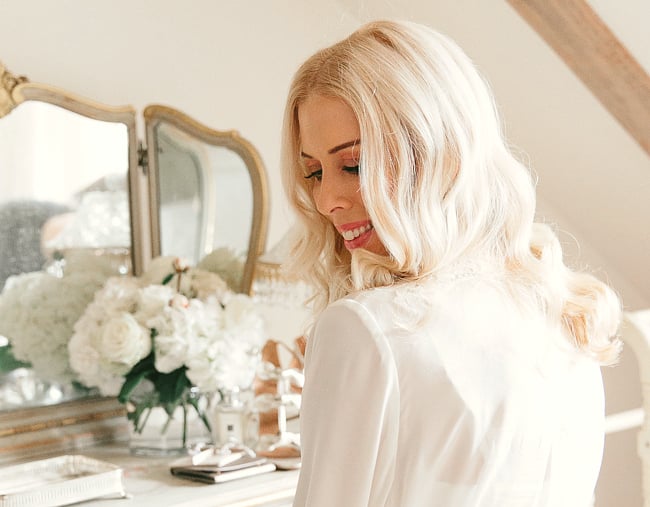 Kerrie Hess makes her living off really, really nice things.
An illustrator with work featured in Vogue and Harper's Bazaar, and created for Louis Vitton and Cartier (just to name a few), the 38-year-old's brand is synonymous with elegance, sophistication and chicness. A quick scroll through her Instagram feed is proof of that enough.
But for someone who spends her time creating glamorous artworks for high fashion brands, the mum-of-one's approach to her wedding prep was surprisingly laid back.
On November 24, 2017, Kerrie married Dr Peter Collins in a Parisian-inspired (and very on-brand) celebration at Deux Belettes in Byron Bay in front of family and friends – most importantly, Kerrie's nine-year-old son Marcel.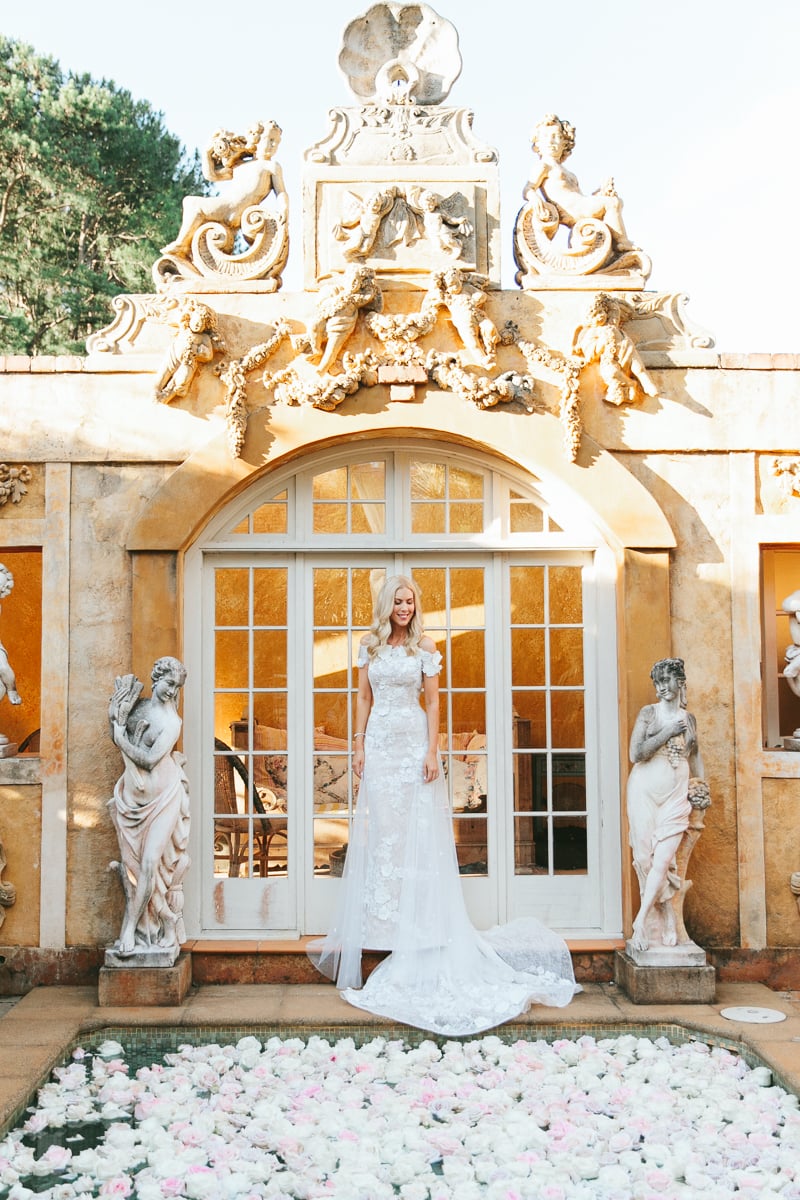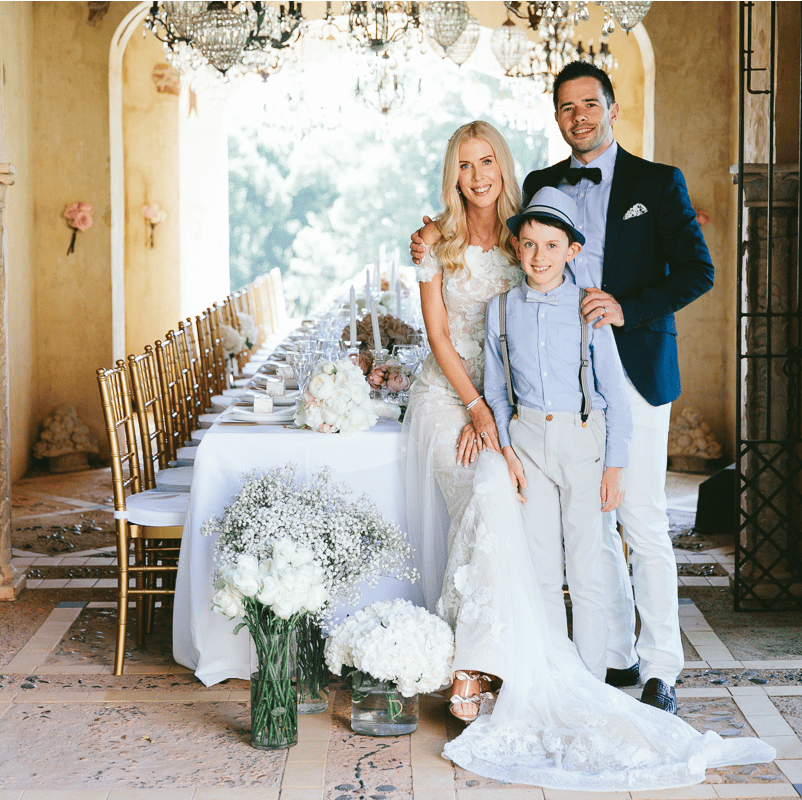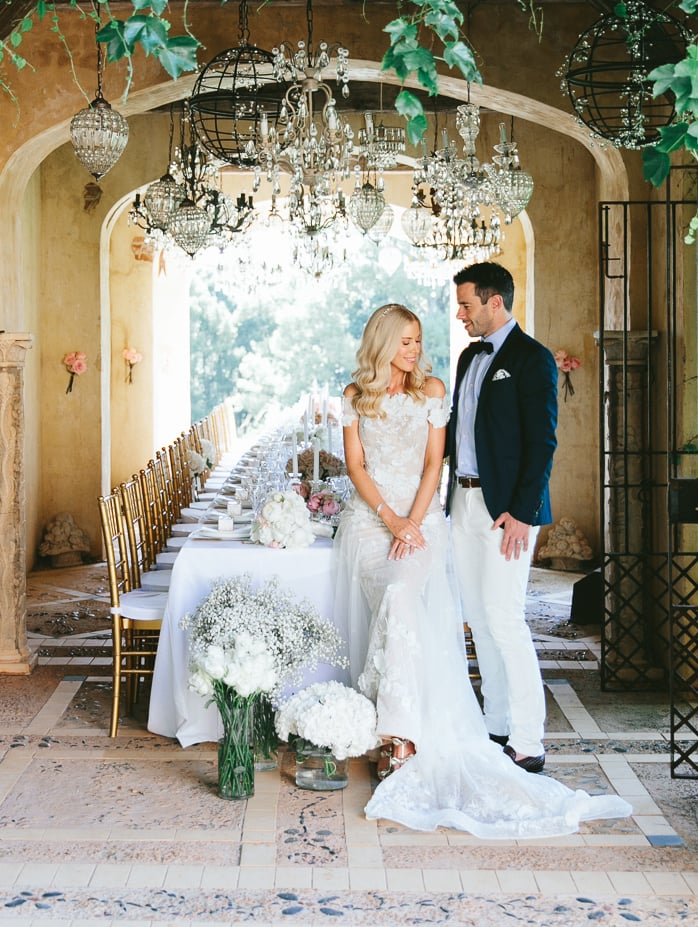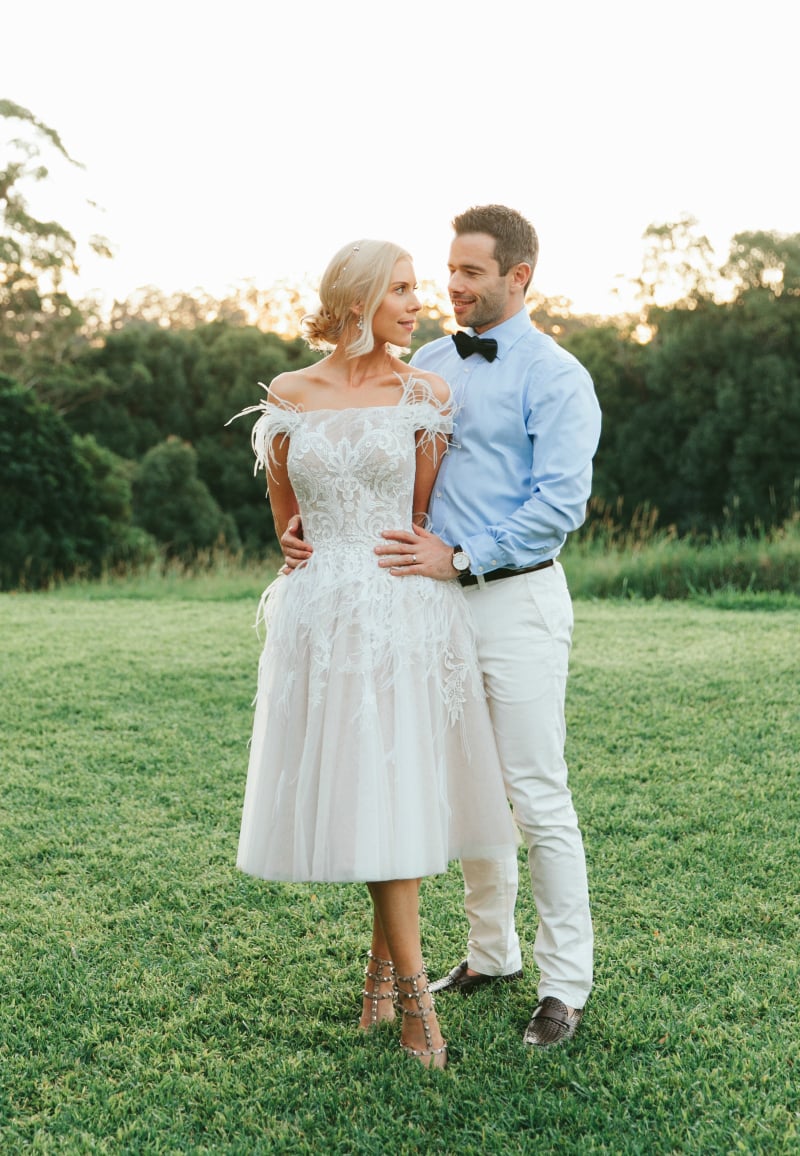 With a pond full of floating soft pink and white roses, opulent gold chandeliers and a Perrier Jouet champagne tower, the party itself looked the picture of decadence. Then there's Kerrie's wedding dress, a custom George Wu couture gown which started out as one of the bride's own sketches.
Probably the most low key part of Kerrie's whole bridal experience was the bit many brides find most stressful - the wedding prep.
To find out how she achieved her bridal look, we asked Kerrie exactly what she put on her face and did day-to-day to prepare for her wedding day.
Kerrie's wedding skin care routine
The first thing that sets Kerrie's wedding prep apart from others we've read about before is the timeline. Rather than starting any regimes 24 months out, or even 12, Kerrie said she really only started making changes to her routines three months before the wedding.
"I focused on the wedding prep about three months before getting married, I didn't spend a huge amount on it, especially approaching this wedding with a nine-year-old son and running a business at the same time," she told Mamamia.
"I had to be honest with myself [about what I could realistically do] I just wanted to wake up and have a beautiful day, and didn't want to be too stressed about how I would look. Obviously, I did care about that and it's an important part of [your wedding], but especially if you're really busy and don't have a huge amount of time to devote to your wedding prep, you have to be kind to yourself."
Kerrie has always been conscious of skincare, so preparing her skin for the wedding meant indulging in the treatments she'd get in an ideal world where money and time are no object.
"I booked in three skin treatments in those three months leading up to the wedding - two sessions of microdermabrasion a month apart, and the third was a brightening facial, which I had that a week before the wedding," she said.
"It was very subtle and didn't make me peel, it just brightened my skin, and it felt softer and smoother for makeup application. I do think having too many facials, for me, wasn't the way to go. I've got fairly sensitive skin that doesn't respond well to having too many things done, so three treatments one month apart worked for me."
At home, Kerrie said she maintained her usual skincare routine, with one luxe addition. This consisted of:
Kerrie's wedding health and fitness routine
Kerrie took the same approach with her diet and fitness, choosing to simply maintain what she was doing, plus a little bit extra.
"I think it's those smaller, more achievable things that are kinder to yourself that make the most difference in the lead up to the wedding. I've always done Pilates once a week, so I kept that up and added yoga. Food wise, I had a bit less dessert - I'm not someone who can go and cut everything out. I wanted to feel good along the way, rather than doing anything too extreme," she said.
One thing she recommended all brides do is add a yoga class into their routine, more so for the mental benefits than anythign else.
"I'd never really done yoga before, it was good for streamlining everything but so good for making me feel so much calmer - it's so great for feeling that little bit calmer in the lead up to what is a really full on time and day, no matter how relaxed you are about it."
Kerrie's wedding lashes, eyebrows and nails
Kerrie said she tried to get as much of the prep out of the way before the week leading up to the wedding so she didn't have to run any frantic last-minute errands.
She chose to have her eyebrows shaped and tinted a few weeks out from the day, as well as an eyelash tint and lift after seeing it on Chloe Morello's Instagram account.
"I'd never had a lash lift before, but I had one two weeks before the wedding and it was fantastic. I don't particularly like the full on false eyelash look, I wanted to look like myself on my wedding day but just that little bit 'extra'," she said.
"Having my fair eyelashes tinted and lifted, it almost gave my own eyelashes that false lash effect. Your lashes look great without makeup, which is also handy if you're going on your honeymoon straight after the wedding."
Kerrie also had SNS nails professionally done a week before her wedding (nude with French tips), and a gel pedicure on her toes.
Kerrie's wedding hair and makeup
Kerrie decided to do her own wedding makeup. Some might see that as a risky move, but she said it was really important to her that she look 'like herself' on the day.
"I did a trial and it was beautiful, but I wanted to look like me and not someone else. My wedding makeup was very simple - a dewy base with peachy eyes and quite natural peachy brown tones. My hair was wavy and out, and I had a crystal headband and for the reception I tied it back in a messy bun. The whole thing was about feeling relaxed and comfortable," she said.
Here's a run down of the products she used for her wedding makeup:
The other thing Kerrie which not many brides or hairstylists would recommend was getting her hair cut the day before her wedding.
"My hair is really difficult to style when it's just been washed, so I had it washed, trimmed and blow dried the day before the wedding. On the day, it wasn't 'fresh washed' and the hair stylist was able to style it a lot easier, because it had a bit of texture in it," she said.
"Trust me, it was just a trim. I wouldn't go outside the style you have the day before your wedding, and I'd only get it trimmed by a stylist you trust."
Kerrie's biggest piece of advice for any bride, all wedding prep aside, is to schedule in time for yourself before walking down the aisle.
"Someone told me to plan 20 minutes in your wedding morning just for yourself, to either stretch, read or listen to music, whatever you want, because once the day starts, it's really full on."
Images: Supplied/Bonnie Cee.
Catch up on all things wedding planning on Mamamia's excellent weddings podcast Hitched, below.