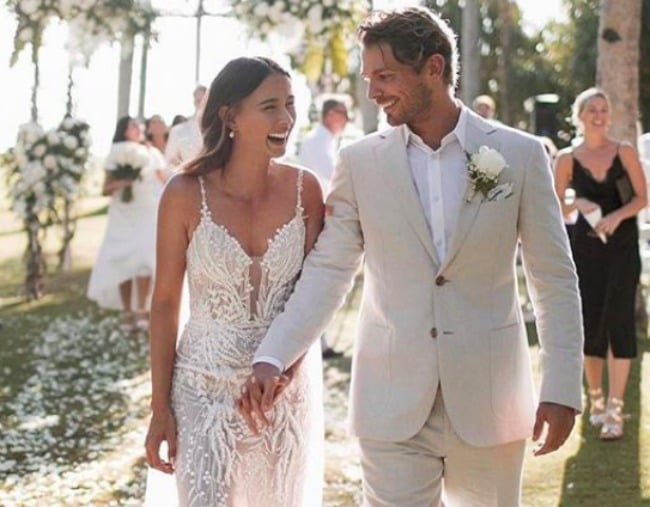 In April, influencer and founder of Gritty Pretty Eleanor Pendleton married her long-time boyfriend Mathew Wilson in an intimate destination wedding.
The couple, who dated for seven years before becoming engaged, married on a private beach on Boracay Island in the Philippines.
But for beauty blogger Eleanor, preparation for her wedding began years – yes, years – ahead of her big day.
Eleanor has shared everything she did to prepare on her website, Gritty Pretty. Here's a rundown.
Two years before the big day, Eleanor focused on the things that needed a long-term commitment – her hair and her teeth.
Eleanor chose to grow her shoulder-length hair out, to give herself more style options for wedding hair. She regularly used hair masks by Oribe and David Mallett, and had regular trims to keep her growing locks healthy.

To achieve her wish to have perfect teeth on her wedding day, Eleanor invested time and money into Invisalign.
"Most people didn't know I wore clear aligners for almost 18 months and I was able to be 100 per cent confident on my wedding day wearing my best accessory: my smile," Eleanor wrote.
One year out from the big event, Eleanor's focus turned to fitness – she signed up for a reformer pilates class and attended multiple times a week, with her husband-to-be even tagging along for some couples sessions.
Nine months out, beauty editor Eleanor deep-dived into wedding skin prep, indulging in red light therapy and custom monthly facials.
"Nine months out from the big day, I saw this as only nine opportunities I was able to truly improve my skin," she wrote.
Once the wedding was six months away, she switched from monthly to fortnightly facials.
But the skincare prep didn't stop at the beautician.
Want to hear to more? Subscribe to Hitched.
At home, she used a number of products to care for her skin, including SK-II Facial Treatment Essence, Estée Lauder Advanced Night Repair and Ole Henriksen Banana Bright Eye Cream, as well as a weekly Sunday night face mask at home.
One month out from the big day, Eleanor had the all-important hair and makeup trial with her hair stylist Remington Schulz and her makeup artist Ania Milczarczyk.
The day before Eleanor headed to the Philippines, she had her lashes, brows and nails prepped and primed. She had a Keratin lash lift, a brow appointment, and a naked manicure – so the nails would be perfectly prepped to be polished on her wedding day.
On her wedding day, Eleanor started the day with meditation, yoga and an ocean swim before starting her hair and makeup roughly five hours before the ceremony began.
Her makeup was kept natural and glowy – much like Meghan Markle's wedding day look – worn with her favourite lip colour.
She also picked out a signature scent for the day, after an appointment with a fragrance expert at Mecca – she had a separate scent for the ceremony, for the reception and even one for her honeymoon.
Love weddings or getting married and need to ask all the questions about venues, flowers, photographers, wedding dresses, EVERYTHING? Come join Mamamia's wedding planning podcast Facebook group Hitched.