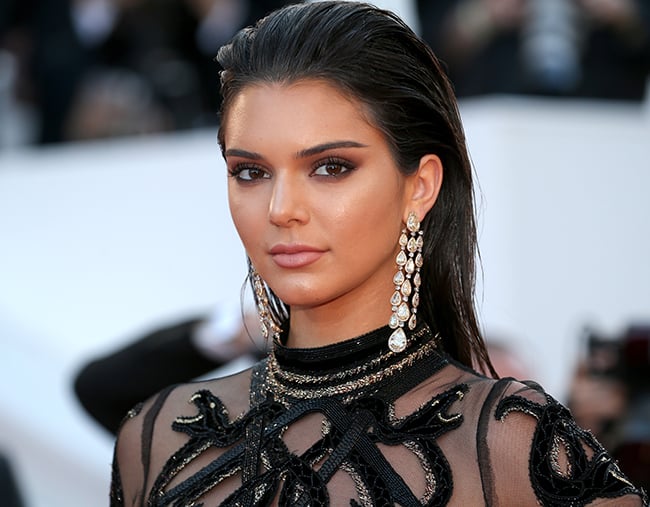 1. Forget Ben Simmons, Kendall Jenner has been photographed kissing a famous little brother.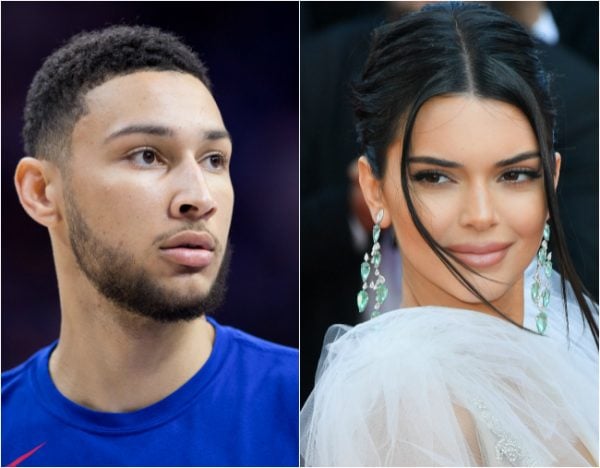 Ah yes, the Kardashians are nothing if not media queens with a distinct ability to pull us into any narrative they choose.
This week, it's all about Kendall Jenner's love life. Days ago, international media was all over the report that Jenner was dating Aussie basketball star Ben Simmons.
They were photographed leaving a nightclub, photographed going bike riding and photographed at a private party. Now, photos have emerged of Jenner kissing Anwar Hadid, the younger brother of supermodels Gigi and Bella.
Naturally, a source told E! that Jenner and Simmons are "hanging out" and "keeping things casual", which seems about right considering she was just, you know, spotted kissing someone else.
2. Nadia Bartel's 20-week pregnancy snap in her underwear is just adorable.

Nadia Bartel is officially 20 weeks pregnant, and what better way to celebrate than with a mirror selfie? Exactly. A better way does not exist.
"Twenty weeks growing my baby boy - it's gone so fast the second time around. I have received a lot of messages asking how much weight I have gained. It's seven kilos so far," the entrepreneur and blogger shared, speculating that her weight gain may be greater the second time round compared to the 30 kilograms she gained while pregnant with first son, Aston.
"Not complaining and saying it's a lot, as I think it's amazing what our body can do."
Aaaaaa-men to that.
3. Mariah Carey has cleared up a few rumours surrounding her diva behaviour.

Stories of Mariah Carey's diva behaviour are legendary.
And as far-fetched as they may seem, they're really not that hard to believe. After all, this is a woman who once wore a bikini in the snow.
Well, in a new interview with The Guardian, the 48-year-old singer is set the record straight on some of the most eye roll-worthy reports of her bad behaviour.
After being asked if it was true she'd demanded 20 white kittens and a 100 white doves for a Christmas tree lighting ceremony at a Westfield shopping centre in 2009, Mariah said she's "not a cat lady".
"No, 20 cats is an absolute lie," she told the publication.
"I'm not a cat lady. I don't have one cat any more."
Hmm, nothing about the doves though.
She was then asked about a report that she insists on hotel rooms being outfitted with new toilet seats and gold taps before she stays.
"I mean, honestly? Golden taps! I could just buy a house for that!" she said.
Still didn't address the toilet seats though.
Finally, the journalist asked her if it was true she bathed in French mineral water, and the truth is better than the rumour. Truly.
"No, I bathe in milk. Sometimes I use milk as a beauty treatment. I don't want to give away all my secrets," she said.
"I guess if there's no clean water and I had to use mineral water, maybe I would."
Us too.
4. Grant Kemp says he has "legitimate proof" Ali Oetjen cheated on him.

He was branded a liar, and now Grant Kemp is coming out swinging, if you will.
The former Bachelor In Paradise star is threatening legal action against the Australian media, Network Ten and even fellow BIP contestant Keira Maguire, claiming they were all responsible for spreading rumours Ali, 31, had broken up with him after he suggested a threesome.
When in actual fact, according to Grant, Ali cheated on him in his apartment.
Speaking to The Kyle & Jackie O Show, Grant, 29, said he couldn't even understand why Keira, 31, was sticking her nose in his and Ali's business.
"I mean, I have legitimate, legal proof of this [Ali cheating] happening, I have the text messages from Ali begging me to apologise at my house for what she did," he told the radio show, as reported by Daily Mail.
And he said he would have "let the whole thing go", except it became obvious that they were going after him to "protect" Ali's reputation.
He said the reports have even prevented him from getting work.
"When I was trying to get my side of the story out, Network Ten was protecting her by running blockage on me getting the story out," he continued.
"The fact of the matter is, it [the cheating] did happen. It doesn't matter what Network Ten wants to say."
5. The tiny detail proving Kate Middleton didn't recycle her royal wedding dress after all.
Remember when we all thought Kate Middleton's decision to recycle one of her old dresses for the royal wedding was the ultimate sacrifice for Meghan Markle?
Yeah, turns out we were wrong about that.
If you cast your mind back to the royal wedding in May, you may recall how we all thought The Duchess of Cambridge wore the same off-white, long-sleeve Alexander McQueen coat dress she wore at Queen Elizabeth II's 90th birthday in June 2016 and at her daughter Princess Charlotte's christening a month later.
Now, a newfound tiny detail proves the mum-of-three didn't recycle her royal wedding coat dress after all. And it all comes down to the sleeves.
Royal family Instagram fan Royal Addicted 2 picked up the subtle detail which shows the dress Kate wore for Meghan and Prince Harry's wedding was in fact similar, but different to the one she's worn before.
"The one [Kate] wore for the wedding has buttons on the cuffs that the cream one doesn't," the user posted on Instagram.
If you look at the photos, you'll see, alas, 'tis true.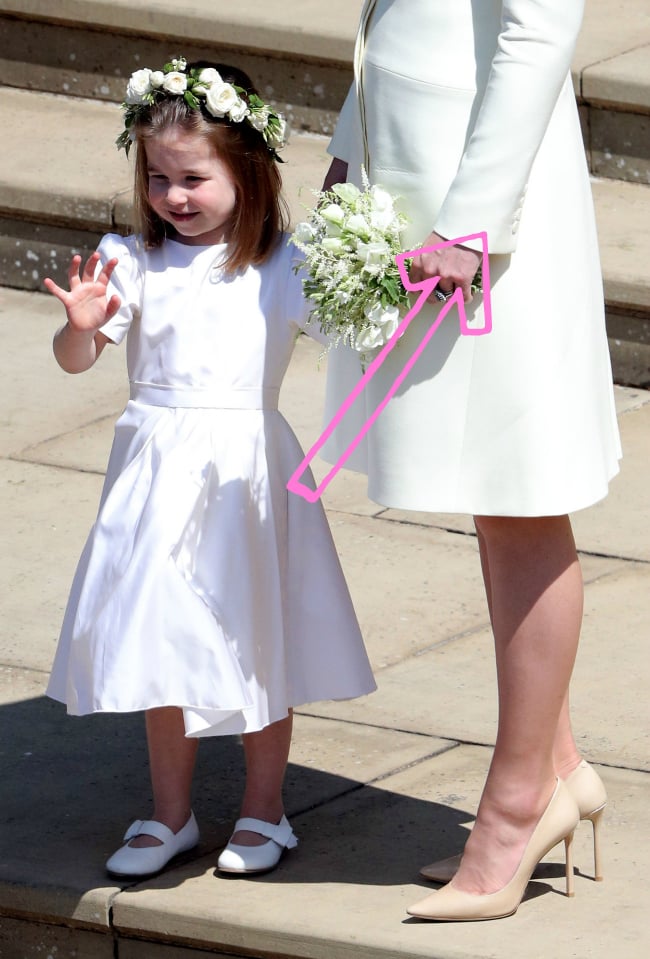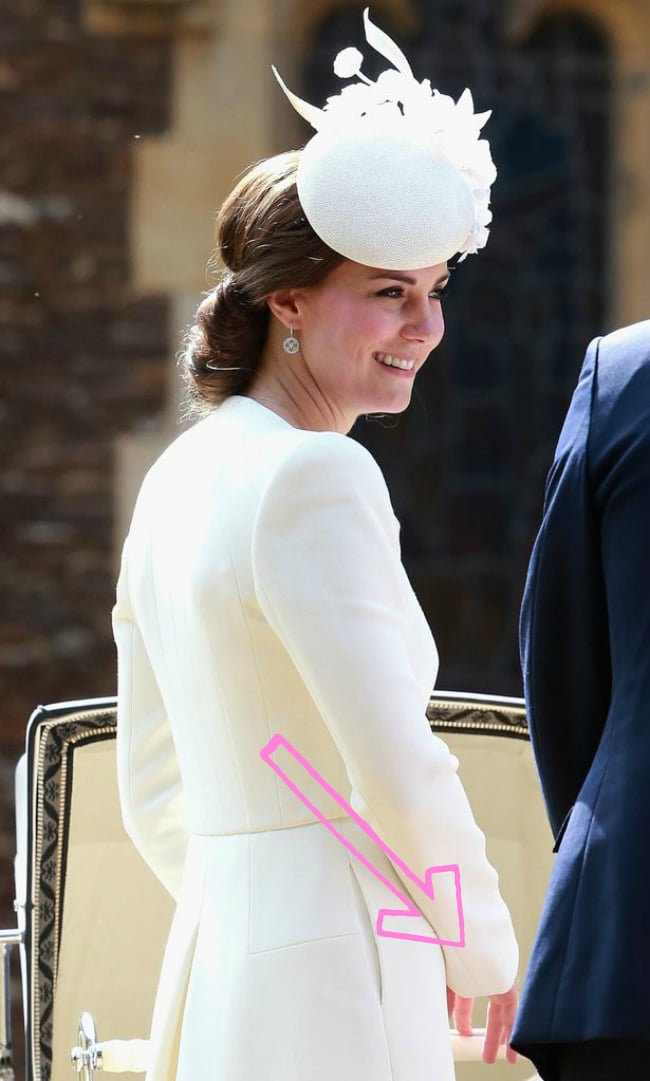 It's not the first time Kate has stocked up on her favourite clothing items in multiple colours. See our full post on Kate Middleton's beloved outfits for more.