When Meghan Markle stepped into her new role as Duchess of Sussex, she left her working life as an actress and adopted a vast set of royal rules.
With protocol including a ban on social media and selfies, rules for how she must dress and eat and even a ban on board game Monopoly, Meghan's got a lot to get used to.
But the toughest royal rule 36-year-old Meghan has to follow is her loss of freedom to publicly express her political opinions.
According to British royal protocol established in the 17th century, members of the royal family are forbidden from voting, favouring one political cause over another or publicly sharing any form of political opinion.
The monarchy's website states: "As head of state, the Queen has to remain strictly neutral with respect to political matters."
As a strong supporter of Hillary Clinton and an anti-Brexit protester, there's no denying that this rule will be the toughest for natural-born activist Meghan Markle to follow.
Before she became engaged to Prince Harry, former Suits actress Meghan described how she grew up "with a social consciousness to do what I could and speak up when I knew something was wrong".
At just 11-years-old, Meghan was so infuriated by a sexist television ad for dish washing liquid that she wrote letters to Hillary Clinton and Gloria Allred about it. Eventually, the ad's slogan was changed.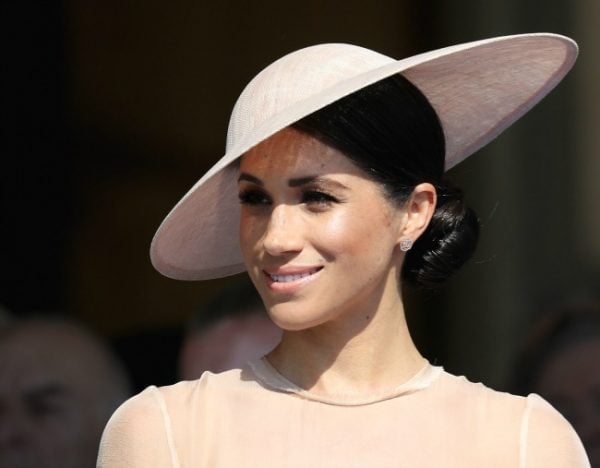 From this early experience, Meghan has maintained a strong commitment to making a difference, later going on to work as an ambassador for UN Women and World Vision.
Los Angeles-born Meghan is no stranger to voicing her opinion on politics and individual politicians. During the 2016 US presidential election, Meghan was a strong advocate for Hillary Clinton – so much so that she said she would move to Canada if "misogynistic" and "divisive" Donald Trump was elected.
According to The Guardian, Meghan urged her followers to vote for Clinton, "not because she's a woman, but because Trump has made it easy to see that you don't really want that kind of world that he's painting".
But now, as an official rule, commenting on international politics (including even on the state of her home country) is banned.
Meghan, who completed a degree in international studies and theatre at university was also open about her views on Brexit in 2016.
Although since removed as part of her transition to the royal family, Meghan posted an anti-Brexit message to her Instagram account during the week of the UK referendum. Posted shortly after she began dating Prince Harry, the Instagram photo showed a protest sign which read: "If EU leave me now you take away the biggest part of me".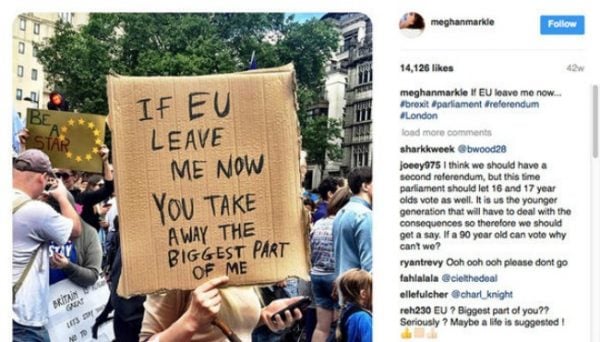 It wasn't the first time Meghan used her Instagram account to channel her political views, she also recommended left-wing political activist Noam Chomsky's book Who Rules The World on her account.
Meghan identifies herself as a feminist and is a strong campaigner for women's rights.
From walking halfway down the aisle solo to changing her vows at the royal wedding, Meghan is bringing a feminist edge to the royal family one step at a time. However, while campaigning for women's rights, Meghan will have to walk a fine line to avoid making politically-charged statements.
For instance, when the Duchess of Sussex spoke in favour of the #MeToo movement back at an event in February, she was accused by some of being too politically left in her views.
Although she is forbidden from voicing her political opinions publicly, there are still some ways Meghan can channel her political side in the royal family.
University of Paris British history professor Ophelie Simeon told France 24 ,"She is definitely political, but as the newest member of the royal family I think she will use her charity work to channel her political side."
"I think it will be more appropriate as far as protocol is concerned."