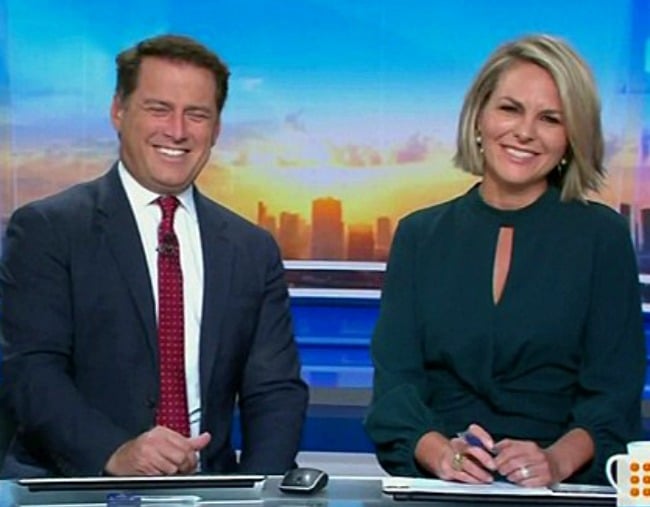 Karl Stefanovic and Georgie Gardner were back together on the Today show desk Wednesday morning and seemingly doing their best to move on from what's been dubbed 'Ubergate'.
But a joke from Karl has us thinking he couldn't resist getting one message in – even it wasn't made directly.
The 43-year-old mentioned "fake news" in a way that wasn't really relevant to the story they were discussing, leading us to think it was a subtle swipe at the media for their reporting on tensions following the infamous phone call to brother Pete.
Hamish Blake has a funny take on Ubergate. Post continues.

Speaking about fraudsters scamming people with fake Ed Sheeran tickets, Karl made a joke that seemed a little out of place.
"We don't want to go to an Ed Sheeran concert with a fake ticket," he said. "(It's) a bit like fake news."
Hmm…
It could be just us reading too much into this, but it seems like Karl was trying to suggest that reports of his and Georgie's relationship as fractured are "fake news".
It comes a day after Georgie was sent to cover NSW bushfires – which Channel Nine denied was an attempt to give the pair some space after her comment that Karl was "pathetic" on Monday's show.
Georgie Gardner and Karl Stefanovic have never been best friends, and we think that's perfectly fine. Post continues.
The Uber driver who allegedly recorded a loudspeaker phone call between Karl and Peter Stefanovic (then later denied recording it because he realised it's a crime) is said to have made a $50,000 deal with New Idea for the details of the conversation.
The alleged conversation, printed in this weeks issue, includes comments from Karl that Georgie "didn't have enough opinions" and that if she wanted to stay on the show she needed to "step up" and stop sitting on the fence.