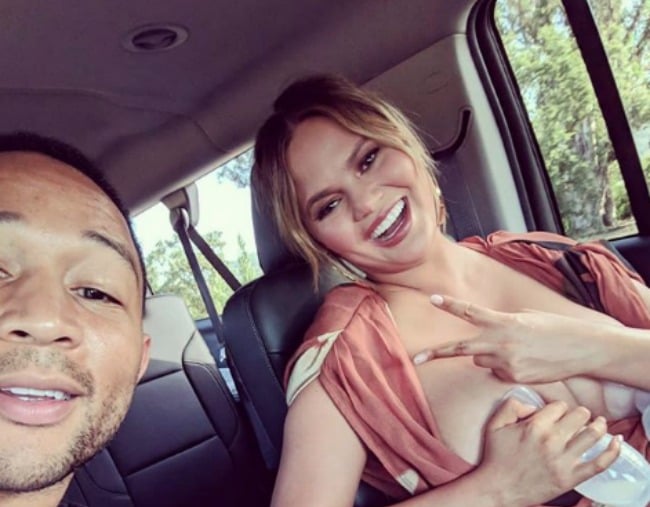 1. John Legend's tribute to Chrissy Teigen, her boobs, and her breast pumps is awesome.
Their relationship may be one of the only ones that manages to survive the glitz and scrutiny of Hollywood, and John Legend and Chrissy Teigen have no qualms being proud about it.
On Father's Day (yes, Father's Day) Legend posted quite the tribute to his wife.
"I know it's Father's Day and all but my wife is pretty awesome. She's taking me to dinner but still on mommy duty," he wrote alongside a photo of the couple in the car, while the former model and mum-of-two sat pumping milk.
A month ago, the couple welcomed their second child.
"Hello, world! This is Miles Theodore Stephens," she wrote, alongside a photo of the newborn.
"We are drowning in his little peeps and nuzzles. Our household feels overwhelmed with love. Thank you for all your well wishes."
2. Justin Bieber has a new girlfriend. (Hear that? That's the sound of 2013's teenagers crying.)
Justin Bieber has jumped back on the roller coaster that is his own love life, appearing to get back together with ex-girlfriend Hailey Baldwin after photos of the two kissing were published on TMZ.
Bieber, 24, and Baldwin, 21, first split in 2016 after they began dating the previous year. He posted a photo of the two on Instagram on the same day they were photographed kissing, though cropped everything but Baldwin's legs out, which seems nice.
Just last month, Baldwin gave an interview with The Times, saying the pair were now on speaking terms after a long period of "weirdness".
"Justin and I were friends for a long time," Baldwin said.
The relationship comes just months after Bieber split from another ex, Selena Gomez.
3. It's Father's Day in the US and of one thing we are absolutely certain: Tommy Lee and his son HATE EACH OTHER.

Tommy Lee, the ex-husband of Pamela Anderson, and his eldest son Brandon have had a fight on Instagram, confirming once and for all that the father and son absolutely, well, hate each other.
The 55-year-old Motley Crue drummer posted a throwback Instagram for Father's Day, praising his own father before calling his two sons and ex-wife "assholes".
"Sometimes I feel like I failed as a father, because my kids don't know the value of things," he wrote.
"I know I'm not fully to blame because their mom has a lot to do with it, enabling bad behaviour and buying them things when they weren't good," he continued.
In retaliation to the post, the drummer's 22-year-old son posted a photo of the 55-year-old passed out in his underwear and captioned the image "Look a little sleepy there Tommy".
The photo is believed to have come from a fight the father and son had earlier in the year. In March, the 55-year-old posted a photo of a bloody lip to Instagram, writing 'Good job Brandon! Great son!", after Brandon reportedly hit his father when he was drunk.
Brandon went on to take a screenshot of his father's Instagram, adding, "Remember what happened last time you said this sh*t?  night night. You gotta show up to be a Dad big guy. If you think we're so bad (which I can assure you we are not) then you should have showed up to a few more BDays and baseball games [sic]."
"Someone like you couldn't raise a man like me. Once again painting our family in a negative light. Who the f*ck are you? Just move on dude... WE ALL HAVE. or I'll put you right back to f*ckin sleep," he continued.
Drama.
4. Here's why you won't see any of the high profile Sunrise presenters at this year's Logies.
The hosts of Channel 7's morning show Sunrise will not be attending the Logies after the awards were downsized to a smaller venue on the Gold Coast.
The move to the Gold Coast after being in Melbourne for 30 years is likely to result in a range of changes, most notably to the size of the event and the way that it is broadcast.
While Channel 9 will host their pre-logies show from the venue as usual, it is believed that Channel 7 will be doing live crosses to Edwina Bartholomew and Sam Mac.
"Channel 7 will have a significant presence on the Gold Coast for the Logie Awards — including every nominee from the Network," a spokesperson told news.com.au.
5. The strange details behind Brad Pitt and Angelina Jolie's bitter custody battle.

Nearly two years after their split, Brad Pitt and Angelina Jolie are no closer to finalising their divorce, and insiders say it's all because of an ongoing bitter custody battle over their six kids.
According to court documents obtained by Daily Mail, the 43-year-old actress has been ordered to give her 54-year-old ex more access to kids Maddox, 16, Pax, 14, Zahara, 13, Shiloh, 12, and twins Knox and Vivienne, nine.
Angelina currently has primary physical custody of the children, but she has been told by a judge she must allow Brad to see the kids on a regular basis while she films Maleficent 2 in London during the European summer.
Read the rest of the story here.