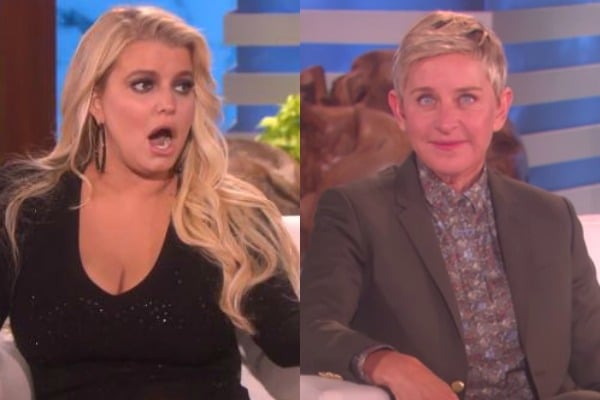 This post discusses alcohol addiction and may be triggering to some readers. 
When Jessica Simpson was a guest on The Ellen DeGeneres Show in 2017, fans instantly speculated whether the singer was drunk.
Appearing on the talk show to chat about her fashion line and her new music, Simpson's conversation with Ellen DeGeneres soon veered off track.
Although the interview started with talk of pregnancy, as Simpson had previously appeared on the show while pregnant, the mother-of-three soon began talking about her daughter's birthday party, which involved a number of children's entertainers dressed as mermaids.
In 2017, Jessica Simpson made a very awkward appearance on The Ellen DeGeneres Show. Post continues below video.
"Silicone tails," she announced, randomly. "They had… manhandlers. It's not called manhandlers. No… they had to be carried if they had to pee… cause they can't pee on my children in the pool. They pick them up, and carry them… it's a business."
Later on in the interview, Simpson appeared to have trouble remembering how long she had been married to her husband, Eric Johnson.
"Seven years now. Well, coming on seven years. Well actually seven," she said.
"It's a long time. I don't know if I've ever had a seven-year relationship. Other than with a woman. Well, not that kind."
After telling DeGeneres she'd been with her husband for seven years, Simpson went on to say that he was talented enough to massage her in his sleep.
"Even if he's snoring, somehow he knows how to massage my back. It's a very awesome talent," she said.
"Maybe he's not really sleeping, Jessica," DeGeneres responded.
Ellen's reactions and facial expressions were priceless when @JessicaSimpson was on @TheEllenShow ???? pic.twitter.com/iBC5rmvyc8

— Jacob (@EDM_Jacob) May 26, 2017