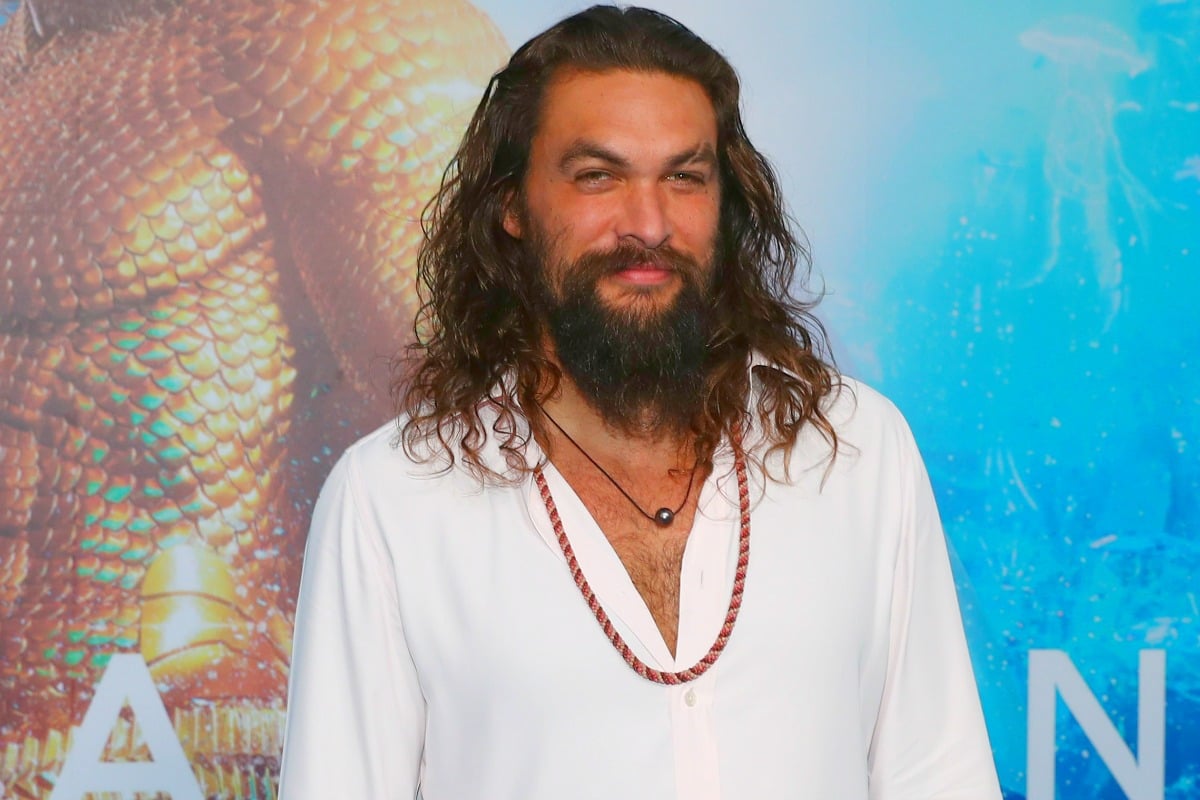 He's the flamboyant, testosterone-heavy star of DC's comic's new movie, Aquaman, but you may also recognise Jason Momoa from his role as Khal Drogo on HBO's in Game of Thrones.
Momoa was in Sydney this week, making an, ahem, splash, on the Aquaman press tour and movie premiere.
During the premiere, Momoa lead an impromptu performance of the traditional Haka; but it was his attendance with his family – love-of-his-life wife Lisa Bonet and children Lola, 11, and Nakoa-Wolf, 10 – which really got people's attention.
Which is why we thought you'd like to know a bit – or a lot – more about him. Read this, and consider yourselves informed.
Momoa's background.
Ok, so before we get to his amazing love story with Bonet, you need to know about Momoa's background. He's 39, and was born in Hawaii. He's now an actor, writer, film producer, director and model.
He is known for portraying Aquaman in the DC Extended Universe, beginning with the 2016 Batman v Superman: Dawn of Justice and the 2017 Justice League. Before that, he played Drogo in Game of Thrones  from 2011–2012.
And waaaaay before that, Momoa won Hawaii's Model of the Year 1999. At 19, he was cast in Baywatch Hawaii.
Momoa and Lisa Bonet.
The American actor met 51-year-old Bonet (who played Denise in the Cosby Show) in 2005, but his interest in her started long before that.
"Ever since I was 8 years old and I saw her on TV, I was like, 'Mommy, I want that one!'" Momoa shared on The Late Late Show, revealing that his crush on Bonet began when she was on The Cosby Show.
"I'm like, 'I'm going to stalk you for the rest of my life and I'm going to get you.' I am a full-fledged stalker. I didn't tell her that until we had two babies—otherwise, I'd be creepy and weird. I've always wanted to meet her. She was a queen, always."
Fast forward 18 years, and Momoa's wish came true when he was 26 and fate brought them together one night at an L.A. club.
"I had huge dreadlocks, she had dreadlocks. I literally turned around, I was with my best friend, and I see her and I'm just like…" he has said of the moment they met, which left him stunned.
"She goes, you know, 'I'm Lisa.' I was like…I had f–king fireworks going off inside me, man!"
"That was it," he added. "We had Guinness and grits and, you know, the rest is history."
On July 23, 2007, Bonet gave birth to their first child, daughter Lola Iolani Momoa. On December 15, 2008, their second child, son Nakoa-Wolf Manakauapo Namakaeha Momoa, was born.
It was just over a year ago in 2017 that Momoa and Bonet officially tied the knot after more than 10 years together, during a ceremony at their house in Topanga, California.
Why Momoa is tight with Lenny Kravitz.
Bonet is also mother to actress Zoë Kravitz, 30, from her first marriage to iconic American singer, Lenny Kravitz (from who she split in 1993). Which of course makes Momoa Zoë's step father.
Momoa made headlines this month when he posted Instagram photos of the matching skull-shaped, carved-bone friendship ring he gave to Kravitz.