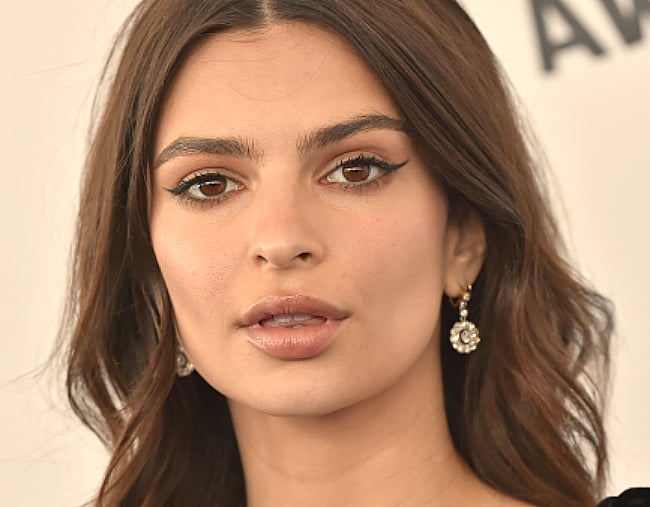 1. The cryptic post that has people convinced Em Rata is pregnant.
Celebs love to announce things on social media. And Emily Ratajkowski is no different, often sending her followers into a spin with her, erm, raunchy posts.
But her latest Instagram photo left us wondering: could she be pregnant?
The image shows Rata up a tree, holding a piece of fruit in front of her stomach, and was shared with the caption "bearing fruit".
"If this is code for pregnancy, then congratulations on starting the next chapter of your life," one follower commented.
"Congratulations!", another wrote.
And as the good people at Yahoo7  have rightly pointed out, Rata was photographed just last month holding a glass of wine, therefore if she is indeed pregnant, it could only be early days.
Intriguing, indeed.
2. How Meghan Markle and Prince Harry will honour Diana at their wedding.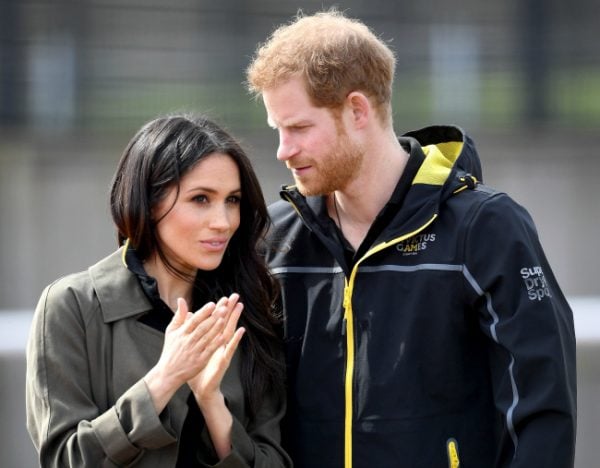 Prince Harry and Meghan Markle have chosen a truly beautiful way to honour the late Princess Diana at their upcoming wedding next month.
The floral arrangements inside St. George's Cathedral, where they will tie the knot on May 19, will purposefully feature white garden roses, Diana's favourite.
Harry and Meghan's wedding flowers will also include peonies, Meghan's favourite flower.
According to Hello Giggles, when the couple first started dating, Meghan coincidentally received several deliveries of beautiful peonies, which she shared on her now-deleted-instagram-account along with the hashtag #spoiledrotten.
Can it just be May 19 already?
3. Why there's so much outrage over Taylor Swift's new cover.
Taylor Swift has released a cover of Earth, Wind & Fire's September and people are not here for it.
In fact, they're a tiny bit horrified.
You see, September is a R&B funk song and some believe old mate Tay-Tay had no business covering it.
Others just think it's a lil' bit, well, crappy.
Here's Twitter's take:
every time i listen to earth, wind, & fire i always think "good, but needs more banjo"

— cale g weissman (@caleweissman) April 13, 2018
Taylor Swift really had no business "covering" Earth, Wind & Fire's iconic song "September." We really didn't need to hear that shit. She fucking tried it. LMAO

— ???? (@MJFinesseLover) April 13, 2018
♪ ♪ do you remember... friday the thirteenth of april...
when swift sang a funk and soul staple
and chased your good vibes awayyyyyy ♪ ♪

— Puja Patel (@senari) April 13, 2018
TWO friends have tried to trick me into listening to Taylor Swift's cover of September today by texting me a link with the caption, "A bop!"

The moral of this story is that my friends hate me.

— Olivia A. Cole (@RantingOwl) April 13, 2018
#TaylorSwift's 'version' of September is literal gentrification. Like no I don't want your coffee shop in Flatbush, thank you.

— Wes (@wes_andre97) April 13, 2018
Dear #TaylorSwift Aww hell no, Karen! Keep your bland ass potato salad to yourself! #EWF #September

— Kahlia Trim (@kla_shanae) April 14, 2018
4. Rebecca Maddern shares first photo with her baby daughter.

Rebecca Maddern, host of The AFL Footy Show, has shared the first photo of her baby daughter on Instagram.
"Ruby Mae Miller is here. 12.4.18 Our hearts are exploding with love," she captioned the post.
The TV presenter and her husband Trent Miller welcomed their first child on Thursday night.
Their friend Ben Fordham announced the news on the Today show on Friday morning, saying the parents were overjoyed.
"Little baby girl Ruby May Miller was born last night. She weighed 7.5 pounds [3.4kg] and is absolutely beautiful. Mum and baby are fantastic and dad is pretty happy too," he said.
The couple kept the sex of their child a secret – from themselves and everyone else – throughout the 40-year-old's pregnancy.
"I've always maintained that I didn't want to find out. I just felt like it was one of the greatest surprises in life – a true legitimate surprise – there was no cheating," she told Nine Honey last month.
"But Trent's made up his mind it's a girl."
Turns out, he was right.
Maddern announced her pregnancy in November with an Instagram post of a teddy bear and booties, captioning the image: "Can't wait for our new arrival in 2018."
5. How Kim Kardashian helped sister Khloe during labor.
Having a baby is a pretty huge deal.
So naturally, when you're giving birth you want your closest friends and family by your side.
The Kardashians are no different. And given how rough the last week or so has been for new mum Khloe, it was no surprise that when she gave birth to her beautiful baby girl a few days ago, her sister Kim was right there with her. And she played a fairly important role in the process.
Tweeting to sister Khloe "I'm so happy for you! Your baby girl is so beautiful. You are strong, you made that look so easy! I can't wait for our baby girls to grow up as best friends the way we are! I'm so happy I was able to return the favour of holding your leg while you pushed LOL."
???? @khloekardashian I'm so happy for you! Your baby girl is so beautiful! You are so strong, you made that look so easy! I can't wait for our baby girls to grow up as best friends the way we are! I'm so happy I was able to return the favor of holding your leg while you pushed LOL

— Kim Kardashian West (@KimKardashian) April 13, 2018
I mean, what are sisters for?
Do the Kardashians have the right to privacy? The Out Loud crew discuss.