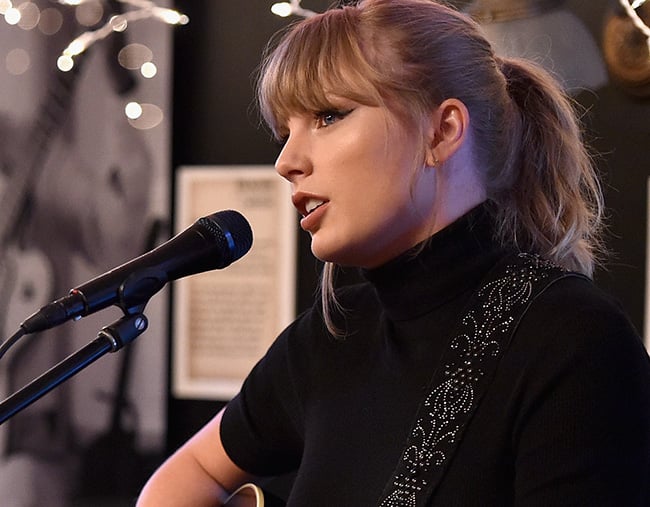 A typical Saturday night in Nashville, Tennessee, turned into something extraordinary for a lucky crowd of 40 patrons who'd ventured out to enjoy some live music.
They were gathered in a local spot called Bluebird Cafe to see songwriter Craig Wiseman.
But little did fans know – he and Taylor Swift go way back and that small, cosy cafe is where the now-28-year-old Shake It Off singer was first discovered in 2005.
Taking the stage, Wiseman introduced Swift to thunderous applause and utter disbelief.
It's a stroke of luck made more powerful by the fact that Swift hasn't spoken publicly, or taken any interviews, since the much-anticipated and highly-dissected release of her 2017 album Reputation in November.
Sitting on that stage alongside her longtime friend Wiseman, Swift performed acoustic versions of Love Story, Shake It Off and Better Man, New York Media reports.
Oh, and Wiseman shared a story of Swift having a little too much fun at Country Music Awards after-party.
Taylor Swift has a new image, and we're not sure it's a positive one. The Mamamia Out Loud team discuss.

"I got her a shot of Fireball whisky, and then I got her another one," Wiseman told the crowd.
"For the rest of the party, I would go get a shot of Fireball … and snake my hand through the people [on this balcony] in her general direction. I don't even know if she took it, but it disappeared."
The shots weren't for nothing, however, with Swift admitting they embolended her and fellow artist Ed Sheeran to steal a huge inflatable bottle of Fireball from the same party.
For old time's sake, the Swift and Wiseman both shot miniature bottles of whisky after their set.
According to The Tennessean, Swift's surprise performance was recorded for a documentary celebrating the 35th anniversary of the Bluebird Cafe.
The reactions on social media to Swift's appearance will make your Easter Monday even happier:
Taylor Swift singing Shake It Off, one of her biggest hits at the place where she got discovered is the greatest thing I've seen today! ???????? pic.twitter.com/5P6sZJYG8w

— nico (@taylorsnewrep) April 1, 2018