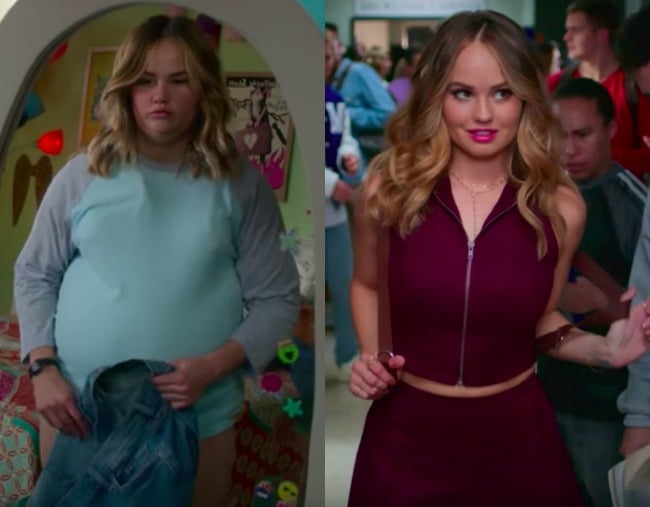 Netflix is facing backlash online after releasing the first trailer for their new original TV series, Insatiable, which some say promotes 'fat-shaming'.
The 12-episode dark comedy series follows a high school student named Patty, who is nicknamed 'Fatty Patty' by classmates and bullied for her weight.
Everything changes, however, when Patty is punched in the face and has to have her jaw wired shut.
When Patty, played by 25-year-old former Disney star Debby Ryan returns to school after summer break, she's thin, 'hot' and thirsty for revenge against her bullies.
Since the first trailer dropped on Thursday, critics and viewers are worried the show may encourage people to stop eating and that it glorifies eating disorders.
This is trash. Netflix I expected a company that's prided itself on changing the faces in entertainment and inclusivity to be better to fat people. This story like is uncreative and fatphobic. It's also incredibly insulting to attempt to tell an story of a fat women with a thin

— Savannah✨ (@GirlcraftWorld) July 19, 2018
you have a chance to make creative, engaging, original content from fat people about fat people's lives and you choose to … put a skinny person in a fat suit and make jokes about how sad her life is and about what a crazy bitch she turns into. That's so lazy and pathetic.

— Angie Manfredi (@misskubelik) July 19, 2018
yeah, don't watch the utter bs that @insatiable_ is gonna turn out to be. anything that starts with a thin actress in a fat suit who loses weight and becomes desirable in HS is toxic

love, a "fatty" with a brain pic.twitter.com/JB3sJYWcF3

— lydia hephzibah ???? (@lydiauthor) July 19, 2018
What in the absolute fuck is this. Honestly, did anyone who worked on this show talk to a fat person? Like ever? This pushes disordered eating AND the fact that you have to lose weight to be "better". Shame on everyone who was involved with this project.

— Zina (@ZinaRightNow) July 19, 2018
So this is a story about a girl who used to be fat and now she isn't, she can finally have revenge? I don't know. Maybe a story where she loves her fatness would have been better. Rather than her literally having her jaw wired shut so that she cannot eat to lose weight.

— MD (@manika0098) July 19, 2018
Just saw the trailer for Insatiable. I hear the actors and team behind it are asking us to look beyond the trailer but trailers are supposed to entice us – this trailer repelled me. How in any world is weight loss from a jaw being forced shut inspiring? Do they know what implies?

— Nabela (@Nabela) July 20, 2018
But actress Alyssa Milano, who stars in the show as Patty's mum says critics have got it all wrong, insisting the show is "addressing the damage that occurs from fat shaming".
We are not shaming Patty. We are addressing (through comedy) the damage that occurs from fat shaming. I hope that clears it up. Also, this article does a good job of explaining it more: https://t.co/WoR8R7TjqR #Insatiable https://t.co/GFkDdsn1uh

— Alyssa Milano (@Alyssa_Milano) July 19, 2018
Debby Ryan, who is known for her appearances on Disney's The Suite Life on Deck and Disney's Jessie, hasn't yet responded to the backlash.
Over 22,000 people have signed a Change.org petition, calling to stop the release of the show.
"For so long, the narrative has told women and young impressionable girls that in order to be popular, have friends, to be desirable for the male gaze, and to some extent be a worthy human…that we must be thin," the petition says.
"It perpetuates not only the toxicity of diet culture, but the objectification of women's bodies. This series needs to be cancelled."
Netflix has previously faced criticism for it's original shows targeted to teens, including 13 Reasons Why, which some say glorified mental illness and suicide.
All 12 episodes of Insatiable will be released on Netflix on August 10.
You can watch the full trailer for Insatiable below.