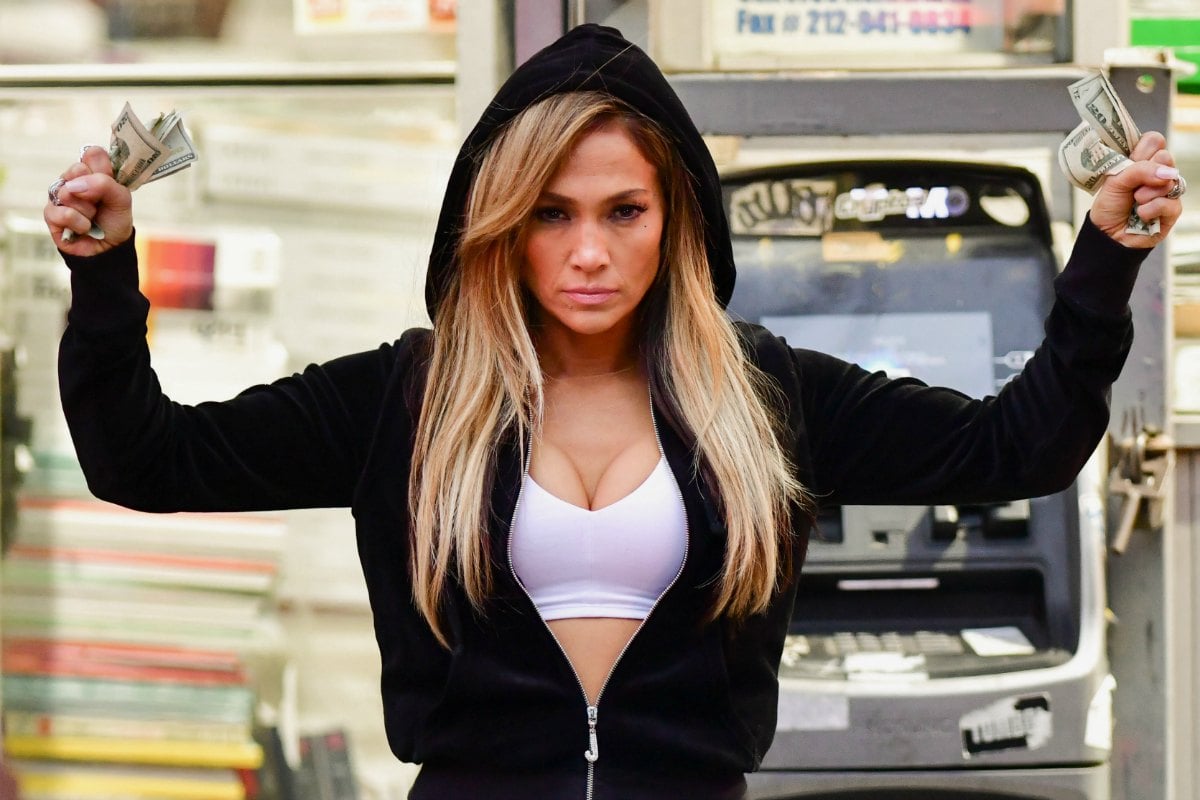 Hustlers is a movie about a group of women who work at strip clubs, and decide to defraud their Wall Street clients by partying so hard, they don't realise their credit cards have been taken. The men are too embarrassed to report where and how they were robbed, so the women get away with the scheme for some time, spending up big on cars and clothes, and loving every second of it.
Well. That's our next girls' movie night sorted.
If a tale of revenge, corruption, greed and moral bankruptcy isn't enough, the icing on the cake is that the film stars the likes of J-Lo, Constance Wu, Lizzo and Cardi B… in platform stilettos and a lot of lycra.
Oh, and by the way: Hustlers is based on a true story.
Watch the trailer for the film Hustlers below. Post continues after video.
In 2008, New Yorkers Samantha Barbash, Roselyn Keo, Karina Pascucci, and Marsi Rosen were the real life 'hustlers'.
Keo told their story to The Cut in 2015, and Hustlers is based on her candid revelations.
She described her clientele as ultra-wealthy, often married, and often inappropriate (by asking for sexual favours). Keo says it made it that much easier to not feel bad about how the group treated them.
"It sounds so bad to say that we were, like, drugging people," she said of adding the drugs MDMA (an upper) or Ketamine (which affected their memory) to the mens' drinks to make them softer targets.
But it was, "just a sprinkle. Like a pinch of salt."
Keo, who had moved to Manhattan to make money from clubs, eventually met Barbash, who was also known as Samantha Foxx, an 'icon' on the scene.
Being a little older (in her 30s) and experienced, Barbash knew everyone, and all the men wanted to party with her.
It was also just after the 2008 stock market crash, and a lot of men were drowning their sorrows in clubs – and debauchery.
Keo describes the scheme as almost too easy.
High on life, alcohol, and drugs, the men would party with the women into the night. It made them easy to manipulate into spending thousands at the club, and then, using the credit card details, the women would then help themselves to whatever else they wanted.
"I was on the phone with American Express half the time verifying his last four digits of Social, his mother's maiden name, his last purchases, and their name, and their location, and how much was being charged," Keo recalls, adding the men answered those questions without a second thought.